Sales Have Ended
Ticket sales have ended
Thank you for your generous donation! Please make sure to follow our Facebook event for updates on Hashtag Lunchbag SLC: https://www.facebook.com/events/254316524959091/
Sales Have Ended
Ticket sales have ended
Thank you for your generous donation! Please make sure to follow our Facebook event for updates on Hashtag Lunchbag SLC: https://www.facebook.com/events/254316524959091/
Description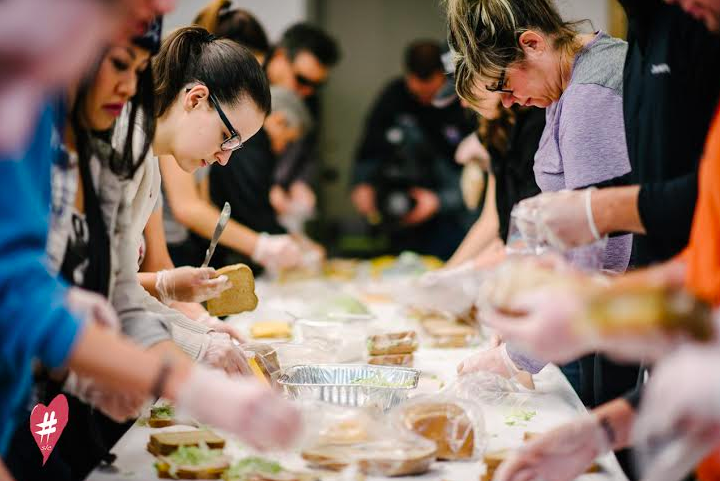 Join us for a fun Sunday afternoon of giving service to our community!
Together we'll make yummy sack lunches and write happy notes for 200 people in our community at the new Sustainable Startups space (currently the bottom floor of the Photo Collective Studios).
Join peeps from Even Stevens Sandwiches, Sustainable Startups and IM Nutrition Sunday June 12th to make a difference in our city. With your help we had so much fun throwing our last #HashtagLunchbagSLC and we're happy doing another round!
#hashtaglunchbagslc Sunday, June 12
11 am - 12 pm Note Making + Lunch Assembly
12-1 pm Distribution of Lunch
Please invite a buddy (or two!), your family and coworkers to help us make a difference. The more, the merrier! We welcome all volunteers, donations and good vibes! Kids are welcome as well to help assemble the bags and make notes of kindness for recipients of the bags.
Our belief is that everyone deserves words of encouragement and a good meal. Suggested donation is $10, which helps feed people in our community who probably weren't expecting lunch. We're also accepting donations of socks and underwear to give out.
What is Hashtag Lunchbag?
It's a movement utilizing social media to bring awareness to and eliminate hunger in local communities. The movement was born on Christmas in an L.A. apartment with a small group of friends looking to give back and has grown to 100+ cities hosting #HashtagLunchbag events around the globe! Come hang out, make sack lunches and hand them out to hungry people in our SLC community.
Join us all along with Even Stevens Sandwiches, IM Nutrition and Sustainable Startups SLC and our loving SLC community at the Photo Collectlive Building in downtown Salt Lake City.
Bring your friends, kids and anyone looking for fun volunteering.
#hashtaglunchbagslc #eattogive #foodisourfriend #sustainablestartups #coworkingwithacause
Hashtag Lunchbag SLC Details
#HashtagLunchbagSLC
Sunday June 12
11 am - 1 pm
Suggested Donation $10
#hashtaglunchbagslc #eattogive #foodisourfriend #sustainablestartups #coworkingwithacause
To find out more about what we're doing to end hunger and promote social responsibiltiy, please visit our sites at:
www.foodisourfriend.com
www.evenstevens.com
www.sustainablestartups.org/
Thank you for your love, help and generosity! We'll see you there!
Organizer of Hashtag Lunchbag SLC