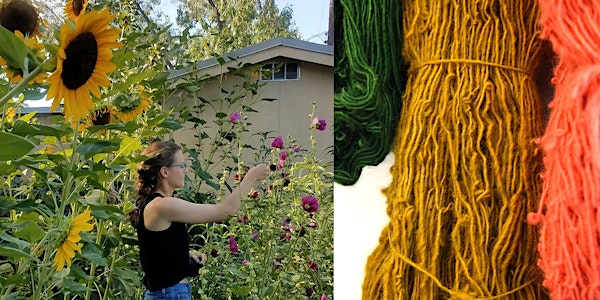 Harwood Art School: Natural Dyes, From your Kitchen to New Mexican Plants
Join teaching artist Molly Zimmer for this online class
About this event
Art School at Harwood Art Center
The Spring 2021 Art School classes will be entirely online. These classes are available to anyone aged 16 and older.
This fall there are two "tracks" available:
Sign up for self-directed on-demand access to video lessons
Sign up for acess to self-directed on-demand video lessons and Zoom meetings with the teching artist and other students
ABOUT THE CLASS
Class Description
Learn the beautiful art of natural dyeing! In this workshop, you'll gain an understanding of how to work with natural dyes from your kitchen scraps and local New Mexican plants. Tutorial videos will show how to create a rainbow of colors from red beets, turmeric, blueberries, and spinach. In self-guided explorations in nature, you will learn what native New Mexico Plant dyes make pigment, such as prickly pear fruits and chamisa. By the end of this workshop, students will feel confident with the process of natural dying, how to mordant wool and cotton fibers, and complete at least 3 naturally dyed textiles.
Material/Supply List
(for safety, cookware should only be used for dyes and cannot be used for food preparation afterwards)
Class Dates
May 5-19, 2021
Videos will be available Monday, May 3rd.
Optional Zoom Dates (limited spots available - must register):
Wed., May 5th @ 7pm MDT
Wed., May 12th @ 7pm MDT
Wed., May 19th @ 7pm MDT
About the Teaching Artist
Molly Zimmer is a multimedia artist whose work combines painting, textile, and collage. She holds an MFA in Painting from the University of New Mexico, and a BFA in Painting from Maryland Institute College of Art. Her work has been exhibited throughout New Mexico and nationally. Molly is a Textile Restorer specializing in Navajo weavings and has taught sewing, drawing and painting courses through community-engaged workshops at museums, K-12 schools and universities, and in rehab facilities. She lives in Albuquerque where she maintains a studio at the Harwood Art Center.
QUESTIONS?
Contact Dani Belvin - dani@harwoodartcenter.org