Share in the Harvest: Get a taste of Learning Gardens Lab through our Harvest Share of the week fundraiser.
About this event
Learning Gardens Lab (LGL) is excited to offer weekly harvest shares during the 2021 growing season. Each share will include a selection of veggies, an herb, and flowers grown and harvested with love at LGL in southeast Portland. Sliding scale donation for each share is $25.00-$50.00. (The market value of last years' shares was estimated to be around $50). Please pay what you are able. Proceeds from the Harvest Share fundraiser support LGL in sharing abundances of produce with PSU Food Pantry and Woodmere Food Pantry.
Place your order here on Eventbrite. Online ordering opens each Monday at 5 pm and closes Wednesday at 11 pm, or when we sell out. Thursday morning we'll prepare the harvest and have shares ready for pickup at LGL from 5 -6:30 p.m. Thursday evening.
LGL's Harvest Share is a reflection of what is available locally throughout the season and changes weekly. Our June 24th share will likely include: kale, chard, potatoes, peas , lettuce, herbs, and flowers.
*Please bring your own container(s). We'll have your harvest share packaged in a sanitized tote ready for you to transfer to your basket, box, or reusable bags for the ride home.
* Due to storage, staffing, and COVID restrictions we are unable to accommodate alternate pickup times. Thanks in advance for picking up your share between 5 and 6:30 p.m. on Thursday.
Questions? Contact: lglvolunteer@gmail.com
All proceeds from LGL's Harvest Share fundraiser go directly to the Learning Gardens Lab and allow us to purchase supplies, fund student staff positions, support garden based education and sustainable food production. In addition to the Harvest Shares LGL is offering this season, we also donate approximately 50 pounds of produce weekly to local food relief efforts.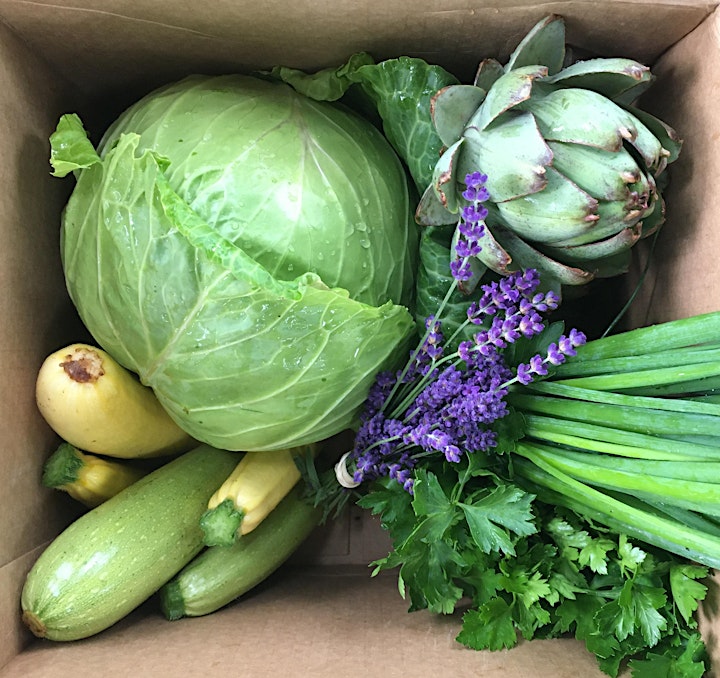 This is what an early summer share might look like: a head of 'Copenhagen market' cabbage, several 'cube of butter' and 'dirani' squash, two artichokes, a bunch each of parsley, scallions, and lavender, plus two bags of beautiful mixed lettuce greens (not pictured).