Harvest of the Artist - Independent Emerging Artist Showcase & Bursary Bash
About this Event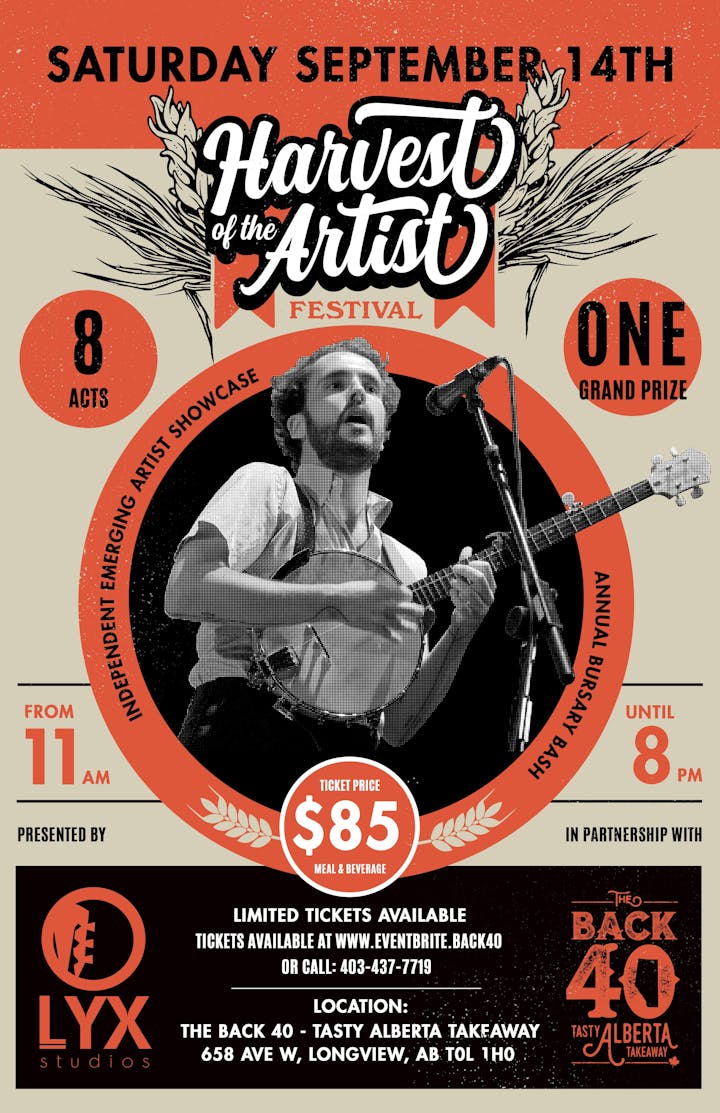 Lyx Studio is proud to present Harvest of the Artist, a one day music festival on the Highwood, in the scenic Foothills.
This event will give you an inside glimpse into the incredible talent of many independent emerging artists.
FEATURING:
Lou Rye Julian Austin Deni Kobi
Bucking Horse Moon Rob Kroeger
Julia Roar Chelsey Cherkas
Marcus Trummer Band
Ray Martinson Jodie Cliff
Lorne Moncrieff
Each ticket purchased allows you entry into the event, parking, a full meal and first beverage from our partner, The Back 40 - Tasty Alberta Takeaway.
Camping available for $20/unit/night. Enjoy our Friday night Jam at no cost (small donation would be appreciated). Please contact The Back 40 Tasty Alberta Takeaway directly to book. Miss Mo will be making pancakes on Sunday morning!
Hit the road, take a breath of fresh air, and don't forget to bring your own lawn chair! Dress for the weather and come prepared. In true Alberta fashion, this event will happen rain or shine.
No outside food or drink is permitted on the event premisise. The Back 40 - Tasty Alberta Takeaway is a fully licensed, fully loaded food truck and event venue.
Only 200 tickets available.
Eat, drink, dance, and help us celebrate the launch of Lyx Studios Harvest of the Artist Bursary and choose which lucky artists/groups will be award one of three amazing prizes including:
Grand Prize - $1000 in studio time at LYX Studio, Turner Valley, AB
2nd Place - Writers Retreat with 2 nights all inclusive stay at The Back 40 Air BnB
3rd Place - Logo Design and Artist Starter Pack by Converge Studio
At Lyx Studio we recognize the challenges and barriers many artisits, youth to baby boomer alike, face when trying to enter and/or move forward in the music industry.
One major challenge is the financial committment required to develop, professionally record, and produce material that not only allows you to showcase your talent, but to generate work, glean recognition, and even to qualify to apply for many of the existing grant/bursary programs available to artisits and groups today.
In a committment to help, Lyx Studio is proud to announce the launch of the Harvest of the Artist Bursary - providing financial subsidy to emerging artists, that have the talent and drive to pursue their passion, in the areas they need it most. Donor information and application dates/details coming soon at www.lyxstudio.com and @lyxstudiomusic on Facebook. Donations will also kindly be accepted at the festival.
The Harvest of the Artisit Festival will be an annual event where we get to showcase many of the bursary recipients, thank the bursary champions and donors, create a community that supports independent emerging artisits, and provide a day of music, food, and the beautiful outdoors like no other.