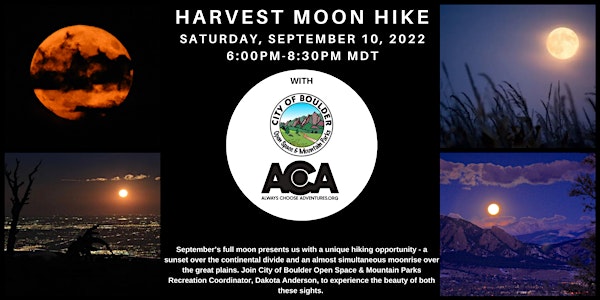 Harvest Full Moon Hike with City of Boulder Open Space & Mountain Parks
September's full moon presents us with a unique hiking opportunity - a sunset over the continental divide and an almost simultaneous moonris
When and where
Location
Flagstaff Summit - Flagstaff Nature Center Flagstaff Summit - Flagstaff Nature Center Boulder, CO 80302
About this event
September's full moon presents us with a unique hiking opportunity - a sunset over the continental divide and an almost simultaneous moonrise over the great plains. Join City of Boulder Open Space & Mountain Parks Recreation Coordinator, Dakota Anderson, to experience the beauty of both these sights. This moderate hike (2 miles, ~300ft of elevation gain) will be taken at a slow pace to soak in the views as we head to the west side of Flagstaff Summit for the sunset and then over to the east side to enjoy the rising Harvest Moon.
Note: This program will happen rain or shine, unless lightning is in the area. While this is a moderate hike, expect some sections of rocky/steep terrain.
Plan: Meet at the Flagstaff Nature Center (a $5 cash parking fee is required for vehicles not registered in Boulder County). Please bring layers appropriate for the weather, at least 1L of water, proper hiking footwear, and a headlamp.
Difficulty - Easy
Total gain: 300ft
Round trip length: 2 miles
Dogs: Allowed
Kids: Allowed
Suggested Gear:
Headlamp!
Water (plenty of water) (1 to 2 liters)
Dress in layers and either wear or carry:
Hat Warm Hat/Bennie and baseball cap
Gloves
Hiking Poles
Hand Warmers
Fleece or Wind-Block jacket
Waterproof shell/jacket
Hiking pants
Hiking boots
Smart wool hiking socks
Sunglasses
30 spf sunscreen
TP (in Ziploc bag)
Personal First Aid Kit (team leaders will each have first aid kits)
Personal Medications
Important notice re COVID-19: Please note any interaction with the general public poses an elevated risk of being exposed to COVID-19 and we cannot guarantee that you will not be exposed while in attendance at the event. Eventbrite, Always Choose Adventures INC and it's Officers, Directors, Agents, and affiliates from any claims, damages, losses, liabilities, including without limitation, all costs and expenses of defense, attorneys' fees resulting directly or indirectly from a claim by direct first party or third party, arising is not responsible for the health and safety of this event. We encourage you to follow the safety policies, as well as local laws and restrictions, which include wearing a mask if you are within 6 feet of another attendee, and participating in social distancing guidelines.
Please follow CDC guidelines and comply with social distancing during this outing.
Have you been exposed within the last 14 days? Do you have symptoms?
Fever
Cough
Colds
Headache
Diarrhea
Shortness of breath
Sore throat
Joint and Muscle Pain
Please stay at home, until the next adventure!
To Attend This Upcoming Event:
-You must not have been exposed or have symptoms of COVID19.
By registering and attending this event you agreed to Always Choose Adventures terms and conditions. To view visit: https://www.alwayschooseadventures.org/terms-conditions