Description
(english below)
Tunnetuin sosiaalisen pääoman tutkija Robert D. Putnam Suomeen
Maailmalla tunnetuin sosiaalisen pääoman käsitteen tutkija ja kehittäjä, Harvardin yliopiston professori Robert D. Putnam saapuu Suomeen syys-lokakuun vaihteessa. Nyt on tarjolla ainutlaatuinen mahdollisuus päästä kuuntelemaan professori Putnamia ja keskustelemaan hänen kanssaan
HYVINVOINTIYHTEISKUNTA ERIARVOISTUVASSA MAAILMASSA
Suomen pohjoismainen hyvinvointimalli on rakennettu ennen kaikkea tasa-arvon ja oikeudenmukaisuuden varaan. Globalisaatio, monikulttuurisuus sekä pitkään jatkunut vaikea taloudellinen tilanne asettavat nämä arvot koetukselle. Samaan aikaan monet perinteiset turvallisuutta ja luottamusta ylläpitävät sosiaaliset rakenteet ovat murentumassa. Ritarihuoneen tilaisuudessa pohditaan, millaisia toimia tarvitaan, jotta voisimme säilyttää hyvinvointimme arvopohjan muuttuvassa maailmassa.
Harvardin yliopiston professori Robert Putnam on tehnyt aivan poikkeuksellisen uran näiden kysymysten tutkijana ja maailmanlaajuisen keskustelun käynnistäjänä.
Putnamin voi hyvällä syyllä sanoa vakiinnuttaneen sosiaalisen pääoman käsitteen paitsi tieteelliseen myös julkiseen keskusteluun. James Coleman ja Pierre Bourdieu toivat sosiaalisen pääoman käsitteen akateemisen kiinnostuksen kohteeksi, mutta Putnam tutkimusryhmineen oli keskeisessä roolissa käsitteen popularisoinnissa 1990-luvulla. Robert D. Putnam on yksi harvoista eriarvoistumista ja sosiaalista pääomaa tarkastelleista kansainvälisistä asiantuntijoista. Hän on paitsi julkaissut näistä teemoista useita menestyksekkäitä teoksia, myös keskustellut ja esitelmöinyt niistä hyvin korkealla tasolla eri puolilla maailmaa.
Nyt professori Putnam saapuu Suomeen. Tapaamistilaisuus kannattaa käyttää hyväksi ja tulla kuuntelemaan ja keskustelemaan!
Tarjolla illallisbuffet
Mikäli haluat ostaa lippuja suuremmalle joukolle, otathan yhteyttä.
Lisää Puntamin ja Presidentti Obaman keskustelusta tästä
Rober Putnamin verkkosivut tästä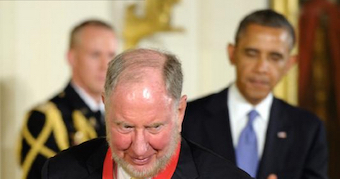 "BUILDING SOCIAL COHESION IN THE CONTEXT OF GROWING INEQUALITY"
Come hear Harvard Professor Robert Putnam share his perspective on the relationship between inequality, education and social cohesion based on his US experience and research. Prof. Putnam will use his presentation as a basis to engage the audience in a discussion, and in so doing reflect on the possible social and policy implications for Finland.
In talking with US President Obama at Georgetown University in May, both Putnam and Obama agreed that the American Dream of equal opportunity and social mobility was "in crisis" and that growing inequality was not only a moral imperative but also an economic one. Finland is now at a critical juncture between its past and its future. How should Finland redesign its "Nordic model" in the face of new realities and a changed context?
Dinner buffet served
Limited seats available!
If you are interested in group pricing please contact here
for more on Putnam's talk with President Obama visit here
Robert Putnam's website here
+++++