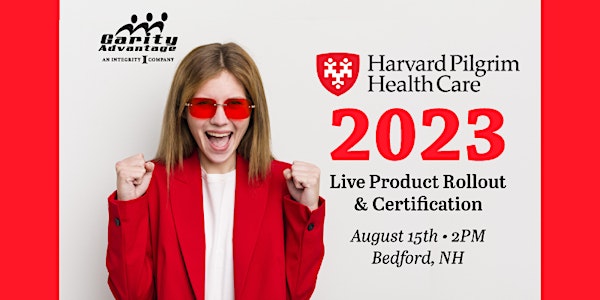 Harvard Pilgrim Health Care 2023 Stride Product Rollout & Certification
New Hampshire Insurance Agents: Live Rollout & Certification
When and where
Location
Country Inn & Suites by Radisson, Manchester Airport, NH 250 South River Road Bedford, NH 03110
About this event
Join Harvard Pilgrim Health Care's MaryEllen Joyce and GarityAdvantage Agencies' Susan Young to learn about their new products and benefits for 2023 and take care of Stride™ certification requirements all in one convenient live meeting. (AHIP is still required.) You'll be prepared for AEP 2023!
Please note:
Contract completion/submission to GarityAdvantage required prior to attending. If you are not contracted, please request the contract here and return to GarityAdvantage for processing prior to the training.
Annual AHIP Training is still required. Upload your AHIP Certificate on Garity's website.
Who is GarityAdvantage?
GarityAdvantage is a National Marketing Organization (NMO) for the top local, regional and national Medicare carriers. We approach our role with brokers a bit differently than our competitors – as we provide local market teams to work with you side-by-side to ensure you succeed.
This allows us to actively develop targeted lead programs and local market opportunities to help you prospect and sell as well as deliver personalized training, ongoing marketing support and co-op funding to support your specific needs. We also offer the latest tech tools to help manage your business including efficient lead calling tools, agent dashboard and Medicare Select-a-Plan, our virtual quote and enrollment platform. Rounding out our support is a back office team helping you every step of the way with contracting, commissions, enrollments and compliance. Plus, all broker commissions are paid directly to you. You get the whole pie, not just a piece of it! Call us today to learn more or request your contract now.