HARU NEMURI at the ECHOPLEX on MARCH 27, 2020 with JAGUAR JONZE
About this Event
HARU NEMURI
Haru Nemuri is a Japanese singer-songwriter and poetry rapper. She suddenly began to perform as a poetry rapper at the age of 21. Since then, she has been Haru Nemuri and called herself as the "singing ultimate weapon". In April of 2018, she released the long-awaited first full album "Haru to Shura". "Haru to Shura" has been featured in many countries overseas, including American famous music Vlogger "Anthony Fantano". In 2019, she performed in some huge music festivals in Malaysia and Taiwan, and on March she started an Asian tour including Hong Kong, Shanghai, Beijing, Taiwan and Japan. From May to June, she performed in "Primavera Sound 2019" which was one of the huge music festivals in Europe, and she also did 15 shows in 6 countries as her first European tour. The shows on this tour were sold out and her tour was finished with great success. Currently, her debut album "Haru to Shura" was selected as "College Music Network! Here are Some of our Favorite Records of 2018". Further on granked 30th in the album work in 2018 on "RATE YOUR MUSIC", which is the largest music evaluation site in America. This is the Japanese pop music of new generation, and her spirit is "Rock and Roll."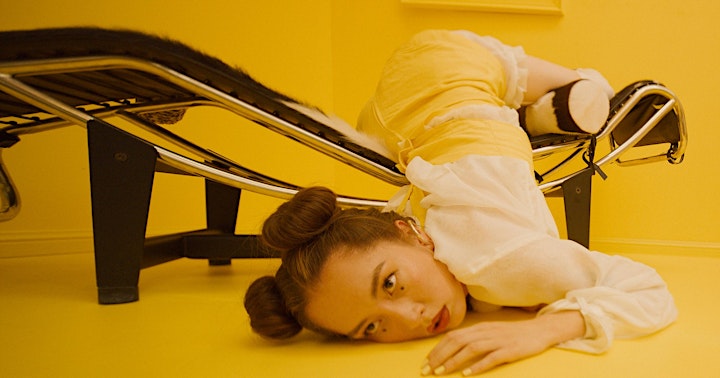 JAGUAR JONZE
"Straight away, the first time I listened to "Kill Me With Your Love," it jumped out at me. And when I saw her at BIGSOUND, I couldn't take my eyes off her; it was amazing. She is a passionate artist who puts herself wholeheartedly into everything, and she always smashes it"
- Declan Byrne to Richard Kingsmill for the Triple J 2019
Life-changing serendipity happens only to a chosen few, and that moment took musician-artist Deena Lynch by surprise while playing an Iggy Pop tribute night in her native Brisbane, Australia. After witnessing the unhinged performance of a guy emulating Iggy, she knew she had to up her game. "So, I cracked down two tequila shots," she recalls, and then transformed into a bona-fide banshee. "Everything I ever suppressed came spilling out. My shame and inhibitions broke down. I wasn't afraid." After that primal performance, she earned the nickname-turned-stage name Jaguar Jonze.
Signed to Nettwerk Records, Jaguar Jonze has released "You Got Left Behind," "Beijing Baby," and "Kill Me With Your Love" from her 2020 debut EP. At home in Australia, Jaguar Jonze has garnered the attention of The Music, Fashion Journal, Industry Observer and Tone Deaf, who writes "to sum up the creative explosion that is Deena Lynch into a neat little elevator pitch would have even the most qualified of journalists in tears." Jaguar Jonze was named by Cool Accidents as an "Artist To Watch" for BIGSOUND 2019 and was also named in Richard Kingsmill's (Triple J) "Top 5 Artists from BIGSOUND 2019." Deena is also a Triple J "Unearthed Feature Artist," and made her performance debut on "Like A Version" for a cover of Nirvana's "Heart-Shaped Box," alongside friends Hermitude. Jaguar Jonze also competed in Eurovision Australia Decides 2020 with her own original song "Rabbit Hole." Abroad, after features on Spotify and Apple Music playlists, FLAUNT Magazine deemed her "nothing short of a manifold visionary."
Jaguar Jonze's music is multi-dimensional, representing her multicultural roots with her Taiwanese mom and her Australian Dad. Ultimately, Jaguar Jonze—and its adjacent projects, her narrative illustration project Spectator Jonze and her gender-subverting photography project Dusky Jonze—would become powerful ways in which Deena could process her most intimate vulnerabilities and traumas, while also using it to empower those around her to do the same. Her art in all facets, whether it be her music, visual art or photography is a logical extension of these vulnerabilities and traumas with each project mining depths of her personality.
"I can't do anything without meaning," she says of her visual artwork via Spectator Jonze. Through bold pop art that dabbles in surrealism, she destigmatizes mental-health issues by interviewing her subjects before drawing them. Deena's 50th portrait came after a year into the project confronted her own PTSD stemming from her unstable, unsafe childhood. "I realized when I stepped out of hiding, I could actually move forward, feel less isolated. I want other people to unburden themselves from the wasted extra energy spent pretending and hiding." Sometimes she finds her subjects; other times, they find her. "There's a girl in the States; she's still one of my favorite drawings. She reached out to me, having come to terms with her psychosis, depression and anxiety. The level of awareness and openness she had really moved me because I was oblivious to the stigma I still held over the mental illnesses I hadn't yet been exposed to," Deena says. "We still have this pen pal relationship with each other. We've never met in person, but I think she's one of the biggest supports in my everyday life."
Dusky Jonze, Deena's most recent endeavor uses photography to subvert gender roles and highlight toxic masculinity through intimate portraits. "We don't talk about toxic masculinity enough. So, I thought it'd be funny to just shoot male photographers," she says of the evocative nude portraits. "And they were open to it. They'd say, 'You know what? This makes me a better photographer.'" Consequently, the photo project has grown and become a more fluid effort to undo insecurities and taboos of both the male and female body, within the engendered eye of the photographer. As dramatic as the photos can be, they can also be quite funny. For example, when Deena obscures male genitalia with a banana. "I wanted it to be crass and crude. I like testing boundaries and making people question why they're uncomfortable," she says, laughing.
Every project Deena creates has its unique identities, but each weaves a common thread throughout, tying them right back to Deena Lynch as just herself, the person, each one confronts shame, vulnerability, trauma and taboos in an authentic honest way. "Everything I do stems from the need for dialogue - Jaguar being an internal dialogue with my subconscious, Spectator being an external dialogue with others on mental health and the mind, and Dusky being a dialogue with the body" she explains. In their own way, each is a collaboration, be it literal or metaphoric. Her mission is simple: "I want people to feel. And I want them to think," she says, "and obviously, I want them to enjoy themselves too."
Performers
Date and Time
Location
Refund Policy