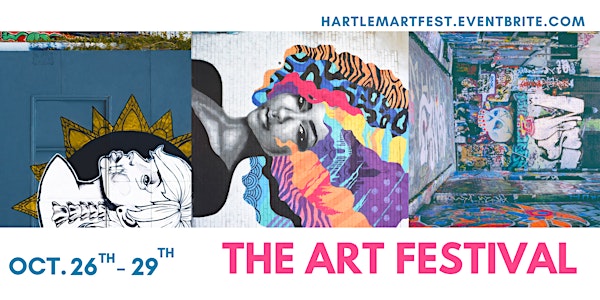 hARTlem: The Art Festival
When and where
Location
New York Various Locations New York, NY
Description
10/26:
BWOOD x hARTlem
Pop-Up Show/Meet & Greet 147 Orchard St | 7 - 9 Pm | 18+ | 1 hr Open Bar
Get to know the hARTlem team as well as renowned designer Brian Wood. We will be introducing our hARTlem apparel collaboration. Lets kick off hARTlem with a bang!
10/27:
Drink + Create: An Art Class
H Loft 226 W 145 St | 7 PM & 8 PM | 21+

Channel your inner Picasso and create your own masterpiece inspired by Cam'ron's Pink Range Rover. Simply put, paint and sip. Libations and all supplies provided. *LIMITED QUANTITIES AT THE DOOR *Please arrive 15 min before class starts*
Things That Go Bump in the Night: A Glow in the Dark Haunted House Party Experience
181 Lenox Ave | 9 PM -1 AM | 18+ | 1.5 hr Open Bar 9:30 — 11 PM
Come out for a spooky good time. Enjoy live art installations, performances + more all while getting your sip on. Costumes aren't mandatory; but come on don't be that guy, be festive! Trust we have plenty of tricks & treats up our sleeves.
Sounds By: @DjSpotlightny & @GeniusinHD
Hosted By: @FunnyJulius & @Goldengtvo
Art By:
@LifeOfDeem x @dfc.2 x @arizona_hall x @donutsandhenny x @mr_cartooncrazii x @valinyx x @smileytherager x @zerosmsc
10/28:
Sole Service Where Fashion Meets Art (A Gallery x Marketplace)
181 Lenox Ave | 2PM - 6PM | 18+ | 1.5 hr Open Bar 3:30 - 5 PM
Don't let the name fool you, Sole Service has more to offer than sneakers. A celebration of fashion and the culture that inspires it; attendees can expect sneakers, streetwear, and accessory brands that cater to both sexes along with art, food, plus performances from some of the city's most talented up-and-coming acts.
Featuring:
@sha.allah @hyndrix.inc x @highimchaz x @dreskuffs x @jaywyse x @valeretheysay x @obeytheart x @souraudio x @dapadon x @saaypark x @airlinejay
Art By:
@jigga_what_jigga_who x @cheyenneimages
The Body: An Ode to Women
H Loft 226 W 145th ST | 6 PM - 11 PM | 18+ | 1.5 hr Open Bar 7:30 - 9 PM

A night dedicated to highlighting women and their creative pursuits. From hosts, to artists, artwork, performers, and even a special screening; women take center stage!
Hosted By: @cleverlychloe & @alexaleighton
Art By:
@da_wizrd x @ajanibrathwaite x @joyous_beautifulflower x @valinyx x @br0wng0ddess x @hunnysuite x @artsigned_pfitts x @bad_dominicana
Featuring Vendors: @kwhitley
Performances By:
@theofficialmrose x @arahsade x @brimariemusic_ x @dashmachete x @thelustgoddess x @br0wng0ddess
Special Viewing of: @KarinKamryn's Web Series "Coffee & Cream"
Food For Sale By: @littlelovecatering
Treats For Sale By: @treatologysd
Sounds By: @ohsoty & @sshydaughter

10/29:
hARTlem: The Art Show - H Loft 226 W 145th St | 3 PM - 10 PM | All Ages | 2 hr Open Bar 5-7 PM

Our gallery installation that showcases an array of talented artists across a spectrum of mediums. Along with performances, food, live painting and of course plenty of libations, hARTlem isn't your average art show.
Hosted By: @halamaroc & @shenaecurry
Sounds By: @amentheproducer x @harlemdfatboy x @djspotlightny
Art By:
@lifeofdeem x @glavale x @supremekadeem x @odesiart31 x @kairichapman x @maurice_atelier x @valinyx x @kav_designs x @jicasso_nyc x @artsigned_pfitts x @itsjalethal x @gonzalez.266 x @pinmgmt x @theybeenknew
Performances By: @nbhdnick x @ghettoguitar x @lawranson x @don.nve x @thesamialexandra