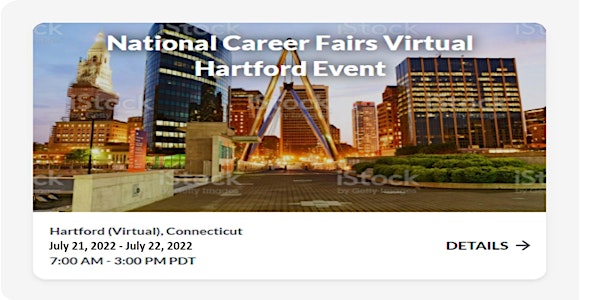 HARTFORD VIRTUAL CAREER FAIR AND JOB FAIR-July 21, 2022
Find a better job at our FREE Hartford Virtual Career Fair. It is a must attend. Meet with top hiring companies in Hartford.
About this event
HARTFORD VIRTUAL CAREER FAIR AND JOB FAIR –July 21, 2022
Job Seekers MUST create a Free Virtual Profile to attend a Virtual Hiring Event
Benefits for Job Seekers:
Conduct live online one-on-one virtual interviews with nationally known employers at The Hartford Virtual Job Fair.
No more sending your resume in to the black hole and waiting for a phone call.
This event will put you front and center with the recruiter who can hire you!
Free Attendance to job seekers! The Hartford Virtual Career Fair is Open to all candidates!
Safety – No contact necessary
Chat with a recruiter from the comfort of your home at a convenient time
Build a video profile that is continually viewed by employers
Create a video cover letter
Proprietary Job matching
All you need is an internet connection
EMPLOYERS Please Contact us for Best Rates - CALL 855-456-7159 or request a free demo
Benefits for Employers
Cost – no travel expense
Safe Space – avoid crowds
Patented Job Skill Matching Technology – matches seeker profile with your job description
Capture Job Seeker and hire Info 24/7
Connect with job seekers on your schedule and never miss a good candidate
Marketing tools allow companies to follow up with candidates by email marketing campaigns, text messages, and voicemails directly from the platform
Ability for companies to chat and video interview directly through platform
Users can log in from anywhere in world from any device
Detailed Tracking and Analytics provided
CONVENIENT FOR JOB SEEKERS, CONVENIENT FOR EMPLOYERS
JOB TYPES AT OUR EVENTS:
Sales, Customer Service, Management, Warehouse, Driving, IT, Healthcare, Retail and more see below.
Available Opportunities at this event:
CDL Drivers A & B, Mechanics, Yellow Iron Mechanics, Forklift Drivers, Laborers, Welders, Heavy Equipmemnt Operators, Office Personnel, Sales Representative, CSR I - SBS, NEW Senior .NET Architect, Senior Change Management Analyst, NEW Business Analyst I, Senior Consultant Sustainability - Remote, Director 3rd Party Strategic Sourcing, NEW National Accounts Program Manager, NEW Business Analyst, Project Lead, NEW Asset Management Coordinator Logistics, Bradley Fighting Vehicle System Maintainer, Special Forces Candidate, Infantryman Jobs, Air and Missile Defense (AMD) Crewmember, Emergency Room Nurse, Ophthalmologist, Cardiologist, General Dentist, Explosive Ordnance Disposal (EOD) Specialist, Parachute Rigger, Diagnostic Radiologist, General Surgeon, Neurosurgeon, Dietician, Certified Nurse Midwife, Physician Assistant Officer, Clinical Psychologist, Family Medicine Physician, Psychological Operation Specialist, Peripheral Vascular Surgeon, Cardiologist, OB/GYN Nurse, Physical Therapist, Critical Care Nurse, Human Intelligence Collector, Diagnostic Radiologist, Army Public Health Nurse, Urologist, Radar Repairer, Chemical Biological Radiological/Nuclear (CBRN) Specialist,Social Worker, Occupational Therapist, Orthopedic Surgeon, General Dentist, Psychiatrist, Emergency Physician, Signals Intelligence Voice Interceptor, Comprehensive Dentis, Preventative Medicine Officer, Oral & Maxillofacial Surgeon, Clinical Psychologist, Critical Care Nurse, Infectious Diseas Officer, Field Veterinary Service, Internal Medicine Physician, Emergency Room Nurse, Psychiatric/Behavioral Health Nurse, Explosive Ordnance Disposal (EOD) Specialist, Diagnostic Radiologist, Army Public Health Nurse, Prosthodontist,Insurance Agents, Financial Services Representatives
For more information about this event visit our website: https://www.nationalcareerfairs.com/