Description
Hartford InsurTech Hub is excited to invite you to our March Social: Cybersecurity.
Hardly a week goes by without hearing about another company's data being compromised after hackers gained access to it through a third-party vendor. Each incident highlights that it's no longer enough for companies to focus solely on their in-house cybersecurity defenses. Companies now also need to ensure that their third-party vendors' cybersecurity standards meet or exceed their own.
Third-party providers are core to many companies, but they can also be the weakest link in a company's cybersecurity defense. To mitigate third-party cybersecurity risks, companies, more than ever, need to understand the nature of these risks, develop a security plan around it and collaborate with their third-party providers to remediate and mitigate against such risks as they arise.
Today, companies need to approach third-party cybersecurity differently than they have in the past. Companies need to see third-party security as a business risk that needs to be continually assessed and monitored.
During the first part of the social, you can expect to hear from a well-known panel to cover a variety of topics as described below. During the second part of the social, we will ask to gather your thoughts and feedback.

We are excited to share that Startupbootcamp's Amsterdam Cybersecurity program will be participating in our Cybersecurity Social.
Panel Members
The panel members will be announced at a later date.

The discussion will be moderated by Hartford InsurTech Hub Managing Director, Dawn LeBlanc.

Agenda

5:30pm - 5:45pm: Arrival and Welcome
5:45pm - 6:15pm: Panel Discussion
5:15pm - 6:45pm: Thoughts and Feedback
6:45pm - 7:30pm: Networking & Refeshments

The panel will be followed by networking and light refreshments. Please RSVP so we may plan accordingly. We look forward to seeing you there!
Hartford InsurTech Hub powered by Startupbootcamp Partners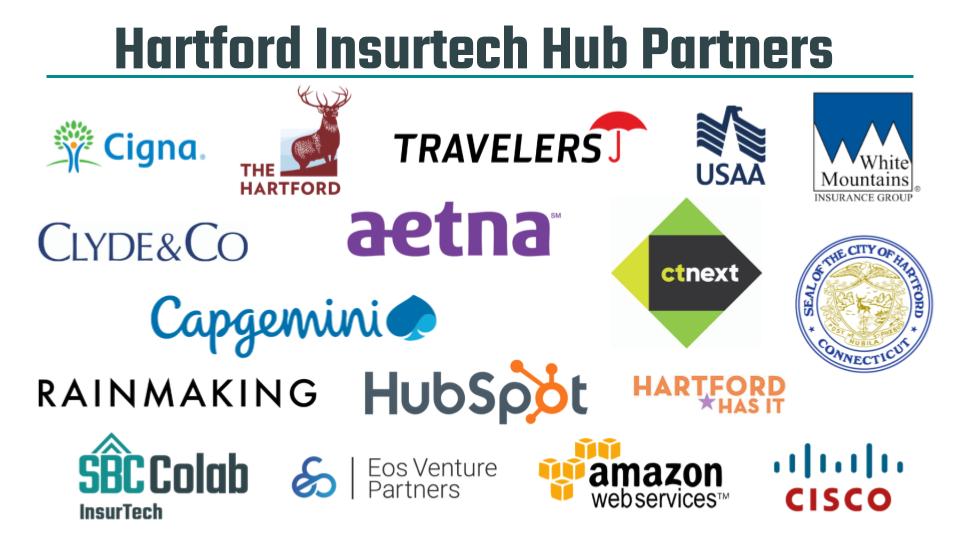 Global InsurTech Partners

Enablement Partners