Hartford: Cloud, Security, Storage, Infrastructure, plus Encryption, AI/IoT
Description
Click register on the upper right, then follow prompts to enter your promotional code for a free pass.

Angelbeat is hosting this comprehensive 1/2 day seminar, featuring dynamic speakers from Microsoft and other industry leaders, covering IT security/compliance, private/public/hybrid cloud, storage/backup and data center infrastructure.

Angelbeat CEO Ron Gerber delivers the clsoing keynote, discussing four top technology trends and their impact on your organization's IT strategy and personal career:
- Encrypted Email/Messaging
- Public Cloud
- Artifical Intelligence/Big Data/IoT
- Bitcoin and Digital/Non-Cash Currency

Great content on today's (and tomorrow's) top issues.

Scroll down to see the full agenda. Click here to download presentation guidelines that are followed by all participants, which makes the program so worthwhile for technology professionals, business executives, etc.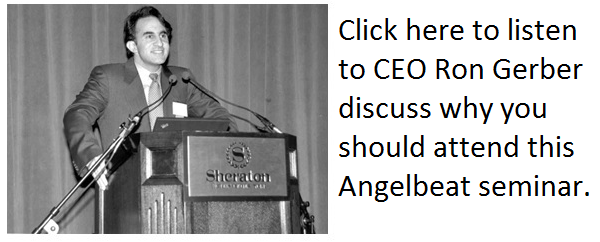 As one Walmart attendee states, "Of all the seminars I attend, your format is by far the best. Brief informative talks from vendors, followed by one-on-one time at their booth to find out more. I am out of the office for less than a day yet I have access to all the different solutions. This year I will follow up with two vendors." As another IT Director commented, "Thanks for hosting a very informative meeting with vendors that tied in well; it was an integrated picture of technologies that work together to create a complete infrastructure solution for the workplace."

Join your peers from United Technologies, Cigna, Travelers, Optum, Prudential, KeyBank, Webster Bank, Lincoln Financial, MassMutual, Insurity, Hartford Healthcare, State of Connecticut, Quinnipiac College, Central Connecticut State University, Vernon Schools, City of Manchester, Town of Enfeld, Town of Watertown and many more organizations who are confirmed attendees.

Every attendee receives a full hot breakfast, complimentary WiFi, plus 3 CPE credit hours towards your CISSP or other certification. There are drawings for gift cards and other prizes at the end of the event (must be present to win).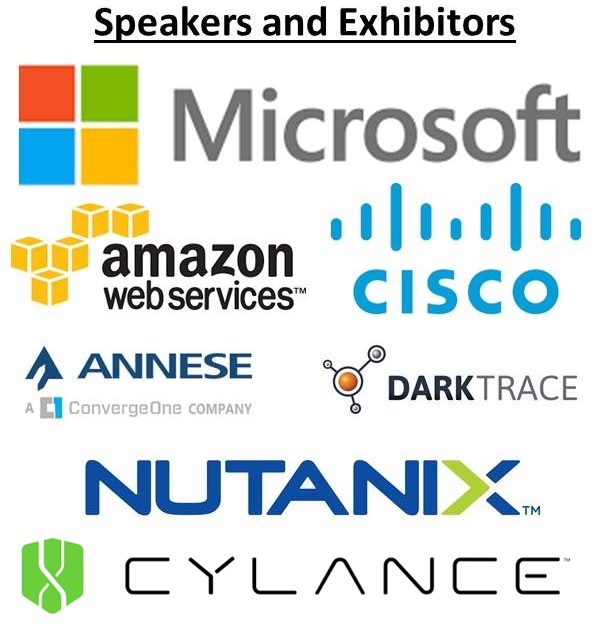 Agenda

7:40 - 8:40: Registration Begins, Full Hot Breakfast and Coffee Served, Exhibit Area Open with Product Demonstrations, Time For Peer Networking/Interaction

8:40 - 9:00: Ransomware 2.0 Problem, Stopping Malware with Layered/Defense-In-Depth Solutions: Cisco Umbrella for DNS Security, CylanceProtect for Endpoint Protection, Wombat for Training
The ransomware landscape is evolving quickly. The availability of malware AND services for sale on the dark web has brought about Ransomware as a Service (RaaS). This new service model is spreading quickly and security professionals must be prepared to deal with this increased threat.

In this session, the Annese Security Team will walk you through how ransomware can breach your environment and how using a Defense-in-Depth approach in security can yield the biggest return on your technology investment. At the end of this technical and highly relevant presentation, you will have a better understanding of:

- What is ransomware and how has it evolved
- The attack vectors they use the most
- Where to invest: People, Process and Technology
- Human Patch Management: Best ways to patch "people"
- Defense in depth: Solutions to help mitigate the risk of ransomware affecting your organization
- Best practices around ransomware prevention & mitigation

9:00 - 9:20: The Enterprise Immune System: Using Machine Learning for Next-Generation Cyber Defense with Darktrace
From insiders to sophisticated external attackers, the reality of cyber security today is that the threat is already inside. A fundamentally new approach to cyber defense is needed to detect and investigate these threats that are already inside the network - before they turn into a full-blown crisis. Based on unsupervised machine learning and probabilistic mathematics developed by specialists from the University of Cambridge, new 'immune system' technologies are capable of learning the 'self' of an organization. By analyzing every network, device, and user, and modeling them as they go about their day-to-day activity, the Enterprise Immune System can establish a highly accurate understanding of normal behavior. It can therefore spot abnormal activity as it emerges, and even take precise, measured actions to automatically curb the threat. Rules and signatures are not keeping pace with today's rapidly evolving cyber-attacks. The Enterprise Immune System represents a fundamental step-change in automated cyber defense, is relied upon by organizations around the world, and can cover up to millions of devices. Dylan Luther, a Darktrace Account Executive, will cover the following subjects during this session: • How new machine learning and mathematics are automating advanced cyber defense • Why 100% network visibility allows you to detect threats as they happen, or before they happen • How smart prioritization and visualization of threats allows for better resource allocation and lower risk • Real-world examples of unknown threats detected by 'immune system' technology

9:20 - 9:40: From Traditional to Next-Generation: Demystifying Hyperconvergence and Enterprise Clouds with Nutanix
As enterprises look beyond traditional IT workloads including cloud-native applications and DevOps, they should consider how technologies such as software-defined infrastructure and cloud can drive real-world benefits.

During this informative session featuring Scott Ryden of Nutanix, learn how IT can move away from traditional environments to hyperconverged infrastructure and onward to Enterprise Clouds. These new platforms can handle all your challenging applications and business needs, with clear agility, productivity and availability/security benefits. At the end of this session, you'll:

- Acquire proven strategies for delivering frictionless IT services while retaining the precise control your business needs
- Understand new capabilities that tear down IT silos and unify the technology stack
- Learn best practices in virtualization, application design and cloud technologies

9:40 - 10:00: Cloud-Based Backup and Disaster Recovery using Amazon Web Services
Learn from Annese why Cloud-based Disaster Recovery based on the Amazon Web Services platform is so popular for organizations of all sizes, across all industries.

This technical and highly relevant talk will provide practical recommendations on ensuring that your DR strategy is successful and maintainable over the long-term, and seamlessly tied to your network/data center infrastructure, machine configuration and business workflows. Real world cloud-based DR case studies and live demonstrations are an important part of this presentation, plus testing and live recovery scenarios.

10:00 - 10:40: Private/Public/Hybrid Cloud Strategies, Linux & Windows Containers, Integration with Microsoft Azure
In the opening part of this session John Mutchek, world renown Technical Evangelist at Microsoft and a dynamic/engaging presenter, will discuss the strategic/financial tradeoff and decision-making process between expanding internal IT resources (capex, buying more network/storage hardware) versus using third party/public cloud/service providers (opex, renting these same capabilities).

Then more technical discussions, starting with the similarities and differences between a container and a virtual machine, followed by a walk through/demonstration of enabling, creating, deploying and managing Linux and/or Windows containers/resources. There will be an evaluation of when to use which containers, why and how. FYI, a container is an isolated and portable operating environment, often viewed as the next evolution of virtualization. It provides a mechanism for IT to deploy services in a portable, repeatable and predictable manner.

For those who are new to containers, this content serves as a jumpstart to accelerate your learning of containers. If you already have experience on Linux containers, the session familiarizes you with the specifics of Windows containers, plus helps bridge and extend your skills for bringing business value to both Linux and Windows communities.

The session ends with a detailed assessment of the top five new features in Microsoft's Azure cloud platform for 2017, and how to integrate your organization's public/private/hybrid cloud and container strategies.

10:40 - 11:10: Snack and Coffee Break, Peer Networking and Product Demonstrations, Exhibit Area Open

11:10 - 11:30: Encrypted Email/Messaging, Public Cloud, AI/Big Data, Bitcoin/Digital Non-Cash Currency: Keynote on Top Technology Issues by Angelbeat CEO Ron Gerber
Angelbeat CEO Ron Gerber is a globally renown and highly respected industry analyst. Mr. Gerber will discuss how these four top technology issues will impact your organization's IT strategy - and your own personal career.

- Encrypted Email/Messaging: Seemingly every day, a government or corporate official's email account is hacked, and confidential communications are released. Widespread usage of encrypted email and/or messaging is expected. This will significantly affect ediscovery and digital forensics intiatives, plus general email monitoring and compliance with regulatory/legal guidelines. So what can you do, besides blocking applications?

- Public Cloud: It is inevitable that the public cloud - IaaS, PaaS, SaaS, and other "as-a-service" offerings - from Amazon, Microsoft, Google and others will continue to replace work previously handled by internal IT staff. What is the long-term cost of these services? Is it really cheaper? Learn why using multiple cloud providers avoids vendor lockin and gives you more leverage to control costs. Understand why differentiating between employee/internal and customer/external use cases is so important.

- Artificial Intelligence/Big Data/IoT: Computing power is growing exponentially, allowing organizations of all sizes to perform analyses previously limited to only the largest corporations. There is a corresponding increase in available data to analyze; for instance, you can now track website traffic by minute, device, ISP, wired vs wireless, etc. Learn how Artificial Intelligence (such as Watson from IBM), Big Data and Internet of Things (IoT) application requirements will impact your current data center/storage infrastructure design, and how/why IT professionals need to work with line-of-business/marketing staff to deploy and understand these new applications.

- Bitcoin and Digital/Cashless Currency: With the support of Microsoft, IBM, Federal Reserve and many more organizations, digital/non-cash currency options based on the generic blockchain platform, such as Ethereum and Hyperledger (not Bitcoin), are poised to have mainstream usage. Learn how this emerging technology can impact your organization's technology, financial and marketing plans.

End of Event, Raffle Prize Drawings for gift card and other great items!

FAQs

What are Angelbeat's privacy and optin/optout policies
Each attendee acknowledges/understands that financial support from Angelbeat sponsors allows him/her to attend this event at no cost, and that the sponsors will be given your contact information 2 days after the event for follow-up email and telephone communications. All sponsors are required to provide you with an opt-out option, allowing you to be removed from their database

However each attendee can opt-out of sponsor follow-up by informing Angelbeat staff at the event, or by emailing Angelbeat immediately after the event, but before Angelbeat releases the attendee list to the event sponsors.

If you have any questions regarding Angelbeat's privacy policies and how your contact information is used, please contact CEO Ron Gerber directly at 516-277-2057 or at rgerber@angelbeat.com.

Who might be available to receive the special Promotional Code and free pass
There is a special promotional code, that will allow you to attend for free, that is limited and only available for end user IT professionals who work in the telecom/network/storage/security/data center/desktop/purchasing departments of corporations (private and publicly-held, large and small), universities, school districts, government agencies, hospitals/healthcare providers, pharmaceuticals, insurers, manufacturers, retailers, financial services/banks, real estate, legal/accounting/services, transportation/logistic firms, etc. and use, support, approve and/or are involved in or influence the decision to buy the products and services offered by our sponsors.

Reporters from major newspapers, websites and other media outlets are eligible for a free pass and must submit in advance their media credentials to the event organizer for approval.
All other individuals who are not end user, IT professionals must pay the registration fee.

In all cases Angelbeat reserves the right to accept or reject a registration at its sole discretion.

What are my transport/parking options getting to the event
Detailed driving directions will be sent out to all attendees one week before the event. There is

What is the dress code
Suggested dress is business casual.

What if you have special dietary needs/restrictions
If you have special dietary needs/restrictions, then please email Angelbeat below. We will do our best to accommodate any and all requests.

What if I am a government employee and cannot accept free meals and/or win raffle prizes
If you are a government employee and cannot accept free meals, then you can pay Angelbeat $35/person, to cover the cost of meals. Please contact the event organizer at registration@angelbeat.com to arrange payment.

Each sponsoring company/exhibitor handles its own raffle prize drawing; Angelbeat itself has nothing to do with these prizes and attendees are not automatically entered for any raffle prize drawing. Since each attendee must individually signup to win a raffle prize, then government employees (who are not eligible to win these prizes) can simply not signup for the drawing.