Description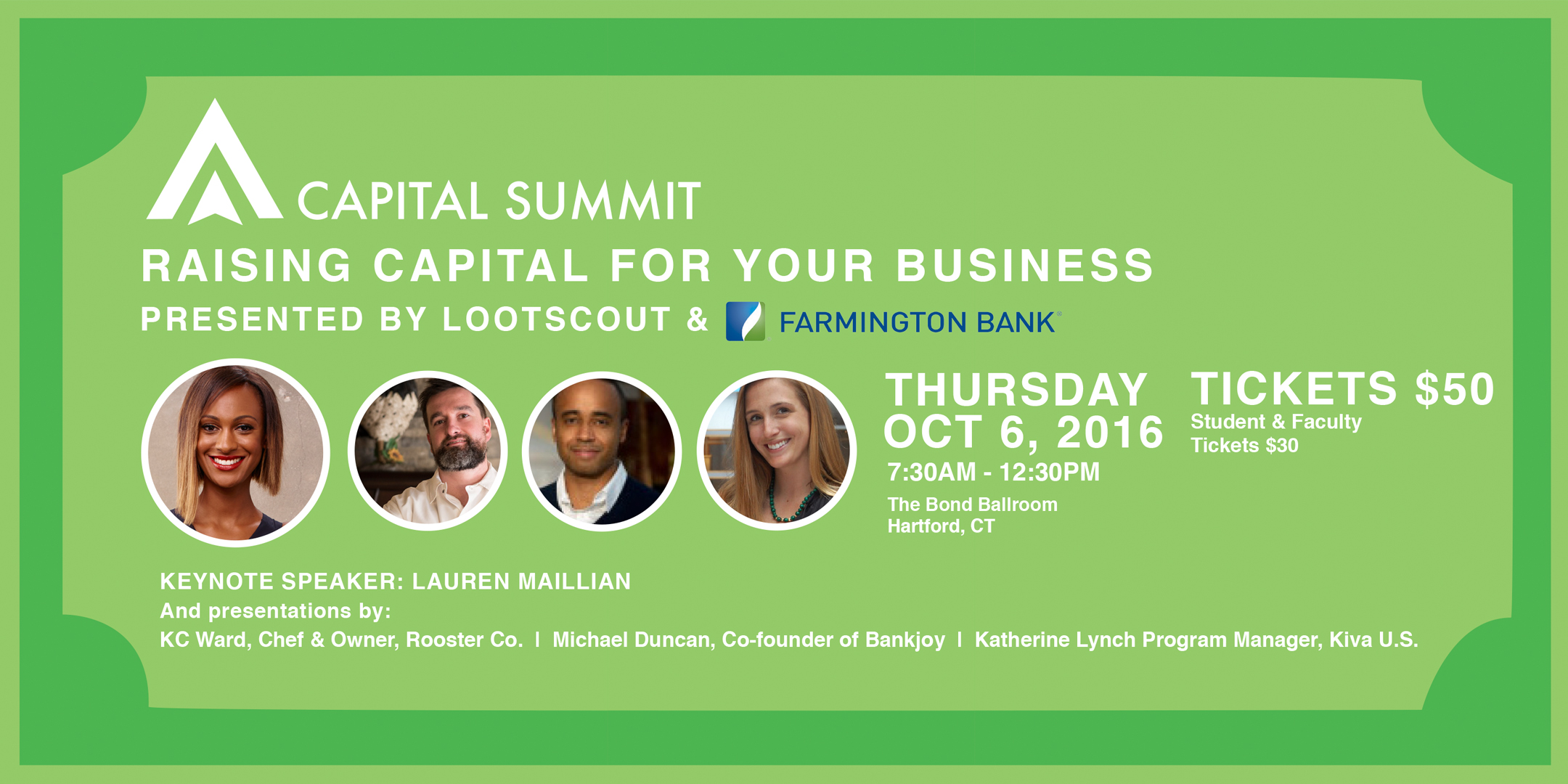 Farmington Bank and LootScout present Raising Capital for Your Business. This dynamic event will feature top entrepreneurs from Connecticut and arcoss the country. If you're running a business, or dream of starting a business, reserve your seat now! This event is ideal for entrepreneuers, busines owners, economic development officials, policymakers, nonprofit leaders, bankers, attorneys, accountants, and other professionals. 
Lauren Maillian will deliver the keynote speech. Lauren is an entrepreneur, author, former model, and TV personality. She was a cast member on the Oxygen network show Quit Your Day Job, which also featured Randi Zuckerberg, an investor and sister of Facebook CEO Mark Zuckerberg. Lauren has accomplished more than some will in a lifetime, and she's just getting started. She is a frequent speaker at major events throughout the U.S
---
KC Ward, the owner of the restaurant Rooster Co. in Newington, CT, will talk about how he built a winning business culture. KC and Jaime, his wife, created one of the best restaurant expereinces in Connecticut.  KC was a founder of Plan B Burger, a regional chain of hamburger restaruants, and was executive chef at Grant's in West Hartford, Connecticut. Learn KC's secret receipe to build your business culture. 
Michael Duncan is the founder and CEO of Bankjoy based in Greater Detriot, Michigan. Bankjoy creates mobile apps for banks and credit unions. Duncan is an alumnus of YC Combinator (YC), often referred to as the top accelerator in the country. Michael will teach you how to develop a pitch deck for your businees. If you plan on raising capital from investors, you don't want to miss this presentation. Michael has raised millions from investors. Get tips from someone who has done it. 

Katherine Lynch is a program manager for Kiva U.S, a nonprofit based in San Francisco that crowdfunds small business loans with no interest. Over the years, Kiva has helped entrepreneurs raise hundreds of millions of dollars around the globe. Katherine is a California native and works in the New York City office. Katherine will talk about how you can crowdfund a loan for your business.  

---
Our learning sessions combine information with real expereince.
The Business Plan is Dead: How to Create a Pitch Deck - Michael Duncan, Y Combinator ( YC W15) & CEO of Bankjoy
Build a Killer Team & Culture - KC Ward, Chef & Owner of Rooster Co.

Leveraging the Crowd to Fund Yourself - Katherine Lynch, Manager, Kiva U.S.  
---
Last year's event featured famous restaurateur Michael Chernow, who is the founder of Seamore's, a restaurant in New York City and host of the cable show Food Porn.


Don't miss your opporunity to build your business and network. Bring plenty of business cards. Breakfast will be served. This year's event promises to be bigger and better. There will be a rafffe, courtesy of Premier Limousine, and a DJ onsite.