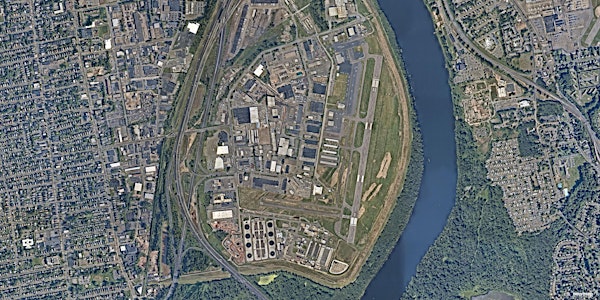 Hartford Brainard Airport Property Study - Public Information Meeting #4
The fourth public informational session will be held on Thursday, July 13th at 6:30 PM at the Metzner Center at 680 Franklin Avenue
Date and time
Thursday, July 13 · 6:30 - 8:30pm EDT
Location
METZNER EARLY LEARNING CENTER 680 Franklin Avenue Hartford, CT 06114
About this event
About this eventBFJ Planning was awarded a contract under Public Act No. 22-118, Section 426, which mandates the CT Department of Economic and Community Development (DECD) on behalf of the state to assess the benefits and opportunity costs to the City of Hartford and the State of Connecticut of the current and alternative uses of the Hartford-Brainard Airport property.
BFJ Planning will submit to the Finance, Revenue, and Bonding Committee a Final Report which will synthesize; 1) a decision pathway for continued use or redevelopment of the Airport following Federal and State regulations; 2) a preferred development scenario with a clear regulatory pathway for redevelopment following Federal, State, and Local laws; and, 3) a Final Report summarizing the community engagement program, identify impacts and an environmental remediation phasing plan. The report will highlight development constraints and provide other recommendations to assist the final decision-making by members of the State Legislature.
The second public informational session will be held on Thursday, April 13th, at 6:30 PM at the Metzner Early Learning Center at 680 Franklin Avenue in Hartford.
Background
Hartford-Brainard Airport (HFD) is located three miles from the City of Hartford's downtown business district; it is a public-use, publicly owned airport situated on 201 acres and managed by the Connecticut Airport Authority. The airport is designated as a Regional General Aviation Airport and a Reliever Airport in the FAA's National Plan of Integrated Airport Systems (NPIAS). HFD can relieve congestion from nearby Bradley International Airport and provides general aviation access to the general area.
The airport consists of one seasonal 2,350-foot-long turf runway and two (4,400 and 2,300 feet long) asphalt runways, one lighted helipad, and supporting infrastructure that includes a taxiway system, aircraft parking aprons, an instrument landing system, air traffic control tower, weather station, vehicle parking, and numerous airport tenant facilities.