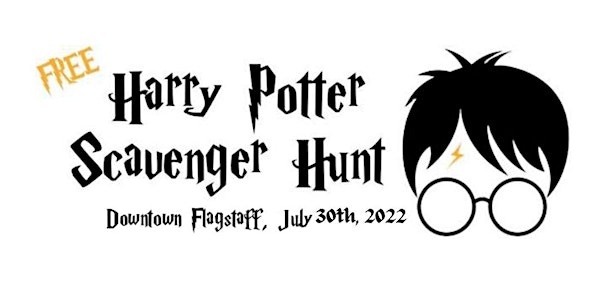 Harry Potter Scavenger Hunt
Grab your wands for the 3rd annual Harry Potter Scavenger hunt on Saturday, July 30th!
By Flagstaff Downtown Business Alliance
When and where
Date and time
Saturday, July 30, 2022 · 2 - 6pm MST
Location
Downtown Flagstaff 6 E. Aspen Avenue Flagstaff, AZ 86001
About this event
Grab your wands for the 3rd annual Harry Potter Scavenger hunt on Saturday, July 30th! Apparate your way to Downtown Flagstaff for a magical adventure!
Here are the details:
- This event is FREE and is geared to Witches/Wizards/Muggles of all ages.
- Pre-Registration is required. Register to secure your own event map. Groups that wish to share a map don't need to individually register.
- First 75 to register will receive a free event t-shirt!
- Check-in begins at 1:30 pm at the Public Library downtown (300 W. Aspen Ave.) & Heritage Square. We will email where your check-in location will be!
- You will receive your Marauder's Map and follow the footsteps to complete magical tasks, activities and riddles.
- Maps are due at Hogwarts (Aka Heritage Square) by 5pm (Or else you'll receive a howler).
- Once you turn in your map you will be entered into a drawing for AWESOME prizes! Only completed packets will be eligible to win.
- Winners of the drawing will be announced at 5:30pm at Hogwarts!
- Costume contest, sorting hat ceremony, and live entertainment from Ryan Biter will take place at Hogwarts beginning at 4:30pm.
- Stay for Movies on the Square and watch Harry Potter and the Sorcerer's Stone at Heritage Square in celebration of Harry Potters birthday! Games begin at 4:30, the movie starts at dusk!!
Use floo powder, hop on a dragon or broomstick, steal a flying car, or apparate to get here, whatever catches your fancy, but you don't want to miss out on this!
Presented by the Flagstaff Downtown Business Alliance (Padfoot), Boys & Girls Club of Flagstaff (Moony), Coconino County Public Library (Prongs), and Silver Lining Consulting (Wormtail).