Join us to celebrate the 25th Anniversary of the publication of the first Harry Potter book as we offer "Magical Journeys" from that world.
About this event
Start out at the steps to PLATFORM 9 and 3/4 (The Book Bungalow Front Porch) where a Hogwarts House prefect will do a quick reading from Harry Potter and the Sorcerer's Stone and then direct you up and onto the train platform. You'll get your train ticket once you check in along with a "Magical Journeys" bracelet, which you should keep on for the rest of the evening. You can also get entered for the grand prize drawing, and you'll receive a map, directions for the evening's activities, and a checklist and small pencil for the first activity. You can even get your picture taken in an Azkeban Wanted poster while you're waiting to get checked in.
Once you've boarded the HOGWARTS EXPRESS (by entering The Book Bungalow), another prefect will provide a reading from Harry Potter and the Order of the Phoenix and directions for the "Traveling in Style" Treasure Hunt where you'll search for small or big items on your checklist representing a mode of magical travel. As you complete it, you'll come across several Harry Potter related displays, books, and gifts, including a Magical Menagerie and items from Borgin & Burkes. Shop a bit if you like, but you only have 15-20 minutes and your kids must leave with you. You can always come back later for more shopping (though we can't guarantee inventory will last).
As you exit the train out the back door, you'll find the Hogwarts Express Tea Cart filled with goodies to buy: home-baked assorted pasties with fillings marked with thestral hooves, hippogriff talons, and dragon wings; ginger dragon snaps; cauldron cakes; chocolate frogs; Bernie Bott's Every Flavour Beans; and chocolate covered wands. Buy a few, if you like, to munch on during your next magical journey in Hogwarts Castle. You can choose between House Sorting in the courtyard at the fire pit or Wandlore Class in the Great Hall.
HOUSE SORTING with Madam Penelope (and her magical puppetry) at the fire pit in the Courtyard of Hogwarts Castle. Another prefect will read a bit about the sorting process from Harry Potter and the Sorcerer's Stone as you wait in line. (And don't worry about the cold...we'll have propane heaters set up to keep you warm as you await your turn.) Once you're sorted, you'll receive your house sticker to put on your bracelet.
WANDLORE CLASS in the Great Hall (the back patio of The Book Bungalow) with Greggarian. To begin, a prefect will read about wands from Harry Potter and the Sorcerer's Stone. Then Greggarian, an apprentice of Mykew Gregorovitch, who was descended from one of OLLIVANDER'S apprentices will demonstrate the proper way to use a wand and he will be offering many different hand-crafted wooden wands, available for sale in a range of prices. Greggarian wands are noted for the use of nontraditional woods from around the world.
POTIONS CLASS in Hogwarts (Field and Study) with Professor Trelawney (filling in for Professor Snape). Before you enter, a prefect on the front porch will read a bit from Harry Potter and the Chamber of Secrets to prepare you for potions and also a few paragraphs from Harry Potter and the Prisoner of Azkaban because you'll be making your own Marauder's Map.
Now that you're equipped with polyjuice potion and the map, you can sneak out of Hogwarts and head to The Department of Mysteries in THE MINISTRY OF MAGIC (The Barbers of Green Gate). Before you enter, a prefect on the front porch will read a couple of paragraphs from Harry Potter and the Order of the Phoenix. Once inside, you'll need to seek out the Hall of Prophecies.
Finally, after all your magical journeying, it's time for some refreshment at THE LEAKY CAULDRON/FLOREAN FORTESCUE'S ICE CREAM PARLOUR (Judd's Store). There you will find Butterbeer, various flavors of ice cream cones, Drooble's Best Blowing Gum, Liquorice Wands, and perhaps even some Quidditch Dips. To top it all off, there will be a free surprise to help you celebrate Harry Potter's 25th Anniversary and send you on your way home happy and satisfied.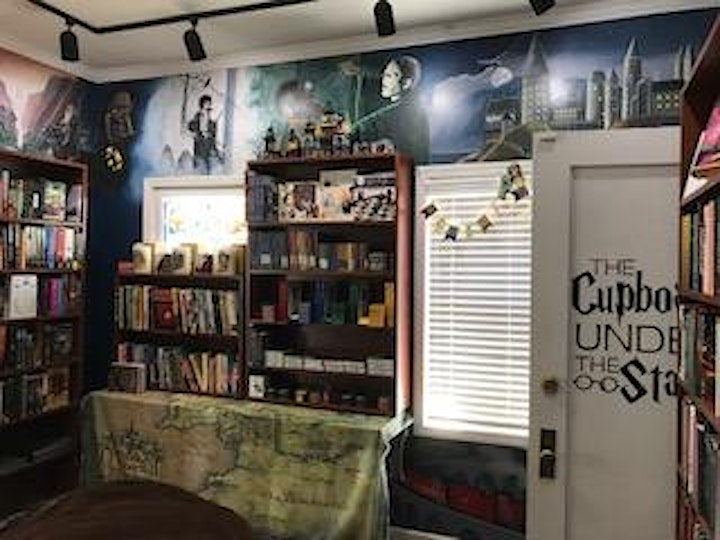 We opened our YA/Speculative Fiction Room, complete with a Cupboard Under the Stairs in June last year and it's been a big hit with all the customers, particularly kids and teenagers. Come and visit us for Harry Potter Book Night and see for yourselves!
Because of the surge with Omicron, and no clear picture of when this pandemic will end, we are starting an hour earlier than we did last summer and (again) limiting attendance--this time to 300.
We hope you will understand that this year, since we're still in the middle of winter, we're going to need to be firm about that number and about the time period for which you register. Each attendee needs to have a reservation and, upon checking in, each will receive a wristband to be identified as a registered attendee. If you show up earlier than your allotted time, you will need to wait so that we don't have more than 25 people bunched together in a fifteen-minute period.
If we sell out before you are able to get a reserved ticket, you are welcome to come at 8 pm in case there were some no shows.
Organizer of Harry Potter Book Night 2022 - "Magical Journeys" in Harry Potter World
I am an award-winning author and the owner of The Book Bungalow, the only independent bookstore selling all new books and offering a full slate of events in Southern Utah. Our mission is to become the literary soul of our community, and to help bridge understanding within the community through reading, writing, and discussion.