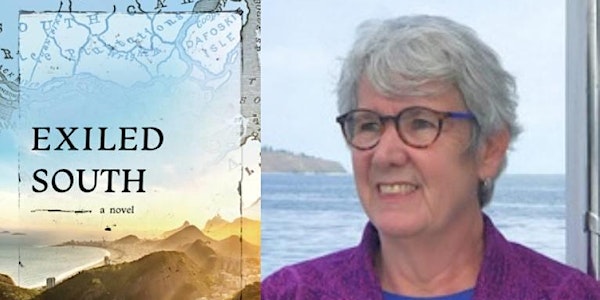 Harriet Cannon, Exiled South - IN PERSON
Don't miss this event for a debut novel that "...rips the cover off traditional Southern sagas...".
When and where
Location
Village Books and Paper Dreams 1200 11th St Bellingham, WA 98225
About this event
We are still operating at a limited capacity so we recommend pre-registering to reserve your seat. 
About the book
Can a twenty-first century woman's international quest heal family wounds going back to the American Civil War? In Exiled South, Lizbeth Gordon's roots journey to Charleston, South Carolina SC and Rio de Janeiro Brazil she uncovers her ancestors heart wrenching choices and an emotional legacy to be reckoned with.
Lizbeth Gordon, a school counselor and master at facilitating conflict resolution in everyone's life but her own, returns home to South Carolina after her husband's sudden death. Seeking solace at the ramshackle family cottage, she walks the winter beach, but the quiet life doesn't last. An elderly aunt has troubling family stories: a blockade runner hunted as a traitor after the fall of Charleston, and ancestors who disappeared during Civil War Reconstruction. Curiosity drives Lizbeth into roots research that dead ends.
Tentacles of the past reach across the continents when Lizbeth takes a job at an international school in Rio de Janeiro. She meets a multiethnic descendant of Confederate exiles, with the Gordon surname and nineteenth-century documents. Robert Gordon's letters describe bold escapes from Federal blockaders and Civil War intrigue in Scotland. Laurette Gordon's diary shares a heart-wrenching story of sacrifice. Can the keys to generations-long secrets open a path to family reconciliation and healing?
"This is a tale of courage and reckoning, of a woman's life turned upside down and then righted, or righted enough, a story whose pages will not stop turning because Lizbeth will not let them. Cannon gives readers just what they want from a historical, yet superbly contemporary, novel: stay-up-until-the-sun-comes-up reading." -Mary Lou Sanelli, author of Every Little Thing
About the author
Harriet Cannon is a writer with Southern roots and wanderlust. She is a psychotherapist with a master's in counseling from Seattle University. She has traveled widely, served as a consultant to international schools, and worked for the U.S. State Department in Chile. She is the co-author of Mixed Blessings: A Guide to Multicultural and Multiethnic Relationships. Exiled South is her debut novel.
*Online registration closes one hour prior to the event. Spaces may be available at the door.