About this Event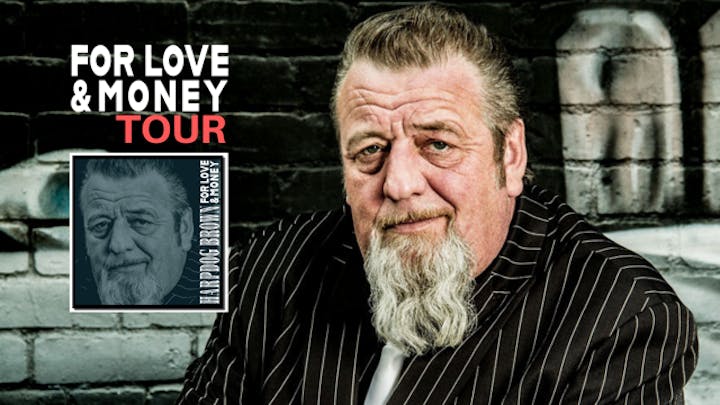 We're excited to welcome Harpdog Brown & The Uptown Blues Band!
Canada's Classic Bluesman, Harpdog Brown has just released his new album For Love & Money! It debuted on the Living Blues Radio Charts at #6 and reached #1 in Canada on the Roots Music Report for many weeks. And now he's bringing the show to High Beam Dreams for one night only!
Harpdog Brown has grown a reputation as a real-deal purveyor of classic electric blues. Think of the old Chess Records and Sun Records of the late 40's and early 50's. These days he's been touring more and more as Harpdog Brown & the Uptown Blues Band - a vintage New Orleans Blues sound featuring slide trombone, keyboards, bass and drums and often a sax and clarinet. Still a vintage vibe, just a different vintage! This music will move you!
They perform mostly originals yet they often include great songs of the masters from that era. Think Louis Jordan, Satchmo, Sonny Boy Williamson, Wynonie Harris, even Duke Ellington. Audiences are raving about this new show! He's been called a Blues Evangelist, and that's a very fitting moniker. "I speak the blues like it's the truth, and it is", he was recently quoted. "I do feel like I'm a servant of the people. A missionary if you will. Music can heal people if they pay attention to the messages in these songs." He delivers those messages using the vintage sound whether it be with his lowdown classic blues band the Travelin' Blues Show or with his Uptown Blues Band. Harpdog says "Blues has a healing power. It's a beautiful celebration of our perfectly flawed lives. We help people forget about their issues of the moment and then they realize that we all have our issues, and that's OK." Vancouver-based Harpdog Brown was born in Edmonton in 1962, an adopted child who has felt somewhat detached his whole life - "a lifelong battle of not feeling like I belonged. I feel like I was born for the circus, you know, born to travel. The blues tapped me on the shoulder years ago and said 'this is where you belong, son'. So the blues became my circus and there's no better way to travel than with a band!"
Harpdog Brown is a gifted vocalist and an imaginative harmonica player. Piano man Dave Webb has been working with Harpdog over the years and they share an intuition that only comes with many hours and miles shared on and off stage. Billy Joe Abbott on clarinet and alto sax is the newest and youngest addition to the band. He learned his craft first hand from some of the greatest players in New Orleans.
Harpdog has won three consecutive Maple Blues Awards for Harmonica Player of the Year (2014/2015/2016), the Fraser Valley Music Award, has three consecutive Western Canadian Music Awards Nominations, a Juno Nomination and is the only Canadian to win the coveted Muddy Award. In 2016, he was nominated for 3 Maple Blues Awards (Harmonica Player, Male Vocalist and Album of the Year) for his latest release Travelin' With The Blues. Travelin' With The Blues released in 2016 is still sitting in the top roots and blues charts and follows his Top 20 charting 2014 release What It Is (Roots Music Report International Blues Albums). Get off the couch and some see some seriously vintage blues that's lots of fun!"This band could play anywhere in the world, in any venue, large or small, and blues fans of all stripes would love this show." - Holger Petersen, SiriusXM, CKUA and CBC broadcaster and President of Stony Plain Records