Harnessing Yin and Yang in Immunity and Ameliorating Long-haul Symptoms
People who have the novel coronavirus disease 2019 (COVID-19) usually recover completely within a few weeks. But some people, even those who
About this event
LIVE Zoom Webinar from Taiwan | October 3, at 6PM - 8PM PT (2 Hours)
People who have the novel coronavirus disease 2019 (COVID-19) usually recover completely within a few weeks. But some people, even those who had mild versions of the disease, continue to experience symptoms after their initial recovery. These post-COVID-19 Long-haul Symptoms is a sequala of the imbalance of Ying and Yang, which includes loss of sense of smell, mental dullness, depression, anxiety, palpitations, fatigue, shortness of breath, vertigo, headaches, insomnia, musculoskeletal pain, or disorders of the nervous system. Studies have shown that Long-haul Symptoms can involve multiple organs and systems. From the perspective of Traditional Chinese medicine, these symptoms resulted from the initial attack of exterior evil (pathogen), leading to the internal damage of viscera and bowels and imbalance of Yin and Yang. To ameliorate Long-haul Symptoms, it is therefore very important to harness Ying and Yang to resume the harmonious balance.
In this lecture, we will discuss the followings:
1. Current studies about the long-term effects of COVID-19 (Long COVID)
2. Integrative viewpoint on Long-haul Symptoms from the perspectives of biomedicine and TCM
3. Current evidence about TCM management of Long-haul Symptoms
4. Harnessing Ying and Yang in Immunity to achieve balance.
----------
2 CE Units
CAB - Approved
NCCAOM - Pending Approval
----------
Sun Ten Laboratories is sponsoring this class by providing paid attendees a $20 gift certificate that can be used for Sun Ten's Classic, ProBotanixx, and Healthy & Natural products with a minimum $40 purchase.
----------
Please contact us if you have any questions: 800-333-4372 or webinar@sunten.com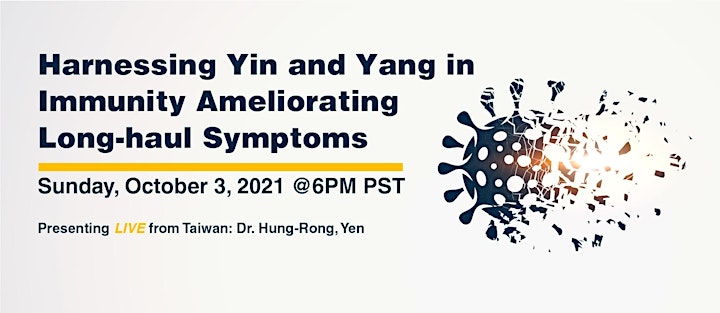 Date and time
Location
Refund policy
Organizer of Harnessing Yin and Yang in Immunity and Ameliorating Long-haul Symptoms