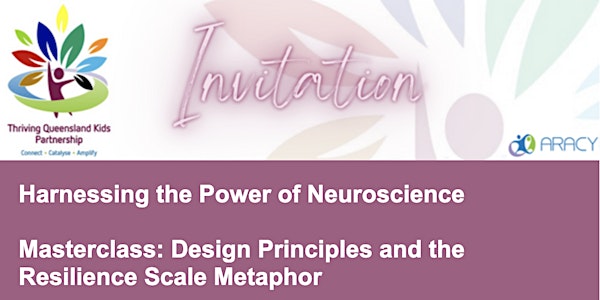 Harnessing the Power of Neuroscience Masterclass (online)
Harnessing the Power of Neuroscience Masterclass: Design Principles and the Resilience Scale Metaphor with Nancy Mannix
About this event
Please join the Thriving Queensland Kids Partnership and ARACY for a special half-day workshop with visiting guest speaker Nancy Mannix, of the Alberta Family Wellness Initiative, Canada.
This workshop will examine how universal, science-based frames and tools can help us build a coherent system of services and supports across all sectors, whether education or health, human services or juvenile justice, community development or economic growth and social mobility.
Nancy will share how using brain story knowledge can inform decisions on where to intervene, when and how, and can help build the capabilities that will enable sustainable improvements in the life trajectories of Australian children, especially those living with entrenched disadvantage.
A panel of Queensland practitioners will provide commentary on the application of the design principles and resilience frames and tools in the Queensland context.
Background:
A growing body of research across a variety of sectors and fields suggest that resilience is critical for leading a healthy, thriving life. As a result, organisations working with children and families are increasingly focusing on resilience as a core outcome of their work.
Based on insights emerging from neurobiology, genomics, epigenetics, social science and biological science, the Harvard Center on the Developing Child identified Three Design Principles that can help improve outcomes for all children and their families. Using these design principles, the Resilience Scale Metaphor helps explain why some people seem more resilient than others. The Alberta Family Wellness Initiative has combined the two frames into a tool to help practitioners and policymakers understand where to intervene, how and when.
Workshop objectives:
To understand the science behind the Three Design Principles and the corresponding three aspects of the Resilience Scale Metaphor and the dynamic forces that influence resilience over time.
To hear from Queenslanders who are using brain science in their organisations and professional practice.
To explore potential applications to the work of frontline professionals and policymakers in Queensland.
Who should attend?
This workshop is structured for those who design, select and implement professional learning for frontline staff, practice leads, team leaders, trainers/training organisations and program directors.
About Nancy Mannix
Nancy Mannix is the Chair & Patron of the Palix Foundation, which created the Alberta Family Wellness Initiative to improve outcomes for children, young people and families by aligning science, policy and practice.
Nancy is considered an international trailblazer in developing innovative and sustainable approaches to making insights from neuroscience accessible to a broad range of stakeholders in ways that can lead to effective, comprehensive and integrated services and, ultimately, better outcomes.
The work Nancy has done with the Palix Foundation has garnered prestigious awards such as the 2015 Canadian Medical Award for Excellence in Health Promotion; the 2014 Lieutenant Governor of Alberta's Circle on Mental Health and Addiction True Leadership Award; the 2013 Certificate of Recognition by the Canadian Academy of Child and Adolescent Psychiatry; 2010-2011 President's Award, Canadian Mental Health Association and the 2006 Medal for Exceptional Contribution for Early Childhood Development by the Centre of Excellence for Early Childhood Development.