Description
Geospatial open data has a significant potential for many city services - transportation, parking, real estate, construction - to name a very few. How do you leverage its potential and create new solutions? What are the opportunities for entrepreneurs? What are some interesting developments that are already happening in our City? What should we focus on next?
Join our speakers, Ilkay Altintas, Chief Data Science Officer of the San Diego Supercomputer Center at UCSD and Maksim Pecherskiy, Chief Data Officer of the City of San Diego in discussing existing & upcoming projects using 3rd party data, data analytics & machine learning - among other things. Moderated by Daniel Obodovski, founder and managing partner of SCALE San Diego. We're dedicating this event to the memory of Arnaud Vedy, who launched multiple geospatial data initiatives within the City of San Diego.

We plan to cover the following topics:
-Waze Data Analysis Project
-City Open Data Training Project
-Machine Learning & Deep Learning Opportunities with Geospatial Data
-How to Engage Community and Public Employees


---
About our speakers:

---
Ilkay Altintas is the Chief Data Science Officer at the San Diego Supercomputer Center (SDSC), UC San Diego, where she is also the Founder and Director for the Workflows for Data Science Center of Excellence.

She is the co-initiator of the open-source Kepler Scientific Workflow System. Ilkay is also the co-author of publications related to computational data science and e-Sciences at the intersection of scientific workflows, provenance, distributed computing, bioinformatics, observatory systems, conceptual data querying, and software modeling.
Ilkay received her Ph.D. degree from the University of Amsterdam in the Netherlands with an emphasis on provenance of workflow-driven collaborative science and she is currently an assistant research scientist at UC San Diego. Ilkay is the recipient of the first SDSC Pi Person of the Year in 2014, and the IEEE TCSC Award for Excellence in Scalable Computing for Early Career Researchers in 2015.
---
Maksim Pecherskiy is the Chief Data Officer for the City of San Diego. Maksim has been solving complex problems with technology for nearly a decade. He spent 2014 working as a Code For America fellow in Puerto Rico with a focus on economic development. His team delivered a product called PrimerPeso that provides business owners and residents a tool to search, and apply for, government programs for which they may be eligible.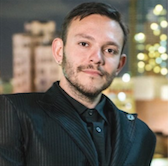 Previously, Maksim was a Solutions Architect at Promet Source in Chicago where he built large web applications and designed complex integrations. He shaped workflow, configuration management and continuous integration processes, while leading and training international development teams. Before his work at Promet, he was a software engineer at AllPlayers, who was instrumental in the design and architecture of the company's APIs as well as development and documentation of supporting client libraries in various languages.

Maksim graduated from DePaul University with a bachelor of science degree in information systems and from Linköping University, Sweden, with a bachelor of science degree in international business. He is also certified as a Lean Six Sigma Green Belt.

---
RSVP for this event today!