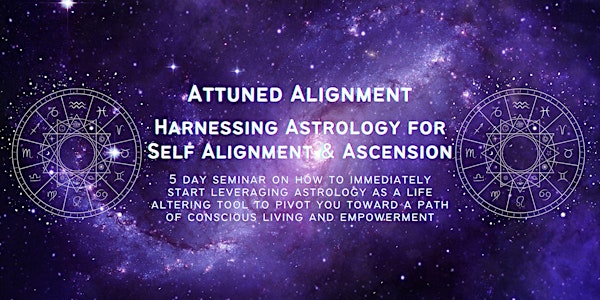 Harnessing Astrology for Self Alignment & Ascension - Boston
5 day seminar on how to harness astrology as a powerful tool in your life to propel you toward self alignment and conscious living.
When and where
Location
Boston Virtual via Zoom Boston, MA 02111
About this event
We've all seen jokes about pick up lines like "What's your sign?" or "What's your big three?"
Curiosity has led us all to the horoscope column of magazines, blogs, or astrology apps. Perhaps we've even ventured into peeking at our sign compatibility with that work crush. (Thanks, LinkedIn, for the birthday alert. We would've guessed big Leo energy, too.)
We've all witnessed that people and situations can get a little nutty around a Full Moon.
Astrology. Is. Everywhere. And it's waiting for you to leverage its power.
Now, it is your moment to explore, interact, and integrate one of the most ancient systems of study known to humankind. Learn how this immensely powerful and humbling tool can be used directly and immediately in your life to aid you in your journey for meaning, comprehension, self discovery, and ascension.
I invite you to join me for a 5 day seminar starting 1 pm (EST) on January 2nd, and meeting daily until January 6th, where I will introduce to you the sublime art of astrology.
In this seminar you will learn the basics on:
What astrology is
Theories on how it works
How it can be used as a tool our lives
The components in a birth chart
How to read a birth chart
The art of astrological interpretation
How you can begin leveraging astrology IMMEDIATELY
By learning to live in awareness and balance with the energy inherent within you, as well as the influences prevalent at any given moment, you're granting yourself authority to raise into your highest potential through intentional and conscious living.
So, join me on this 5 day excursion into astrology. Who knows, perhaps learning to harness astrology as a tool for growth and awareness will be one of the most powerful and productive things you can do for yourself.
This workshop will kick off January 2nd, 2023 at 1 pm EST until 2:30 pm EST, and will meet every day for 5 consecutive days until January 6th.
Can't make it live? No problem!
Register for the event to receive access to seminar recordings!
Can't wait to dive in with you!