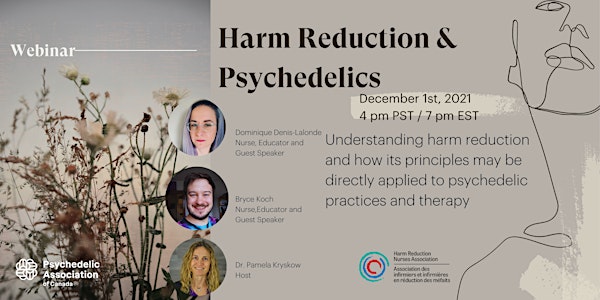 Harm Reduction Applied to Psychedelic Practices and Therapy
Join us for an informational webinar focused on understanding harm reduction and how to apply it to psychedelic practices and therapy.
Refund Policy
Contact the organizer to request a refund.
Eventbrite's fee is nonrefundable.
About this event
Event Summary
As interest in psychedelics has spiked in recent years, many people are referring to this boom as a "psychedelic renaissance". Although psychedelics may have the potential to be an effective therapy for a variety of ailments, it is in everyone's best interest to incorporate strategies for safe use, managed use, abstinence, non-judgement, and addressing conditions of use along with the use itself. This is where harm reduction, a set of practical strategies and ideas, comes in.
Join us for an informational webinar focused on understanding harm reduction and how its principles may be directly applied to psychedelic practices and therapy today! Our panel of professional nurses is ready to share their passion for harm reduction, why it is vital moving forward, and the current challenges with implementation.
Wednesday, December 1st, 2021
As a member of the Canadian Psychedelic Association, you get access to our webinars and networking events. Find the link to claim your free ticket in our members' area. Not a member yet? Join us! Learn more about our membership here: www.joincpa.ca
The recording of this event will be made available for everyone who purchased a ticket and the members' site one week after the event. Thank you for your support.
Speakers:
Bryce Koch is a nurse who has experience in emergency medicine, mass-gathering medicine, harm reduction, and public health. Currently, he is the Central Canada Regional Representative for the Harm Reduction Nurses Association www.hrna-aiirm.ca
The Harm Reduction Nurses Association is a Canadian national organization with a mission to advance harm reduction nursing through practice, education, research, and advocacy. While in nursing school, Bryce co-founded Project Safe Audience (PSA). PSA is a harm reduction program that provides health services to the festival/rave population. Some of the services PSA provides are onsite drug checking, harm reduction supply distribution, psychedelic crisis intervention, and mental health services.
Bryce is currently pursuing his Masters of Nurse Practitioner with a focus on psychedelic medicine. In addition to this, he is receiving training from TheraPsil on the therapeutic use of psychedelics in palliative care.
Dominique Denis-Lalonde BN RN, (she/her) is a registered nurse and educator. Her graduate research focuses on exploring how harm reduction is conceptualized and applied. Dominique's background is in harm reduction and safer drug use, HIV prevention, sexual health, LGBT health, and sex worker advocacy. Dominique has supported harm reduction efforts in a variety of roles and contexts including at large international festivals and with vulnerable populations in Calgary.
In 2020, she published a seminal article about the potential roles of nurses in the field of psychedelic-assisted therapy, and in 2021 co-authored a piece about harm reduction nursing education with colleagues from the Harm Reduction Nurses Association. She has 2 kids, 1 cat, 6 chickens, and too many plants.
Host
Dr. Pamela Kryskow
Dr. Pamela Kryskow is a medical doctor in Vancouver, British Columbia. Her training includes Family Medicine, Rural Emergency Medicine, Chronic pain, Functional Medicine and Ketamine Assisted Psychotherapy. She is currently working with colleagues on research related to Ketamine Assisted Psychotherapy, Psychedelic Microdosing, MDMA for Chronic Pain, Psilocybin, and Psychedelic therapy.
For transparency, Dr. Kryskow is an advisor as follows :
- Clinical Advisory Council for Numinus BioscienceMedical Advisor for Fungi Perfecti
Dr. Kryskow has signed the North Star Ethics Pledge