Harlem Pride Monthly Mixer with 'NO SHADE' Finale

Wednesday, November 6, 2013 from 6:30 PM to 10:00 PM (EST)
Event Details
Award Winning Web Series NO SHADE, Premieres Season One Finale at Harlem Prides Monthly Community Mixer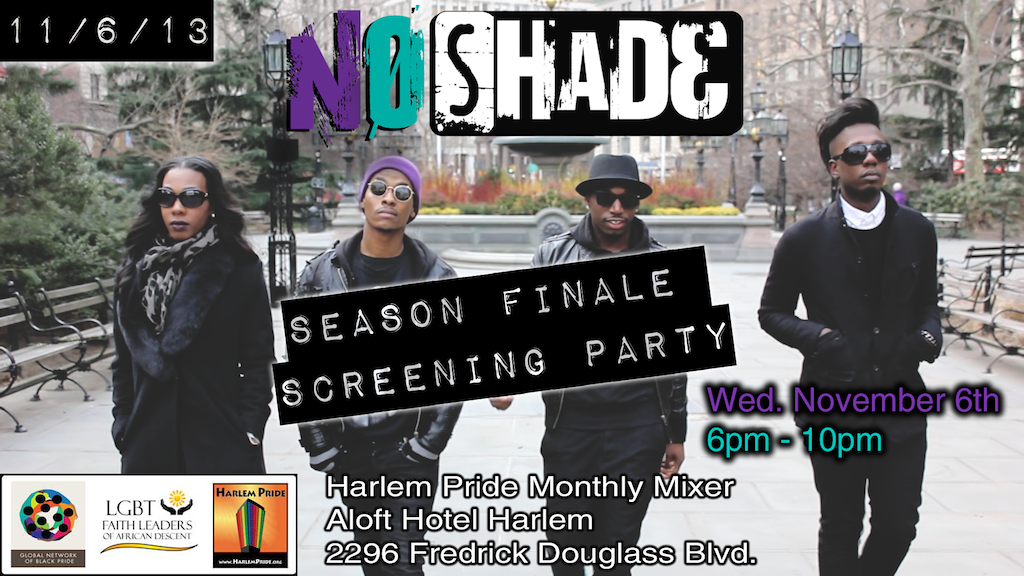 "Yes Gawd", NO SHADE, the breakout You Tube web series created by New York Independent Director/Producer, Sean Anthony celebrates the finale episode of Season One in Harlem Style.  On Wednesday, November 6, 2013 Harlem Pride will host the NO SHADE Finale Screening Party at Aloft Hotel Harlem, 2296 Fredrick Douglass Blvd., Harlem, NY 10027 from 6:00pm - 10:00pm highlighting the work of Sean Anthony and the dynamic NO SHADE cast and crew.  The event welcomes friends and fans to meet the cast and preview episode 10, the season finale before it hits the Blunted Muse Productions You Tube channel.
"As Harlem Pride, LGBT Faith Leaders of African Descent and Global Network of Black Pride gear up for the Many Faces, One Dream LGBT Economic Empowerment Conference on November 20th & 21st;" say Carmen Neely, President of Harlem Pride, "We are proud to showcase all the NYC entrepreneurs and small business owners throughout the year and very happy for Blunted Muse Production's success."

Sean Anthony and the ensemble cast which stars David Brandyn as Noel Baptise , Terry Torro (also responsible for providing the series with its ambient soundtrack) as Eric D. Stone, Donnie DuRight as Kori Jacobs and newcomer Tamara Williams as Danielle Williams have given voice to a generation of young urban LGBT's.  In doing so, he has shared with a larger demographic the coming of age escapes and life experience of characters rarely seen on screen.

Not sharing much info about the contents of the finale episode, Sean Anthony does give us insight on what to expect in NO SHADE's sophomore season,

"Season one is a flash back of the events leading up to the death of Noel's mother, visualized through Noel's imagination. The viewers were literally taken on a joy ride through his eccentric, over the top storytelling.  When we hit the threshold into "present day" of the show, we will then see that life wasn't as picture perfect as Noel envisioned it. In Season 2 the show immediately gets real and darker and reality hit.
"Director and cinematographer Sean Anthony has created a new web series called 'NO SHADE'. It's a lesbian, gay, bisexual and transgender (LGBT) dramedy about four flamboyant friends (three gay men and a transgender woman) on a journey to success, love and evolution. The humorous New York City-based show touches on religion, disabilities, sex work, transgender issues and safe sex, and even features a colorful homage to the ballroom community. Protagonist Noel Baptiste is an artist from Flatbush, a predominately Caribbean neighborhood in Brooklyn, who grew up with a very religious and homophobic mother. 'NO SHADE' could be compared to anything, it would be a fictional mash-up between "Paris Is Burning" and Nelson Sullivan's videography capturing the New York gay scene of the 1980s." -
HUFFPOST GAY VOICES
The You Tube sensation has pulled in thousands of fans and has stirred an unexpected whirlwind of accolades for No Shade, which include winning Best Black Gay Web Series at the 2013 

Hotter Than July Film Festival

in Detroit, MI as well as special appearances and speaking engagement requests for creator and cast. 
Sean Anthony's budding production company, 

BluntedMuse Productions

, produces NO SHADE absent of budget and marketing team and has pulled in over 200,000+ views on YouTube in with two months of premiering the first episode. Fan of the series constantly leave comments for the series to be picked up by a major network or cable channel, but until then No Shade like many other original content web series remains a creative labor of love which is in need of financial resources to support its continuance.
To Register for Many Faces, One Dream on November 20 & 21, 2013
When & Where

Aloft Harlem Hotel
2296 Frederick Douglass Blvd
New York, NY 10027


Wednesday, November 6, 2013 from 6:30 PM to 10:00 PM (EST)
Add to my calendar
Organizer
GLOBAL NETWORK OF BLACK PRIDE
Global Network of Black Pride (GN-BP) is an online portal that aims to provide positive images, news and cultural awareness in our relation to the Black and Black LGBT experience.  We are creating and celebrating unique platforms rooted in the Black Culture while uplifting and sharing images, stories and resources of Black LGBT People around The Globe.  Our initiative is "To Be Seen", "To Be Heard" and "To Be Proud" 365 days of the year.
Harlem Pride Monthly Mixer with 'NO SHADE' Finale