Harlem Nights-New York 2016

Friday, May 27, 2016 at 1:00 PM

-

Sunday, May 29, 2016 at 4:00 PM (EDT)
Event Details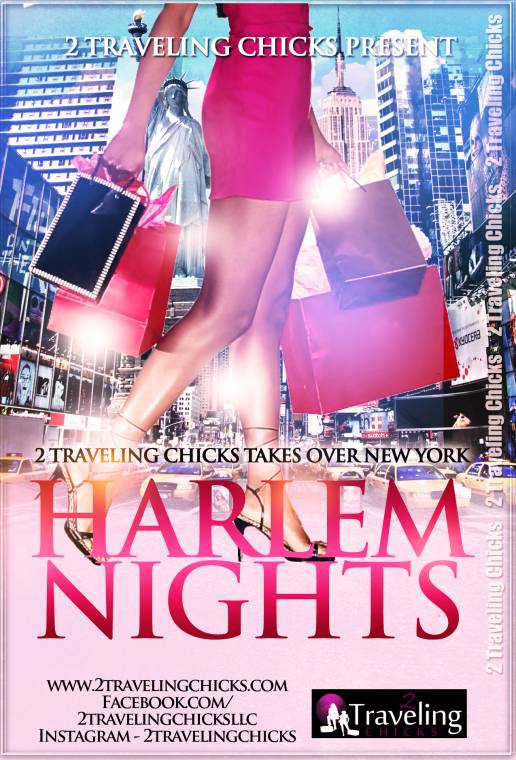 Harlem Nights 2016
May 27, 2016 - May 29, 2016
Join your favorite 2 Traveling Chicks in New York! This is a popular destination so get your friends, family, and loved ones ready. We will enjoy the beautiful city of New York. You will enjoy 4 days and 3 nights at the luxurious Marriott Courtyard.  It is located centrally in the city and convenient to everything.  You are literally footsteps away from everything that the city offers.  The subway train station is literally across the street and located conveniently for your traveling pleasures. There is no other way to travel in New York!
This trip will provide a scenic boat cruise of some of the citie's beautiful landmarks. You will have an opportunity to do some shopping and sightseeing in some of the famous burroughs of Manhattan, Queens, and Harlem on the train with your favorite tour guide (guess who?) and included in your package in a fully loaded Metro card so you can travel at your convenience. You will enjoy an evenings in Times Square, Soho, Little Italy, Lombardi's Pizza, Chinatown, the Financial District, New York Stock Exchange, Ellis Island, Statue of Liberty, 911 Memorial and so much more... You will have an opportunity to do some shopping, sightseeing, more shopping, enjoy good food, hear great music, share great company, and a have great time. This trip is great for all ages.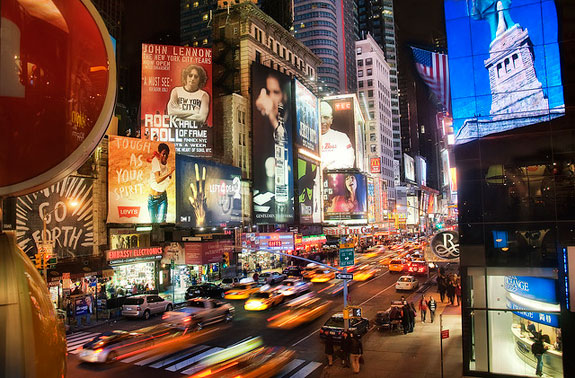 Airfare Package Includes
Round trip airfare from Atlanta to JFK
3 Days, 2 Nights at the Marriott Courtyard in New York
Transportation from the Airport to Hotel
A Metro card so we can tour the city (prefilled with $20 each)
A beautiful boat cruise of the beautiful New York which allows you to see up close views of the Statute of Liberty, Ellis Island, Empire State Building, Manhattan Bridge, New York Skyline, South Street Seaport, Ground Zero, World Trade Center, Battery Park, Wall Street, and so much more…
A scenic citywide tour-have your camera ready!
A Day of Shopping in Harlem, Manhattan & New York
Lunch at the an iconic spot(responsible for your own bill)
An evening in Time Square
2TC Tshirts

Travel Agent will Travel with you and Guide you on process.
Time for you to enjoy New York with on your own
You can elect to travel with the group or own your own!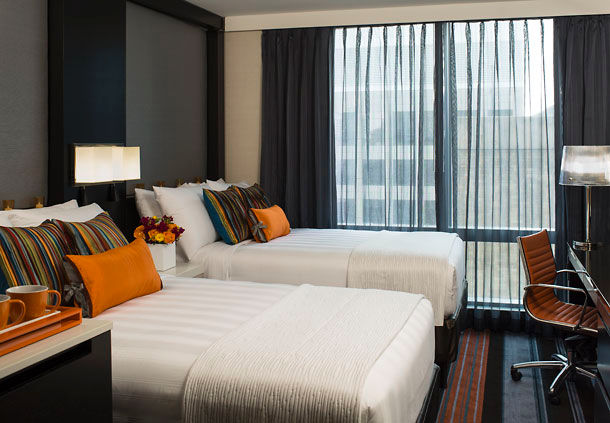 Details about accommodations-Marriott Courtyard
Enjoy the city that never sleeps right in the heart of Manhattan.  This beautiful is simply moments from Times Square.  The sleek, contempaary rooms offer breathtaking views of Manhattan, Hudson River, or Times Square.  Located near easy transportation and just minutes from any part of New York by local subway station- located right next door -  Whether your stay in the New York area is for business or leisure, it should be a worry-free experience that delights your senses.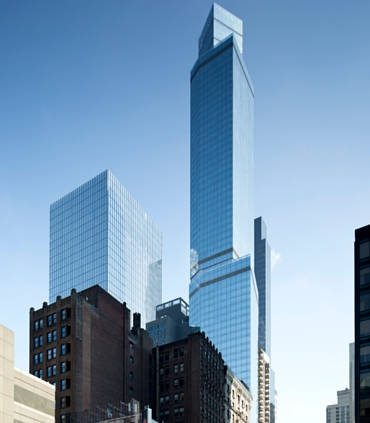 Itineraries (Delta)
We are very early for the exact flight Itineraries.  However, we will arrive into New York at approximiately 9-10am.  We will leave our bags at the hotel and immediately start our scenic tour and end it with our boat cruise. 
Itinerary to be posted soon but Direct flight from your city to JFK
Scenic Itinerary
A tour of the following (this list is subject to change):
Times Square

World Trade Center Site

New York Stock Exchange

Wall Street

Statue of Liberty

5th Avenue

Rockefeller Center

NBC's Today Show Set

St. Patrick's Cathedral

Central Park

Ellis Island

Central Park Zoo

Tiffany's

Brooklyn Bridge

Hudson River

East River

Trump Tower

Plaza Hotel

City Hall

Washington Square Park

Greenwich Village

SOHO/Tribeca

Macy's
This tour includes a boat cruise. We will sail straight up to the Statue of Liberty. Get the best pictures possible without wasting three hours of your life in line. Sail under the Brooklyn Bridge for spectacular views. The skyline of Lower Manhattan is super impressive too.
Travel Itinerary
Friday

9 am               Arrival into JFK
9-10 am          Drop bags at hotel and prepare for tour
10-1:30 pm    Walking tour & Lunch
2-3:30 pm      We will end walking tour and immediately begin boat cruise
3:30-4:15pm  Back to hotel/Rest/Change for Evening
7-8 pm           Cocktails & Dinner (Pay on your own)
Saturday
8-1pm            Breakfast/Shopping/Lunch (Pay on your own)
                       Macy's and other local shopping districts
                       Make this day your own!

PACKAGING PRICES
 Keep in mind when reviewing package prices to stay in the heart of the city is a little more than staying on the outskirts but this tends to be more convenient for the group! You also have the option to add a day or two to your package for the standard hotel cost per night.  Just tell your agent.
Full Package Pricing from Atlanta
Quad Occupancy - $645 per person
Triple Occupancy - $695 per person
Double Occupancy - $789 per person
Single Occupancy-$1135 per person
Full Package Pricing from Charlotte
Quad Occupancy - $615 per person
Triple Occupany - $665 per person
Double Occupancy - $769 per person
Single Occupancy - $1105 per person
If you would like to participate in the package and have a group of 10 or more coming outside of Atlanta, GA and need airfare, contact the agent below for contracted monthly airfare payment plans.
Hotel Only Pricing
Excludes airfare and transfers, all other activities are included. If you are traveling land only, please ensure your flight arrives by 1pm. We have not finalized the final itinerary but generally activities begin on the date of arrival by 3pm. This is subject to change.
If you would like to add the transfer to your package, please add $35 to your package price below and understand as we get closer to the event, this is subject to change.

Quad Occupancy-$ 335 per person
Triple Occupancy- $ 365 per person
Double Occupancy - $ 495 per person
Single Occupancy - $ 825 person
Deposit Deadlines
$50 Initial Deposit DUE NOW
15th of EACH MONTH- $50 Monthly Deposit Payment Due
April 1- Final balances due
 (Keep in mind that you can join this package at any time)
Travel Agency Polices
If you want to travel with us and your city is not listed, please contact us! If you have a group of friends of 10 or more, we can provide pricing from your city; but this is for serious inquires only.
All payments are nonrefundable but transferable prior to deposits being make to venues.
If you cannot attend, name changes are permitted.
Name changes within 60 days prior to departure will resort in a fee.
Please adhere to the monthly payment schedule to avoid possible cancellation.
If you are unable to make a scheduled payment please contact us as soon as possible to make arrangements.
If you are interested in travel insurance, please remit funds within 14 days of departure
Please register in the name your flight will be purchased in accordingly, no nicknames please.

Hotel Policies
All rooms have views but no guarantee can be provided for room placement
Upon check-in, a credit card will need to be available by guest for incidentals.
Pay at http://harlemnights2016.eventbrite.com
OR

Two Traveling Chicks
Attn: New York
6450 Evans Drive
P.O. Box 836
Rex, GA 30273
Contact:
Two Traveling Chicks
(888) 669-1194
When & Where

1717 Broadway

New York, New York 10119


Friday, May 27, 2016 at 1:00 PM

-

Sunday, May 29, 2016 at 4:00 PM (EDT)
Add to my calendar
Organizer
Two Traveling Chicks, LLC
2 Traveling Chicks, LLC's staff embodies extensive knowledge and experience in the travel industry. With our travel expertise, we will be offering extraordinary experiences in predefined and requested vacation/travel packages for our valued customers.
We provide personal, group, corporate, destination wedding, and honeymoon travel proposals.  We are licensed, bonded, and insured and are looking forward to serving your travel needs.
For more information, contact us at 888.669.1194 or trips@twotravelingchicks.com
Stay connected with us on the following social media pages:
Twitter: @2travelingchick
Instagram: 2travelingchicks
Facebook: www.facebook.com/2travelingchicksllc
Harlem Nights-New York 2016