Description
The Mercury Entertainment Center (MEC) in association with So 4 Reel Entertainment presents "Harlem Nights in the City" on Saturday, June 3, 2017. The MEC is located at 227 E Mercury Blvd, Hampton, VA 23669 and doors will open at 6:00PM with the cocktail hour meet and greet with the artists. Entertainment for the evening will feature The Difference with special guests: Mr. Estee Pierce, Phazz II, and Osmosis with our host for the evening Mr. J Lang from WHOV 88.1 with a special guest appearance by Mr. Bob "Grown Folks Dancing" Thomas from 95.7 R&B. The MEC will have food and alcoholic beverages available at cost for your convenience. The dress code for this event is you must dress to impress in the theme of the movie "Harlem Nights".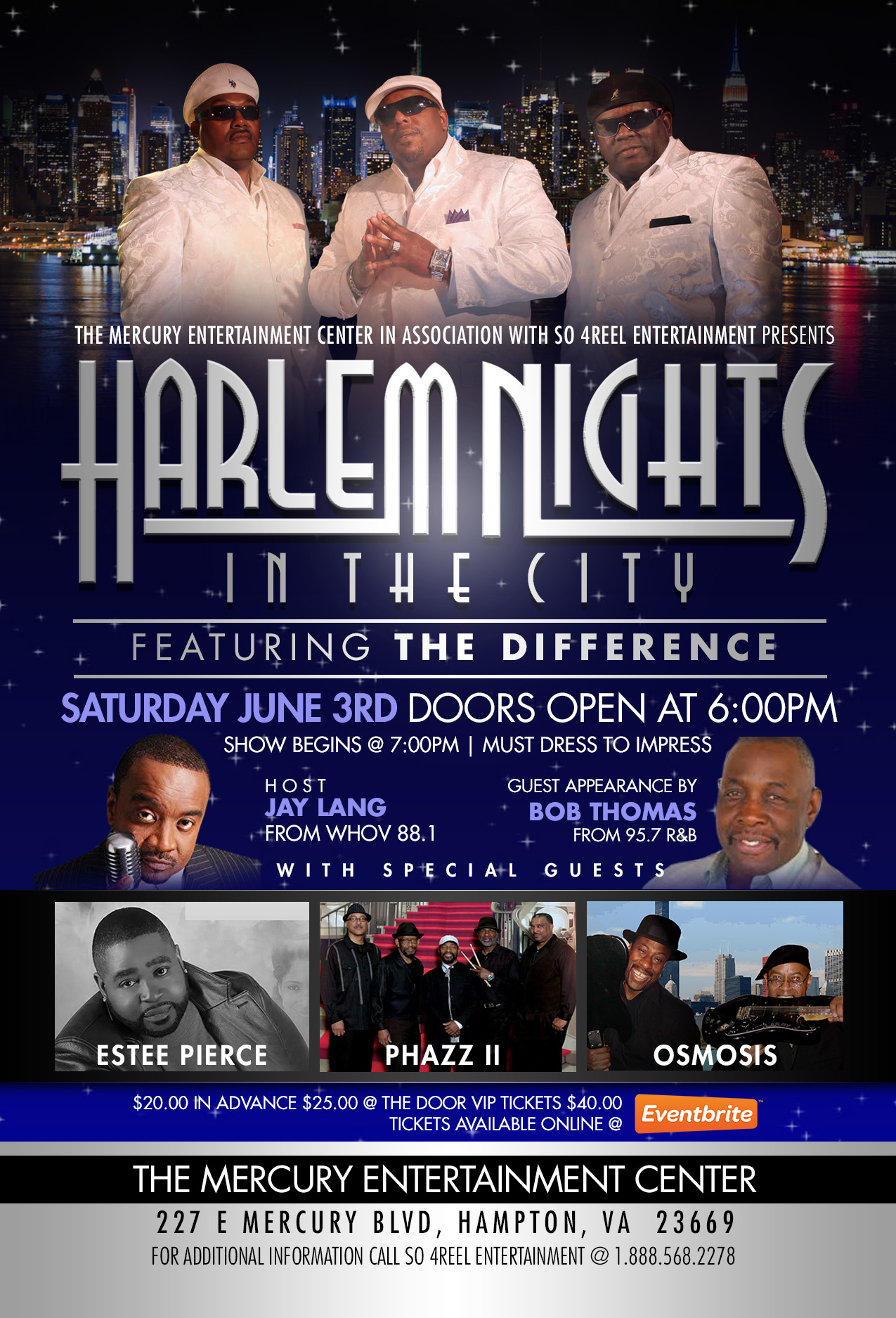 We will have a photographer in the ballroom for your convenience to capture you in your finest attire with friends and significate others! A portion of the proceeds will be going towards the Bob Thomas F.E.E.D program which stands for "Feed Everyone Every Day" that distributes food to those less fortunate and the elderly during the holiday season. You are also welcome to bring a non-perishable food item with you in support of the program.
General Admission tickets are first come first serve seating arrangements we advise you to arrive early for the best seating. VIP tickets include a round of drinks and dinner. Group tickets are available for a group of 6 with reserve seating for general admission and a group of 8 for VIP seating. Any group tickets VIP or General Admsion can only be purchased by calling Mr. Joe Shivers @ 757.592.4528.
This promises to be an event that you will never forget! Get your tickets today!!! For additional information please call So 4Reel Entertainment @ 1.888.568.2278