Description
---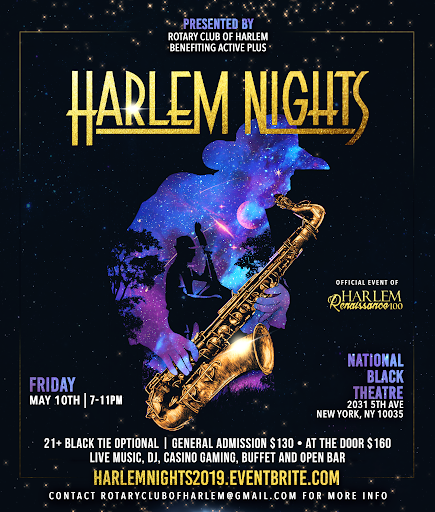 Harlem Nights 2019 will be a celebration you do not want to miss! We are honoring the 100 year anniversary of The Harlem Renaissance with an evening worthy of its history, art, music, culture, and influence. Join us as we flashback to a time when Harlem was overflowing with cultural innovation and artistic expression.
The word on the street is that we throw some of the best parties uptown! We are happy to have the reputation and trust us, this year will be no different ;)
In a salute to the movie Harlem Nights we will have a full operating casino, complete with blackjack, roulette, and craps and talented artists whose performances will knock your socks off! Dancers who will perform Harlem swing dancing, Singers who will showcase the strength of song and Magicians who will display the mystery of magic. The evening will also honor humanitarians & leaders making a difference in the Harlem community!
The evening's honorees include:
Curtis Archer, President - Harlem Community Development Corporation
Ted Swartwood, Regional Manager NY/NJ - The Outreach Program
---
Early Bird Discount Tickets ONLY $100 from March 10, 2019 to April 17,2019!
General Admission Tickets $130 from April 17, 2019 to May 10, 2019!
If available, Tickets at the Door $160 May 10,2019!
Each ticket comes with Casino play money and one raffle entry to win amazing prizes!
Catered Dinner
Premium Open Bar
Casino Table Games
Live Performances
DJ & Dancing
Raffle Prizes
A Few Surprises ;)
Please come dressed to impress!
This is a Black Tie optional affair, but Harlem Renaissance inspired attire is also encouraged.
---
This event is a joint production of The Rotary Club of Harlem and Active Plus. Proceeds from the evening will benefit the Harlem community through The Rotary Club of Harlem's annual community service projects and Active Plus' youth-focused health, fitness and nutrition initiatives.
Active Plus is an organization founded by two former collegiate athletes that aim to inspire, motivate, and educate people of all ages. Active Plus' mission is to change lives by providing kids access to health and fitness education. Active Plus is a 501 (c)(3) tax-exempt non-profit organization.
---
Service Above Self Sponsors
Harlem Community Development Corporation (HCDC)
New York State Nurses Association (NYSNA)
All That Jazz Sponsors
Harlemite Sponsors
125th Street Sponsors
Welcome to Harlem Sponsors
---
Performers: