Harlem Fashion Week presents "The Network": Where Fashion and Industry Conv...
Actions and Detail Panel
Harlem Fashion Week presents "The Network": Where Fashion and Industry Conv...
Sat, March 25, 2017, 9:30 AM – 12:30 PM EDT
Description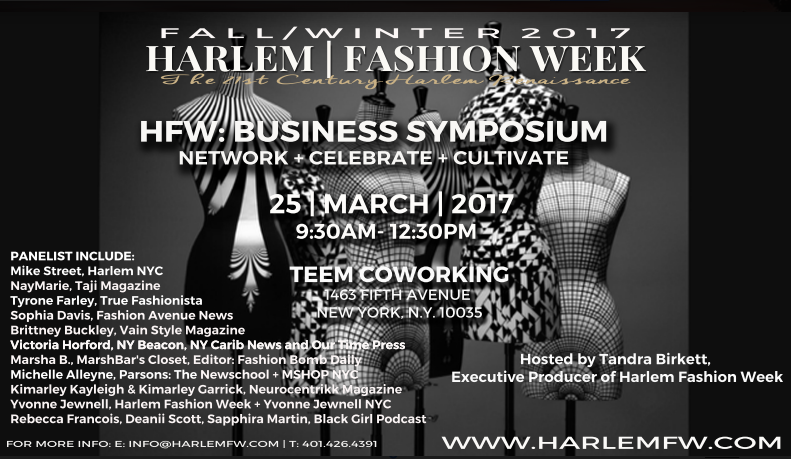 It is vital that fashion and beauty professionals combine their creativity with strategic business practices. It's not enough just to have a great show you must also have a sellable product.
At the
Harlem Fashion Week

beauty and fashion symposium there will be a team of experienced professionals and valuable resources to provide the skills necessary to catapult your businesses to the next level.

*Tickets are non-refundable and non-transferable*
REGISTER FOR EACH PANEL OR ATTEND ALL 3!!!
Attend ALL 3 Sessions: GET an ALL Day PASS!!!!
*DOORS OPEN AT 9:30 *
9:40- 10:25 Panel 1
How to get bloggers to coming look for you?
Blogging: Fashion track to the fashion scene
A fashion entrepreneur's best friend: for MUA, models, designers, and photographers.
PANELIST
Tyrone Farley
:
Fashion Expert & Contributor on Huff Post Live & PIX 11 News.

CGTN America

(China Global Television Network)
Tyrone has also been listed by CFDA as a top menswear fashion week influencer.

Marsha B. :
Founder, MarshBar's Closet, Editor: Fashion Bomb Daily, Brand Ambassador, Shoedazzle & JustFab
Mike Street:
The CEO of HarlemNYC,
Podcaster. Digital Strategist.
streetforce1@gmail.com
| SmartBrownVoices.com


Victoria Horford:
"WHAT'S GOING ON" column is published in three NY newspapers.
NY Beacon,
NY Carib News and
Our Time Press
Rebecca Francois, Deanii Scott and Sapphira Martin:
Black Girl Podcast
______________________________________________________________
10:35-11:20 Panel 2
Learn how to get into a magazine
The Editor's Circle
Meet the Editors from influential magazines and learn how to be seen inside the cover of their publications: designers get your spread, photographers get your photos in an article and models get your face on the cover!
PANELIST
Sophia Davis:
Chief Executive Publisher of Fashion Avenue News, Model World Magazine and The Fashion Dynasty magazines.


Brittney Buckley:
Managing Editor, Vain Style Magazine


Kimarley Kayleigh & Kimarley Garrick:
Founders & Editor in Chief, Neurocentrikk Magazine


NayMarie:
Editor, Taji Mag
______________________________________________________________11:30 Panel 3
Designer's Critique
"How to get in a top fashion show and build your brand?"
(this panel is necessary for emerging designers who would like to participate in Harlem Fashion Week)
An intimate opportunity to get advice about your collection, design aesthetic, fabric selection, marketing and product distribution.
PANELIST
11:30-12:15
Yvonne Jewnell:
Co-founder & Creative Director of Harlem Fashion Week
Michelle Alleyne:
Parsons School of Fashion professor/celebrity stylist.
NOTE: Panelist are subject to change
______________________________________________________________
11:30-12:15 Panel 4

How to Become The Next Top Model
Modelling is the dream of almost all young girls all around the world, however dreaming is not enough at all to be a super model. In order to be a model, there are certain characteristics that must be available in every girl who wants to enter the career of modelling such as weight, height and beauty. Being a successful model is hard. That is why you must know that you have to work hard to be a famous and successful model.
Super Model Stewella Daville:
Appeared in Vogue UK, GQ UK, ELLE UK, Harper's Bazaar

in Photos shoots across the globe:
Paris France, Miami, Atlanta NYC.
She is show producers/model coordinator for: Harlem Fashion Week

, SBFW, The Great American Hat Show and Emerge

_____________________________________________________________________________________________________
12:15-12:30 NETWORKING SESSION FREE TO ALL PARTICIPANTS!!!!
______________________________________________________________

PRICE INCLUDES:
Expert and Celebrity Panelist

Swagg Bag

Continental Breakfast

High Powered Networking:
*Bring- Business Cards, Look Books, Portfolios and Comp Cards



Attend ALL 3 Sessions: GET an ALL Day PASS!!!! $50.00
GET THE FULL BENEFIT OF THE BUSINESS SYMPOSIUM.

ENJOY FASHION SAVVY SURPRISES THROUGH OUT THE DAY!
SPACE IS LIMITED* SPACE IS LIMITED* SPACE IS LIMITED*