Description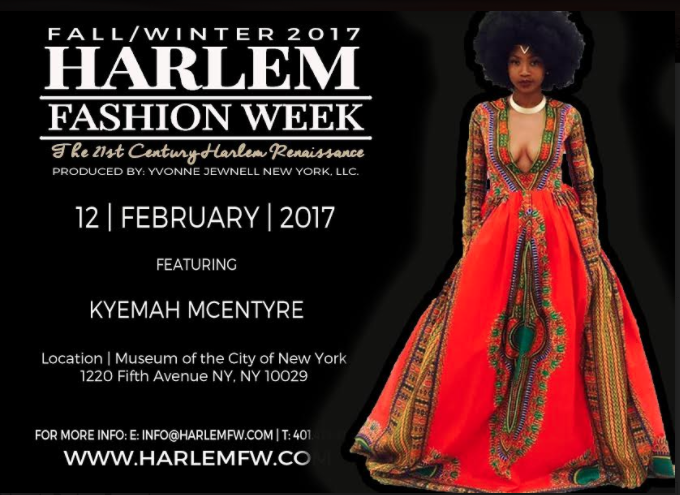 HARLEM FASHION WEEK
Harlem Fashion Week is an explosion of culture that bridges the Downtown fashion hub to the Uptown vibe for a rich community experience. Our continuos goal is to produce an event that will showcase the fashion industry, provide business education for emerging designers, grow Harlem businesses, create a cultural platform and just have fun!
The four-day event will be hosted at restaurants, businesses and cultural centers all throughout the Harlem community and looks to attract 5,000 guest including, fashion industry professionals, members of the media, artists, entertainers, buyers and a host of VIPs
---
Proceeds from Harlem Fashion Week will be donated to the Big Goree Project to restore the Slave Museum on Goree Island in Senegal, West Africa.


*PLEASE NOTE: Tickets are non-refundable and non-transferable*
7:30PM SHOW
Yvonne Jewnell New York
Simply Ma'am
Hatchers
D Mochelle Fashions
Next Level World
8:30PM SHOW


The Brownstone by Princess Jenkins
bOBETTE eIZA
Jamia Jordan
Shiffon Wiggins
Tracy Lall Dass
Shay Shoe Haven


9:30PM SHOW
Mind of Kye by Kyemah McEntrye
Marvin Williams
Queen E. Collection
Daniel Mozzes
Yvonne Jewnell New York
Organizer of HARLEM FASHION WEEK F/W 2017
Since the days of the Renaissance, Harlem has served as the epicenter of art, literature, music and fashion. As Harlem is being revitalized in the 21st century, Harlem Fashion Week will introduce a new era of fashion culture to the Harlem community inspired by its rich cultural heritage. Our continuous goal is to produce an event that will showcase the fashion industry, provide business education for emerging designers, grow Harlem businesses and create a platform for diversity in fashion.
​
HARLEM FASHION WEEK (HFW) will bridge the Downtown fashion hub to the Uptown swagg for a rich cultural experience.
Harlem Fashion Week has created a platform for the rising stars in the Fashion Design Industry. We have been fortunate to receive a wide diversity of press from over 100 major media publications like Vogue Italia, Paper Magazine, The Root.com, Refinery 29, Racked.com, The New Yorker, Essence, Fashion Week Online, Getty Images to local media outlets like AfrofusionTV, Urban Girl Mag, Spoken Black Girl. We have fans in 38 countries around the world looking for what's next in cutting edge fashion! 
​
At the Harlem Fashion Week runway shows, charity gala and business of fashion symposium, our designers and guests have received the opportunity to network with some of the biggest names in fashion: Jay Manuel former Creative Director of America's Next Top Model, Dapper Afrika, celebrity stylist for Erika Badu, Duckie Confetti, designer and stylist for Teyana Taylor, Kubi Springer, international brand specialist, L'Oreal, MTV, Glamour Amber-stylist for Remy Ma, Bunim & Murray Productions, Singer-Sharaya J, Elia Mell, fashion journalist Kelsey Adams, Marcus Blassingame, Actress Fátima Ptacek, Sofia Davis-Fashion Avenue News, Jonathan Bodrick, Born To Style- Bravo, Supermodel Veronica Webb, Princess Jenkins owner of the Brownstone Boutique and Louis Johnson Jr. C.O. of Harlem Haberdashery, Richard Galvin, and Viktor Luna along with other prominent media attendance to view the latest fashion trends.
​
NEW YORK CITY RECOGNITION
​
Officially sanctioned New York Fashion Week event by Fashion Week Online.
​