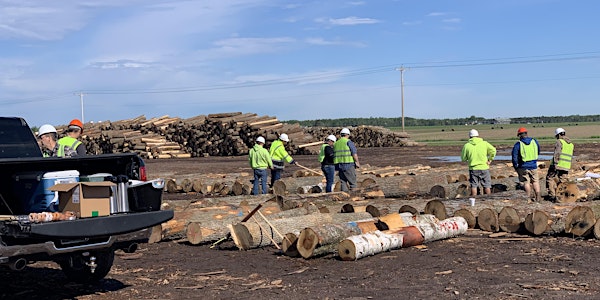 Hardwood Log Scaling and Grading
In-depth hardwood cut log scaling and grading course designed as an introduction and refresher training for experienced log graders
By Sustainable Resources Institute
Date and time
Thursday, June 8 · 8am - 4pm EDT
Location
Kirtland Community College Community Room B 4800 West 4 Mile Road Grayling, MI 49738
About this event
In-depth hardwood cut log scaling and grading course using northern hardwood grading rules and Scribner DC log rule. The course is designed as an introduction to log scaling and can also be a good refresher training for experienced log graders. Morning coffee and lunch will be provided. The course will begin in the classroom followed by an afternoon in the log yard. Come dressed for the weather. Scale sticks will be provided for each participant and each participant will receive a copy of the official grading rules. Participants should bring clipboards, writing instruments, and hardhats and wear safety toe boots. Light morning refreshments and lunch will be provided. 6 SFI CEUs or 6 SAF CFEs will be awarded; this is an 8-hour course and you must stay the entire day to get continuing education credits.
Brock VanOss, VanOss Forestry Services. Morning instruction: Kirtland Community College, Grayling, MI. Afternoon instruction: AJD Forest Products wood yard, Grayling, MI
Certified Master Loggers get 50% off the course price! Contact (906) 874-0777 or (906) 367-0777 for your promo code before registering.
About the organizer
The Sustainable Resources Institute, Inc. is a non-profit organization based in Michigan's Upper Peninsula that works with forest industry to promote work force development and recognition, among other work including habitat restoration projects.