Virtual tasting! Refreshing TAKE FIVE hard seltzers & deliciously crunchy corn snacks from LOVE, CORN. Samples ship to home. 21+. Serves 4.
About this event
Kicking back and relaxing isn't just for weekends or vacations anymore! It's time to TAKE FIVE!
TAKE FIVE Hard Seltzers have a uniquely refreshing taste crafted for those who believe a little time out should be savored and enjoyed whenever and wherever possible. Join us for this special virtual tasting event which includes a 12-can variety pack of TAKE FIVE hard seltzers shipped to your home.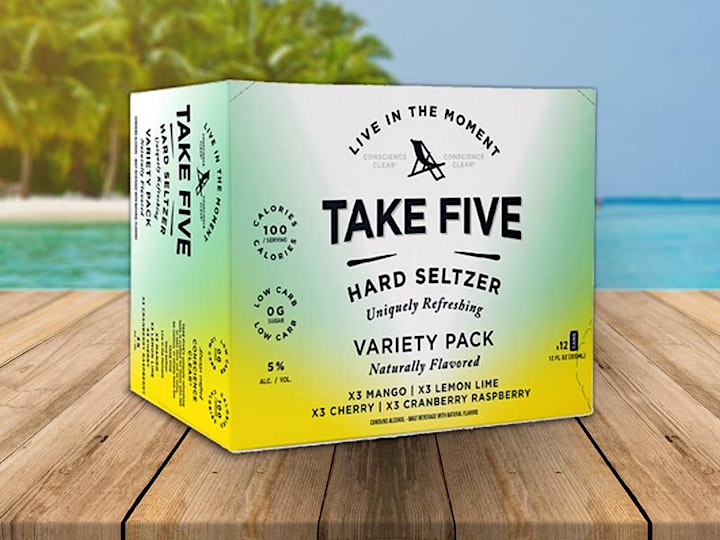 TAKE FIVE is always crafted Conscience Clear®. The proprietary production methods used to brew these premium malts result in a clean, clear alcohol base. This is combined with 100% natural fruit flavors and pure seltzer water for that perfect combination of refreshment and taste.
New to market, TAKE FIVE hard seltzers come in four fantastic flavors, including: mango, cranberry raspberry, lemon lime, and cherry…and for this event, we'll be tasting all four flavors! You'll receive a 12-can variety pack which includes 3 cans of each flavor.
Each can of hard seltzer has just 100 calories, is low in carbs, vegan, gluten-free and is 5% ABV. TAKE FIVE seltzers are delicious and uniquely refreshing on their own or can be used as a mixer to take your favorite cocktail to the next level. Now's the time to TAKE FIVE! This tasting is for those who are 21+ and delivery is for NEW YORK STATE residents only.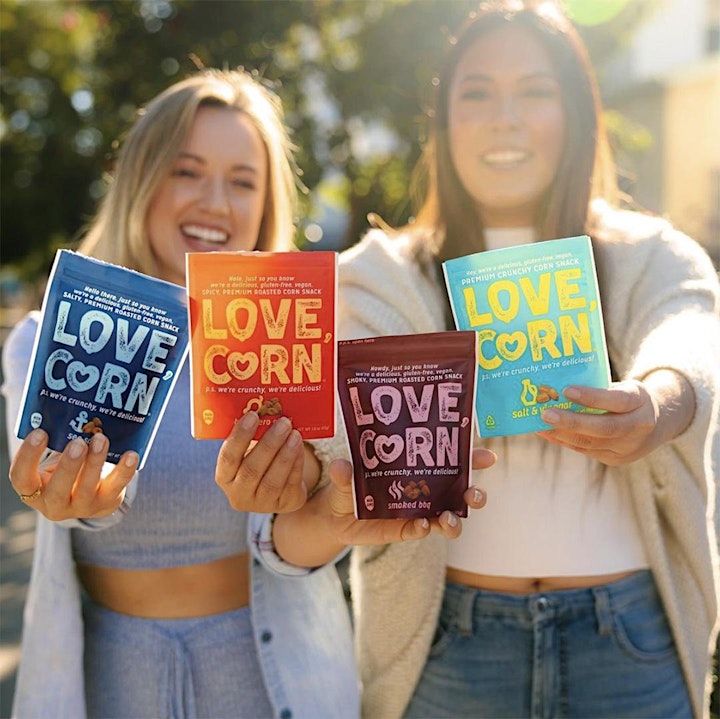 Called the "crunchiest snack ever" by Whole Foods Magazine, LOVE, CORN is the official snack sponsor for this special event.
The first premium crunchy corn snack, LOVE, CORN is on a mission to become your favorite snack, one kernel at a time. These delicious crunchy corn snacks are certified vegan, gluten-free, non-GMO project certified, and pair perfectly with hard seltzers, beer, wine or cider too. They are perfect for anytime snacking and great as an addition to soups, salads or to add to a beautiful cheese board too! They come in four totally satisfying flavors, including: Smoked BBQ; Salt & Vinegar; Habanero Chilli; and Sea Salt. Each ticket buyer will receive 16 snack-size packs (4 of each flavor) to be enjoyed during the virtual event.
What's Included:
A ticket ($29) serves up to four people from one location and includes:
• (1) 12-Can Variety Pack of TAKE FIVE Hard Seltzers
o (3) 12oz. can Mango
o (3) 12oz. can Cranberry Raspberry
o (3) 12oz. can Lemon Lime
o (3) 12oz. can Cherry
• (16) Snack-Size Grab-N-Go Packs of LOVE, CORN (4 of each flavor)
o Smoked BBQ
o Salt & Vinegar
o Habanero Chilli
o Sea Salt
• Direct shipping to your home.
• Access to the 60-minute virtual, interactive, tasting event conducted via video conference. Note: while the seltzers for this virtual tasting serves up to four people, all must be present to view together at one location. One access code provided per ticket purchased. Seltzers can ship to NEW YORK STATE addresses only.
Tickets are limited. Deadline to purchase is 11:00PM on July 6, 2021. If maximum capacity is reached prior to cut-off date, no additional reservations will be available. Buy now to guarantee delivery and participation. Seltzers can ship to addresses in NEW YORK STATE only.
This virtual class is open to all adults 21+ with mailing address in New York state, the class will be taking place at 7:00PM EST and will be conducted in English. Please refer to the FAQs below for additional information.
This virtual class is sponsored by TAKE FIVE HARD SELTZERS, TAPRM, LOVE, CORN and Starfish Junction.
About the Presenters: Gary Rosen & Mariah Fannan, MFR SALES

Gary Rosen left a 10-year career as college professor and therapist to pursue a life working in beer sales. He started working at a brewery doing various jobs within the brewing/packaging process, warehouse management, order fulfillment and tasting room duties. Eventually he moved into sales becoming the breweries Mid Atlantic Sales Manager. Settling in NJ he then went to work for a distributor as an on-premise sales rep before becoming the state's first ''craft beer specialist'' for that wholesaler. Following a great opportunity, he worked for NJ's Iargest craft brewery in sales before moving back home to Long Island to take care of his ailing parents and starting MFR SALES with his wife Mariah.
Mariah Fannan spent over a dozen years in the alcohol industry. She started her career managing several busy Jersey Shore bars before moving to a craft beer and cocktail bar in Jersey City to curate their beer and cocktail program. She then spent severaI years managing 2 counties for a large Miller distribution house. Wanting to focus more on strictly craft beer, she was hired as the NJ market manager for a nationaI craft brand. She found a home at a smaller NJ female and veteran owned brewery before moving to Long Island and starting MFR SALES with her husband Gary.
About the Sponsors:
About MFR SALES: MFR SALES specializes in sales support, new product launches, and product promotion for up-and-coming brands across all drink categories. Click here to learn more about MFR Sales.
About TAKE FIVE: TAKE FIVE is a new, "uniquely refreshing" hard seltzer. The naturally flavored hard seltzer is available in four flavors: Cherry, Cranberry Raspberry, Lemon Lime, and Mango. Each can has just 100 calories, zero carbs, and five percent ABV. http://www.takefivehardseltzer.com
About TapRm: TapRm is a wholesaler, retailer, delivery courier, and marketer for a large and varied brand porfolio—bringing beer, cider, hard seltzer, and canned cocktail brands from across the nation right to your door. https://taprm.com
About LOVE, CORN: LOVE, CORN is a savory, crunchy and delicious corn kernel snack that provides a healthier alternative to more traditional snacks. Vegan, Gluten-Free, Non GMO Project Verified, Kosher. https://lovecorn.com/

FAQ:
What is included in the ticket price? All tickets include access to the online event, the 12-can variety pack of TAKE FIVE hard seltzers, the LOVE, CORN snack packs, and direct shipping to a single address.
Are the seltzers and snacks gluten-free? Yes, both products are gluten-free.
How will the product be shipped to me? The hard seltzer will be shipped to the mailing address within New York state provided at the time of purchase via TapRm. Because the hard seltzers contain alcohol, someone 21+ with valid ID must be available to sign for delivery. Your LOVE, CORN snacks will ship separately.
Where do you ship to? The products for this event can ship to addresses within New York state only.
Can you ship to a PO Box? No. Because and adult 21+ signature is required, deliveries can be made to home or office only.
When will I receive my samples? We will close ticket sales on July 6, 2021 (or when the event sells-out) to ensure delivery to you on time. Your package will be delivered 2-3 days in advance of the seminar.
Do I need to refrigerate my seltzer samples when I get them? Please chill your samples prior to the event.
I missed the cut-off date. Can I still get a ticket for the virtual class? No, unfortunately to guarantee delivery in time for the seminar, we must adhere to the strict cutoff date for enrollment.
I can't make the online event. Can I still purchase a ticket and get the samples? Yes. If you can no longer attend the online event or simply are not interested in doing so, you can still purchase a ticket to receive the seminar samples shipped directly to the mailing address provided. Please note that all sales are final and there are no discounts, refunds or exchanges should you not join the online event portion.
Will the online event be recorded? Yes, the event will be recorded but it is best enjoyed live via participation link. The link to the recording will be forwarded to ticket purchasers only.
Can I buy more than one ticket? Yes, each ticket provides access to one log-in and shipping to one physical address. This hard seltzer and snack tasting event serves up to 4 people.
How do I join the online event? Prior to the online event taking place, you will receive a number of emails reminding you of the date and time. Within these emails will also be a link to the Online Event Page which has the video conferencing link to join.
Can I ask questions during the online event? Yes! We encourage you to ask questions but please do so using the chat feature. This will ensure we avoid people talking over each other and all questions can be answered.
How will you ensure the online event is a safe environment? We ask that all participants be polite and courteous. Starfish Junction and its sponsors/partners reserve the right to remove any participant from the video conference that is disruptive or behaving inappropriately with no refund.
Do I need to download special software or an app to participate in the video conference? The online event will be conducted via the video conferencing platform, ZOOM. You should be able to click the link provided and access the video conference in any web browser from a desktop computer or laptop. Before joining a Zoom meeting on a computer or mobile device, you can download the Zoom app. Otherwise, you will be prompted to download and install Zoom when you click a join link.
Can I take part in the online event by phone only? No. Attendees can participate with audio only.
What happens if I lose internet connection during the online event? If you lose internet connection and leave the video conference, simply click the link again to re-join.
Can you help me with my technical difficulties accessing the video conference? Yes, please email help@starfishjunction.com. It is important for you to try accessing the video conference before the day of the online event so we can fully assist you.
Do I need anything besides the TAKE FIVE Hard Seltzers to participate? In addition to the samples being shipped to you for the tasting, you will need:
o Tasting cups (one for each hard seltzer flavor per person is recommended)
o Bowls for your LOVE, CORN snacks
o Napkins
Organizer of Hard Seltzers: A Virtual Tasting Special Event