Description
5th Annual Hard French Winter Ball
A springtime formal and pool party in the biggest little city in the world
May 30th - 31st 2015
, Sands Regency Hotel & Casino
All events will take place at the Sand Regency Hotel and Casino! There are two ways to book your room:
1.) via phone: 1-866-386-7829 make sure to tell them HARD FRENCH sent ya - it gets you in our room block so we can do our hair together. And other things.
If you have any special needs or would like to be a in a quiet part of the hotel (not on the Hard French floors) - please let the nice staff at the Sands know so they can accommodate those needs!

SATURDAY MAY 30th, 9pm - 3pm, WINTER BALL FORMAL AND DANCE PARTY
DJs Brown Amy and Carnita will be spinning their classic all vinyl soul music along with guest DJ Olga T! Lil Miss Hot Mess will be yr host for the night, along with performances by Persia and Dulce de Leche! At midnight we will have a very special crowning of this year's King and Queen of the ball!
SUNDAY MAY 31st, 1pm, HARD FRENCH BIGGEST LITTLE POOL PARTY IN THE WORLD
You can't hide behind those shades but you CAN listen to your new favorite psychedelic dance jams courtesy of DJ LAY DOWN (Hard French's own Tina Faggotina!) with an all vinyl poolside set. Think heated pool, oversized sunhats, and drinks with umbrellas.
Huge thanks to the Levi Strauss Foundation (and friends) for their matching donations and to Brian Quick for the amazing graphic design.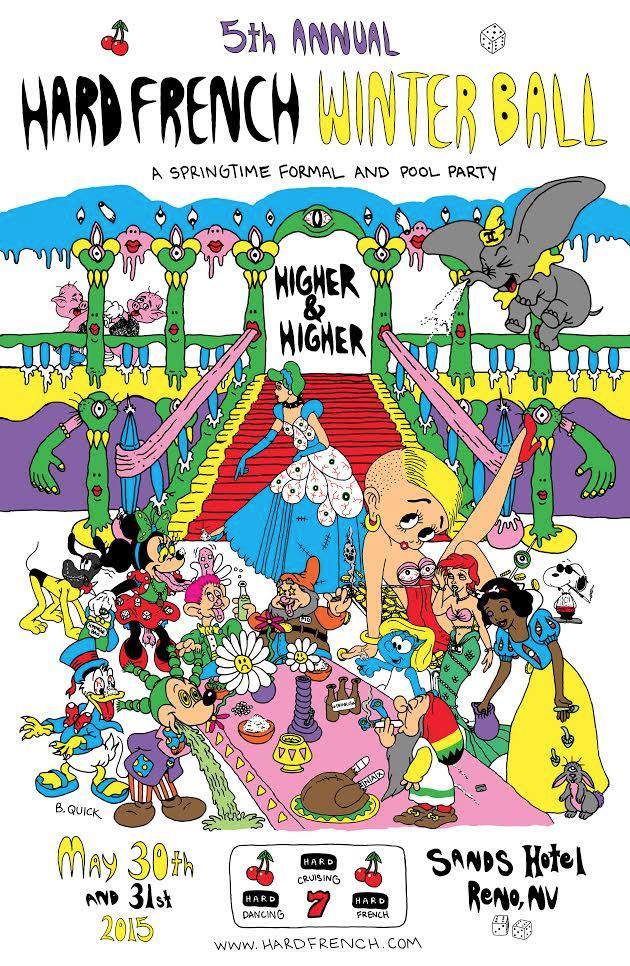 HARD DANCING. HARD CRUISING. HARD FRENCH.

HIGHER AND HIGHER ALL YEAR LONG.