Live music returns with Hard Days Night, a Beatles tribute
About this event
PLEASE NOTE: THIS SHOW HAS BEEN MOVED FROM HOLLIDAY PARK TO THE VOGUE DUE TO WEATHER
Since 1996, Hard Day's Night has been entertaining Beatles fans across the country. Hailing from the rock 'n roll city of Cleveland, Ohio, Hard Day's Night is rated among the top national Beatles tribute groups performing today. They are a full catalogue touring Beatles Tribute paying authentic homage to all eras, complete with sitar! The band focuses on performing songs exactly as the Beatles themselves did; four musicians onstage in character as John, Paul, George, and Ringo; wearing perfect stitch-for-stitch replications of the suits made famous by the Beatles; with authentic Vox, Hofner, Gretsch, Rickenbacker, and Ludwig instruments; playing the world-famous songs note-for-note.
Through its musical talent and dedication to authenticity the group is one of the few touring Beatles tribute bands to be invited to perform at the world-famous Cavern Club in Liverpool, England during International Beatles Week. This trip across the pond also included a special appearance with Pete Best, the Beatles' first drummer, at the Casbah Club.
Hard Day's Night has had the pleasure of performing for thousands of Beatles fans in England and the United States, including such national clients as Continental Airlines, Hard Rock Cafe, Hilton Hotels, House of Blues, The Rock & Roll Hall of Fame, Volkswagen of America, and the American Heart Association. Television clips featuring the band have appeared on FOX, PBS and CBS, and the group has appeared with such noted British Invasion performers as Peter Noone and Herman's Hermits and Billy J. Kramer, as well as Tim Piper, nationally known John Lennon impersonator.
Hard Day's Night is privileged to recreate and perform the magical music of the Beatles for fans young and old and thrilled to introduce a whole new generation of Beatles fans to the excitement of a Beatles concert! They are dedicated to keeping Beatlemania alive in one of the most authentic, all-live stage tributes seen today! Hard Day's Night is proud to carry on the legacy of the number one rock 'n roll group of all time - the Beatles!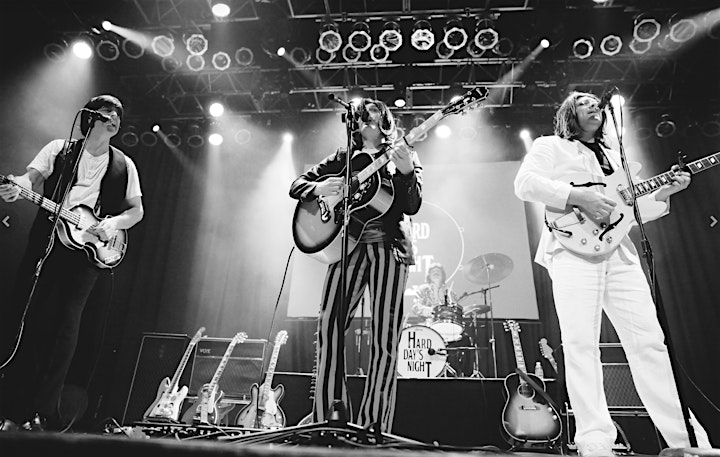 Ticket Pods
Due to Covid-19 precautions, all tickets are 4 Person Pods. Each pod has enough room for 4 people plus social distancing between your neighbors. You will receive an order confirmation with your purchase; however, entry times will be staggered in order to prevent long lines and facilitate social distancing. All purchases are non refundable - artist(s), times & date all subject to change.
The Vogue Presents:
Rock the Ruins Concert Series at Holliday Park
Outdoors & Socially Distanced
Rock the Ruins is a summer concert series hosted by The Vogue at Holliday Park, an enchanting 95-year old park nestled in a gently wooded neighborhood just six miles north of downtown Indianapolis.
Perfect for experiencing music, catching-up with neighbors and friends, and connecting with nature. We encourage our all-ages guests to bring chairs, tables, and blankets and take advantage of a variety of local food, beverage, and artisan vendors.
Guests will arrive at staggered times, be asked COVID-19 screening questions, receive a temperature check, and enjoy the show from 4-person (maximum), socially distanced pods. You're welcome to bring your own low-back chairs and/or blankets for this show as seating will not be provided. No outside coolers or alcoholic beverages will be permitted in the park.
Masks will be mandatory, except when guests are in their pods.
For more information including frequently asked questions, visit http://www.rocktheruins.com
Organizer of Hard Days Night- Beatles Tribute