Description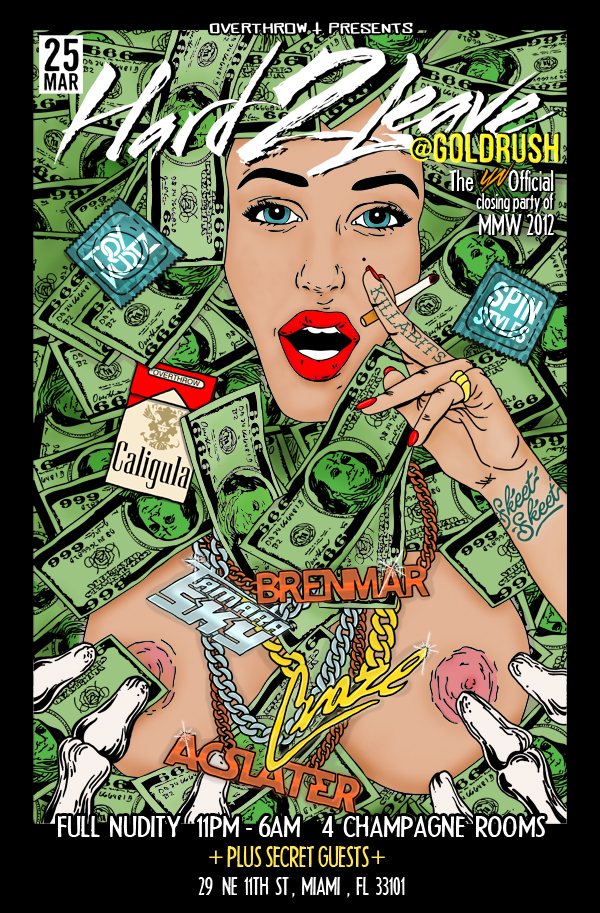 Its going to be a long week in Miami with all the festivals, parties, and events...make it even LONGER by ending it right!
The 3rd annual HARD 2 LEAVE Miami Music Weeks party is the only electronic music event in Miami that takes place inside a gentleman's club, the notorious Gold Rush. Located less then a mile from Ultra Music Festival, its a short trip with BIG results!
---
+music | OVERTHROW MUSIC AUTHORITY
Featuring an all star line up of some of the biggest DJs in town for the week, the label roster will be joined by some HUGE guests we can't announce PLUS some incredible DJs we can!
- CRAZE
- AC SLATER
- BRENMAR
- SKEET SKEET
- TAMARA SKY
- SPINSTYLES
- TROY KURTZ
...PLUS SUPER SECRET GUESTS!
---
+ venue | GOLD RUSH
Gold Rush is downtown Miami's #1 gentleman's club. Featuring 2 main stages, full contact lap dances, VIP areas, private rooms, and a full bar, there is no place better to end up in Miami.
Organizer of Hard 2 Leave: Miami Music Week 2012