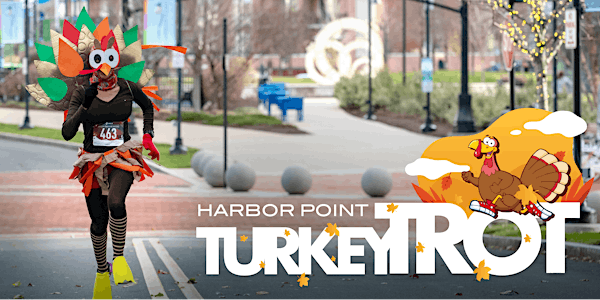 Harbor Point Turkey Trot 5K Fun Run 2022
Harbor Point Turkey Trot 5K Fun Run 2022
When and where
Location
Harbor Point Square 1 Harbor Point Road Stamford, CT 06902
About this event
Join us for our 11th Annual Harbor Point Turkey Trot 5K Fun Run on Thursday, November 24th at 8:00 am!
Whether you are a runner, trotter, or walker all are welcome and there is no entry fee! Costumes appreciated! Be sure to tag your photos @HarborPointStamford on Instagram!
Check In Begins: 7:30 am
Race kick-off: 8:00 am
This is a Rain or Shine event. If there are thunderstorms, this event will be canceled.
In the spirit of Thanksgiving, we are partnering with Person-to-Person, Inc. (P2P), a 501(c)(3) non-profit charitable agency that provides residents in lower Fairfield County:
• Food (three food pantries and mobile food delivery)
• Emergency financial assistance
• Clothing
• Summer Camperships for elementary school students
• College scholarships and mentorships for first generation students
We encourage you to please bring along a non-perishable food item for their Stamford-based mobile food pantry, which will be onsite. Most needed food items include:
• Peanut Butter and Jelly
• Pasta and Sauce/Mac & Cheese
• Rice and Canned/Dried Beans
• Canned Tuna/Chicken
• Pancake Mix/Hot and Cold cereal
• Granola/Snack Bars
Harbor Point Turkey Trot Raffle
No food to bring, no problem - you can still help with a donation!
Please consider making a cash contribution to Person-to-Person. For every $5 or more contribution, you will be automatically entered into the Harbor Point Turkey Trot Raffle. One winner will receive a $100 gift card to a Harbor Point Restaurant. Winner will be notified via email.
All runners 18 years of age or more must RSVP for themselves and sign online waiver to participate. Runners under 18 years old must have parent or legal guardian provide RSVP and sign waiver on their behalf. We will contact all those who register on behalf of another person to follow up on the above. Non-compliance will result in RSVP cancellation.
By participating in this event or being in the event area, you are acknowledging the contagious nature of COVID-19 and voluntarily assuming the risk that you may be exposed to or infected by COVID-19, that you are aware of the risks inherent in observing or participating in events and that injury may occur as a result of this activity, including the potential for permanent disability and death, the risk of serious injury does exist; and, that you are consenting that any photographs and/or video taken by photographers/film crews shall remain the property of BLT MANAGEMENT LLC and granting permission for use of your picture or the minor participant's picture for the purpose of advertising, publicity, in-house publications, promotions or any other legitimate account of these events.