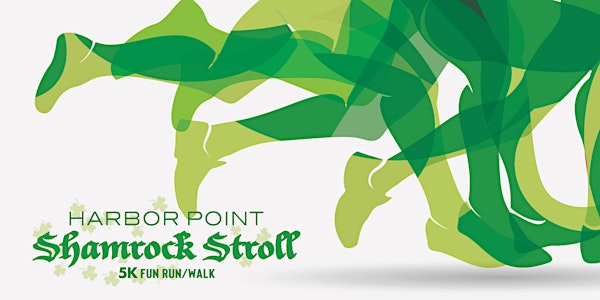 Harbor Point Annual St. Patrick's Day Shamrock Stroll 5K Walk/Run
Harbor Point Annual St. Patrick's Day Shamrock Stroll 5K Fun Walk/Run
When and where
Date and time
Sunday, March 12 · 8 - 9:30am EDT
Location
Harbor Point Square 1 Harbor Point Road Stamford, CT 06902
About this event
Join the annual 5K fun run through Harbor Point from 8:00 am – 9:30 am on Sunday, March 12 in celebration of St. Patrick's Day.
• Complimentary registration
• This is a Fun Run, it is not timed
• All runners 18 years of age + must RSVP for themselves and sign online waiver to participate.
• Runners under 18 years old must have parent or legal guardian RSVP and sign waiver on their behalf.
• Non-compliance will result in RSVP cancellation
• Check In Begins: 7:30 am at 18 Harbor Point Road
• Race kick-off: 8:00 am
• Complimentary parking is available in the 2200 Atlantic and 100 Washington Boulevard Parking Garages
• Costumes are appreciated!
• This is a Rain or Shine event. If there are thunderstorms/severe weather, this event will be canceled
• Online RSVP's will be accepted until 6:00 am on Sunday, March 12. All others will need to sign up onsite beginning at 7:30 am on Sunday, March 12.
By participating in this event or being in the event area, you are acknowledging the contagious nature of COVID-19 and voluntarily assuming the risk that you may be exposed to or infected by COVID-19, that you are aware of the risks inherent in observing or participating in events and that injury may occur as a result of this activity, including the potential for permanent disability and death, the risk of serious injury does exist; and, that you are consenting that any photographs and/or video taken by photographers/film crews shall remain the property of BLT MANAGEMENT LLC and granting permission for use of your picture or the minor participant's picture for the purpose of advertising, publicity, in-house publications, promotions or any other legitimate account of these events.
About the organizer
Whether you are looking for your new home, a place to relocate your business, or a fun night out, Harbor Point in Stamford, CT is the place.

Our bustling Live-Work-Play community is active 24 hours a day, 7 days a week, 365 days a year at Harbor Point.

The ecosystem at Harbor Point covers over 100 acres along the Stamford Waterfront. It's located immediately south of the train station and Downtown Stamford. With over 4,000 apartments contained within eight unique buildings, ranging from historic lofts to waterfront towers, you can easily find your new home. Our waterfront destination has over 34 retailers, including 15 restaurants, with more to come.

Harbor Point boasts over 20 acres of public parks, including a mile of actively programmed boardwalk to keep you entertained by the waterfront. Visit our four marinas and enjoy a free water taxi ride across the channel. If yachts and boating are your passion, be sure to check out Hinkley Yacht Services, and don't forget to fuel up at their dock!

Convenience and accessibility rule at Harbor Point, with free WiFi and a comprehensive schedule of events including: live music, movies in the park, outdoor fitness, farmers market, and 5K runs/walks.. Free shuttles and trolleys connect our neighborhoods to the train station, waterfront and downtown.