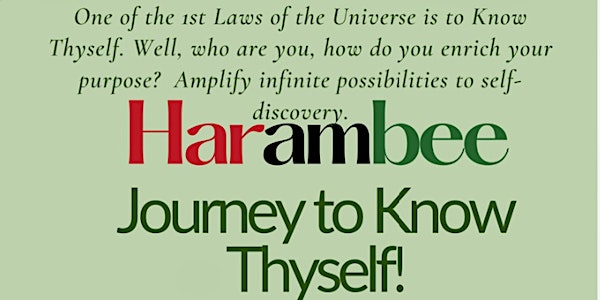 Harambee - Journey to Know Thyself
Are you discovering yourself, on life's journey? Then join us - be with like minded souls to discuss and amplify our energy centers.
About this event
Purpose: to pull together – all for one. On being transparent, the phrase 'all for one' seems idealistic and is opposite of what we are conditioned to believe – especially in North America. Perhaps, no matter how much we try, we will forever stay in a cycle of pulling ourselves up by our bootstraps and not being our brother's keeper. But isn't that too easy, a sure way to give up and not contribute to life's reciprocation? Pulling back from the bigger picture, we could instead focus on the micro and, as the Serenity Prayer suggests… have the wisdom to accept and change what we can as individuals. Which is truly ourselves. The 1st Law of the Universe is to Know Thyself. Well, who are you, what do you want, how do you enrich your purpose in reciprocation to life's hierarchy? If your soul wants familial dystopia and worldly destruction, then perhaps those are your daily endeavors. Instead, if you desire cohesion and a community, then taking even baby steps to know how you can contribute to that, is key.
Our gatherings are geared to help drive us toward taking a deep dive into different parts of the human body, spirit, mind and emotion to plummet us into the depths of our infinite possibilities of self-discovery. If I am only as great as the sum of my connections, I would rather engage in me-search through we-search. In the spirit of the embodiment of Kwanzaa, Harambee – we can pull together this year and notice the results of me-search through self-knowledge.
Objective: to holistically discuss and discover more about the human body – physical, spiritual, mental, and emotional. Remembering our personalized road map to practical ways of self-discovery is within us. To practice consistently with the same vigilance as work or prayer, we embark on the path of enlightenment, truth, freedom and strength in numbers.