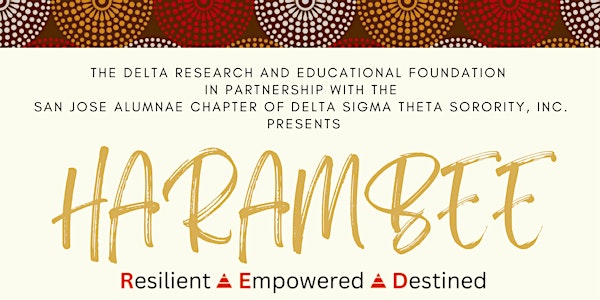 Harambee 2023: Resilient-Empowered-Destined
Mark your calendar for the 27th Annual Harambee! We are calling everyone to come together and support our youth at this in person event.
By San Jose Alumnae Chapter of Delta Sigma Theta Sorority, Inc.
Date and time
Saturday, February 25 · 11:30am - 3pm PST
Location
IBEW Local 332 Inside Local 2125 Canoas Garden Avenue #100 San Jose, CA 95125
About this event
Harambee 2023 is here!
Mark your calendar for the 27th Annual Harambee !
NBC Bay Area's Kari Hall will serve as our virtual host. This is a wonderful family friendly event, and all are welcome to attend. Harambee will include; entertainment, prize giveaways, vendor marketplace, silent auction opportunities, and a presentation from the youth in our community. We hope to see you all there!
About Harambee
Harambee (meaning, "a call to unity and collective work") is the signature event for the San Jose Alumnae Chapter. Harambee in known to be a festive, entertaining, and exciting! Over the years, the chapter has raised well over $200,000 in college scholarship monies for local high school students who demonstrated academic excellence. We are hopeful for the ability to improve the amount we raise; allowing the San Jose Alumnae Chapter the opportunity to expand upon public service initiatives with focus on the Black community.
This year our theme is Resilient - Empowered - Destined. Over the last three years the students of this generation have struggled greatly during the pandemic in many ways, but we know they have shown Resiliency. As a community we want to continue Empower and uplift the youth in ways that motivate them to continue striving towards excellence and realize their Destiny.
We are calling on members both within and outside our community to help us raise funds for the future generation of black excellence! This fundraiser will support our future scholarship award recipients, educational programs and community events.
If you would like to make a donation, please make your check or money order payable to DREF. You can mail payments with a memo of Scholarship & Community Service Projects to San Jose Alumnae Chapter, Delta Sigma Theta Sorority, Inc. • P.O. Box 6841 • San Jose, CA 95150-6841
Harambee 2023 is presented by the Delta Research and Educational Foundation in partnership with San Jose Alumnae Chapter of Delta Sigma Theta Sorority, Inc. The Delta Research and Education Foundation (DREF) is a 501(c)(3) non-profit organization. Donations are tax deductible to the extent allowed by law.
If you'd like to learn more about San Jose Alumnae Chapter, please click here to visit our website.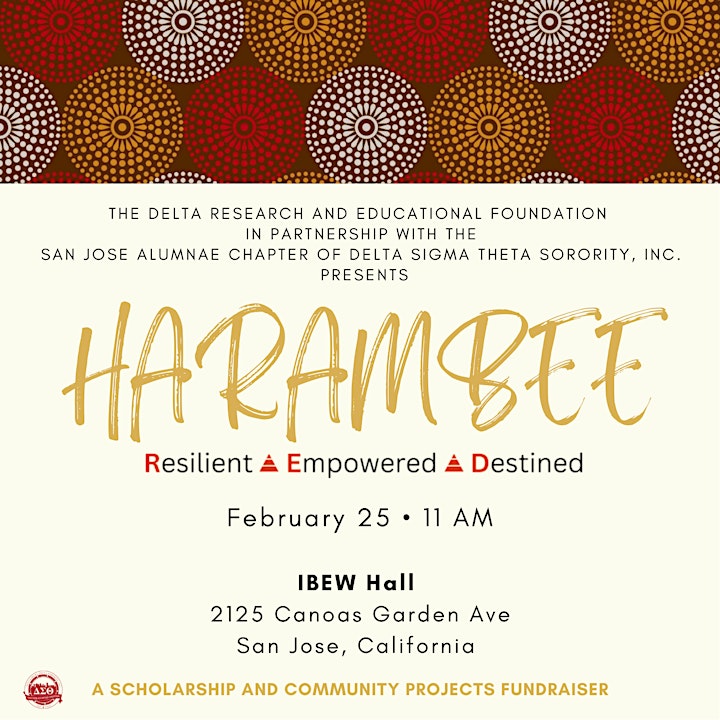 About the organizer
The San Jose Alumnae Chapter of Delta Sigma Theta Sorority, Inc. was chartered by 18 dynamic professional women on November 6, 1970 in San Jose, California.  During the past 43 years, SJA has embraced change and cultivated its expanding membership.  Today the chapter remains in the forefront: crafting the debate on public policy and social issues, creating opportunities for higher quality education through the provision of annual scholarships and innovative youth development programs, and stimulating economic growth through its evolving and diverse community-based partnerships in Santa Clara's County.
About Delta Sigma Theta Sorority, Inc.
Delta Sigma Theta Sorority, Inc. is a private, non-profit organization whose purpose is to provide assistance and support through established programs in local communities throughout the world. A sisterhood of more than 200,000 predominately Black college educated women, the Sorority currently has over 1,000 chapters located in the United States, England, Japan (Tokyo and Okinawa), Germany, the Virgin Islands, Bermuda, the Bahamas and the Republic of Korea. The major programs of the sorority are based upon the organization's Five Point Programmatic Thrust: Economic Development, Educational Development, International Awareness and Involvement, Physical and Mental Health and Political Awareness and Involvement
The Sorority was founded in 1913 by 22 students at Howard University. These young women wanted to use their collective strength to promote academic excellence; to provide scholarships; to provide support to the underserved; educate and stimulate participation in the establishment of positive public policy; and to highlight issues and provide solutions for problems in their communities.