Description
How do you create a successful grass roots marketing campaign and build a movement around a film on a limited budget?
For the first installment of FilmBundle.TV Live, we'll be talking to Sundance winners and Academy Award nominees, Adrian and Roko Belic. They've given us amazing documentaries such as GENGHIS BLUES, BEYOND THE CALL, and HAPPY.

We'll be screening their documentary, HAPPY, which explores the secrets to happiness in countries all over the world. Then, we'll sit down with them to discuss their journey as filmmakers, and dive deep into their uncanny ability to build audiences and create opportunities for their films to rise above the noise. Join us as we pick up a few tips to help your films succeed as well.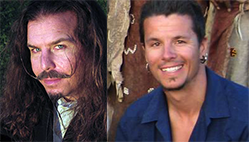 Here are just a few of their accomplishments that we'll be talking about:
Roko and Adrian created World Happy Day and screened HAPPY in 600 locations in 60 countries on all 7 continents (including Antarctica).
Happy was the first film ever to be featured as a Starbucks' "Download of the Week", and was promoted in Starbucks locations all over the world.
Their Kickstarter campaign was successfully funded to give them the extra boost to finish their film.
They've had interviews featured everywhere from Forbes to the Huffington Post.
This is a rare opportunity to get first-hand tips from filmmakers that have really made it happen. Hope to see you there!
Schedule:
6:45 . Doors open
7 . HAPPY Screening begins
8:30-9:30 . Fireside chat with Adrian & Roko Belic followed by Q&A
This event is brought to you by the Japan Film Society (organizers of the LA EigaFest) and FilmBundle.TV.
Sponsored by: NewFilmMakers LA