Happy Hour Roundtable: Fueling the Demand-Gen Engine with Social Selling
Description
B2B Marketing Roundtable
Join us Monday, February 27th, for an interactive, Marketing Roundtable Happy Hour with:

Jock Breitwieser, Head of Corporate Communications at TriNet
Fueling Demand Generation with Social Selling
Today, support for the sales team doesn't just have to come through traditional mailers, events and online ads. A strong ally for your marketing efforts comes in the form of the team that manages social media within your corporate communications. While traditional marketing efforts are successful, TriNet's marketing team connects the dots and leverages integrated campaigns with social media push to boost marketing efficiency. This roundtable gives you specific examples of how demand generation and corporate communications can work in sync to increase business success.
Join us to learn how:
- To set up your social platforms strategically, unify messaging and incorporate social into your marketing activities
- TriNet leverages its social strategy to drive between 5,000-7,000 additional visitors to its website
- You can amplify the reach of your content via social and increase demand-gen results
- To expand the use of social to the sales team and teach them how to fish
- TriNet enabled its sales team to win over 40 new clients directly through social selling
Jock Breitwieser is head of corporate communications at TriNet (NYSE: TNET), a strategic partner to SMBs for HR, payroll, employee benefits, employment law compliance and risk mitigation. With 20 years of international communications expertise in agencies and in-house, he drives awareness for TriNet. His mission is to implement a strategy that makes communications a member of the marketing team that not only generates media awareness, but helps win customers and drives measurable results for the business.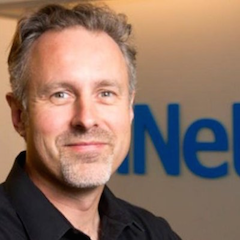 BMA Roundtables are set in intimate, interactive formats to foster exploration of specific, trending B2B Marketing disciplines. BMA NorCal has a long history of engaging Roundtable events and our series now includes:
Intimate Setting of 25 Bay Area B2B Marketers
Happy Hour Setting
Interactive, Speaker led discussions
Trending topics in B2B Marketing
SF and Silicon Valley sell-out events, Monthly
Registration includes one drink ticket and appetizers.
****Don't forget — seating is limited to 25 attendees. Once the event is sold out, you can't get tickets at the door, so don't get left out!