A reason to get together every 4th Monday of the month.
About this Event
I know what you're thinking "Happy hour on a Monday?!"
Yep. Happy hour on a Monday.
Mondays can be THE WORST and a good laugh with great company can turn the whole week around. So let's make an excuse to spend time with like-minded ladies. Besides, who's still keeping track of the what day it is anyway?
This event will alternate between open-to-all or members only. Please review the schedule below to see the themes and access restrictions.
Theme Schedule:
November - Open to ALL | Holiday Drinks - DIY Mulled Wine Packets & Egg Nog
December - Members Only | Mystery Gift Exchange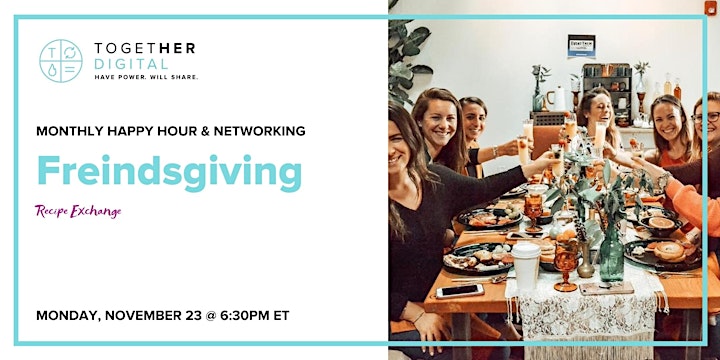 November | Friendsgiving Recipe Exchange
Open to All
Side dishes, drinks, cookies, and more. If it's your go to recipe for the holidays, share it. I'll share mine for eggnog and mulled wine.

December | Mystery Gift Exchange
Members Only
It's nice to get surprise packages in the mail! Join the womxn of Together Digital in spreading your local pride nationwide in a members only mystery gift exchange.
Please fill out the information below before December 6th to participate in the gift exchange. Participates will get information about their mystery giftee Monday December 7. https://forms.gle/LjX5XJ2WED4opCKE6
Gifting Rules:
Please keep gifts under $25
Please have items ordered/in-the-mail to be delivered by Friday, December 18th
Supporting local shops strongly encouraged. Introduce your local favorites to your digital sister across the nation.
Reach out to @JuliannaHQ on Slack with any questions.

Who Should Attend
All female, female-identifying, and LGBTQ professionals in digital and tech careers. From content strategists to designers, developers to social marketing pros from junior to executive levels - all are welcome at our events.
Please do not attend if you have a sales motivation. Soliciting our attendees and members for business or sales is strictly prohibited, and you will kindly be asked to leave. To promote your business, please consider sponsoring an upcoming event.
Men, we prefer you not attend this event. Why? By nature, when faced with challenges, women respond by creating community. This is ours. Please send your wife/daughter/sister/female colleague in your stead, sponsor an upcoming event, or purchase a group membership for the women on your team.

Who We Are
Together, we inspire and empower one another through our sharing of knowledge. Our members report they feel more confident and more equipped to elevate their career at a faster pace.
We are the network where women help women succeed in digital - and life.
Not a member? Join Today.
Contact us at info@togetherindigital.com to sponsor an upcoming event.