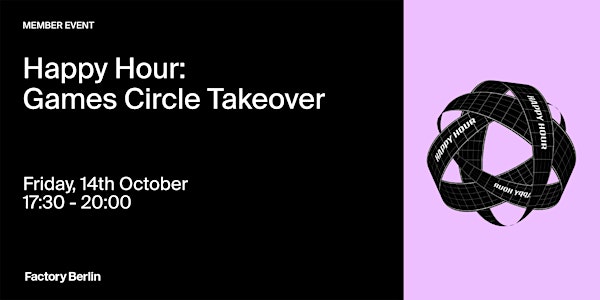 Happy Hour: Games Circle Takeover
Come and play with us!
When and where
Location
Factory Berlin Görlitzer Park, Creators Lab Lohmühlenstraße 65 12435 Berlin Germany
About this event
This Happy Hour, we're getting together, relaxing after work, and having some drinks as usual — and we're also playing games! If you're in the games industry or the wider games community, this is an opportunity to connect with other game afficionados and hobbyists over a relaxed drink. If you haven't yet dabbled in the world of games, this is an opportunity to have fun, learn something new, hear about exciting projects and developments, meet new people, and let your inner child play and be curious.
Developers in Berlin will showcase the latest games they're working on, and you will have the chance to test them and give feedback — all while mingling and enjoying good company, of course. If you want to get a head start, here are the games that will be showcased:
PLANet B - WhalesDontFly Studios
CarBox - Hues Games
Rogue Nation - Moonlit Games
Slopper Johnson: Graviton Agent - Horizont Computergrafik
Gaze Into Fate - IKOUYO
To the Stars - Stellar Cartography Interactive UG
Shark Based Shooter Game - Shark_Cove
Train 4 Science - Freelance
This event is hosted by the Games Circle at Factory Berlin. We're open to everyone regardless of background and won't tolerate any form of discrimination.