Join us for a night of comedy and fun at the historic Anheuser-Busch brewery in Van Nuys, CA.
About this event
In a rare event, the Valley's own Anheuser-Busch brewery is opening it's doors for one evening to benefit the legendary Valley Relics Museum. Don't miss your chance to check out this historic landmark while sampling limited edition and seasonal brews. Cupid's Hot Dogs will be serving up a variety of their famous dogs, including vegan! Say cheers to an exciting evening filled with stand up comedy and music.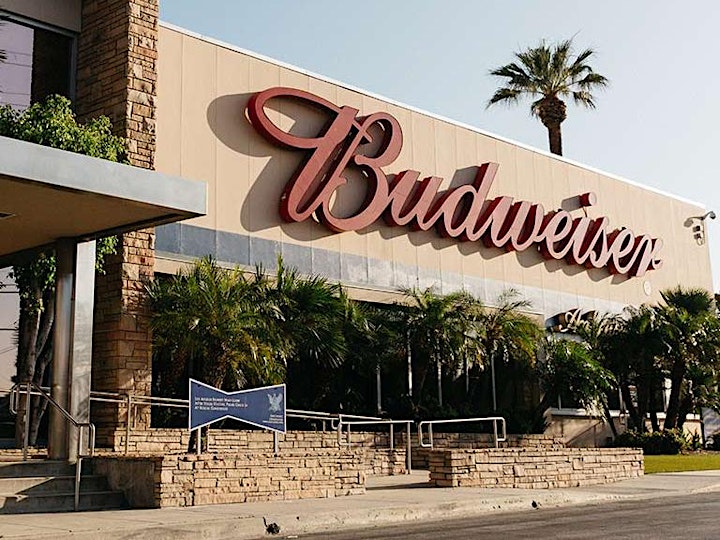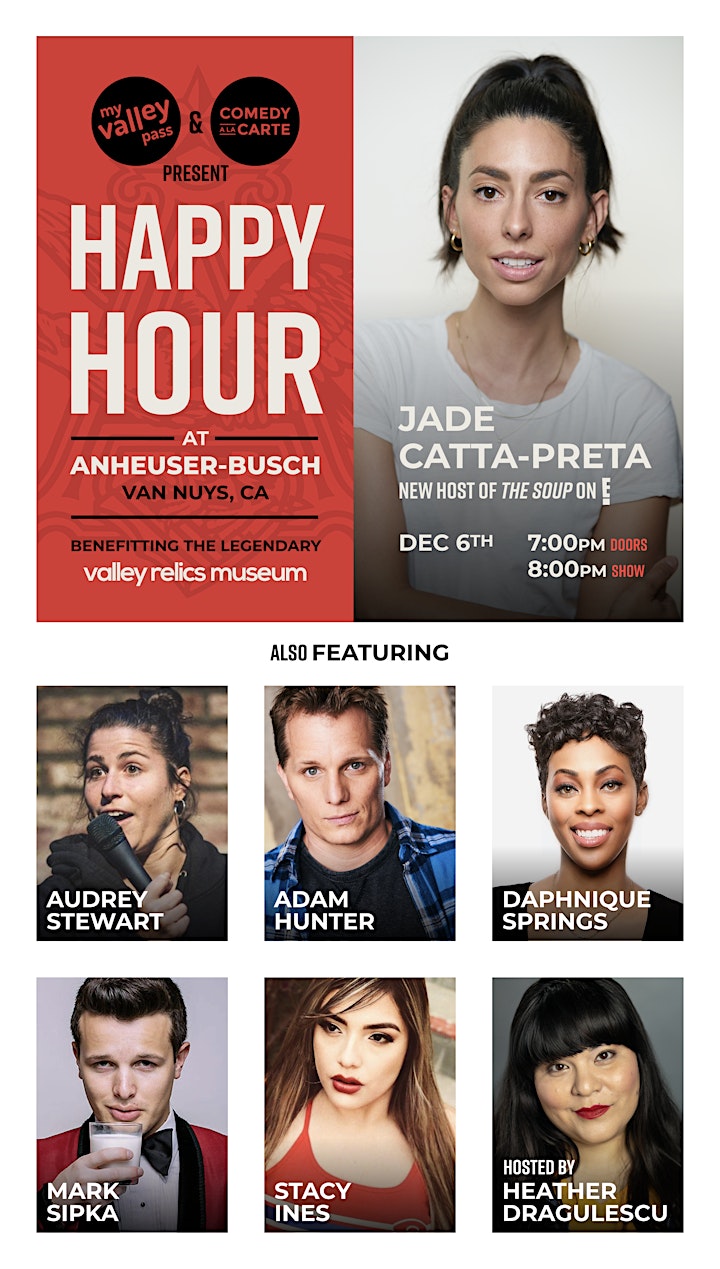 Featuring
Audrey Stewart
Adam Hunter
Daphnique Springs
Mark Sipka
Stacy Ines
Hosted by Heather Dragulescu
Stand Up by Comedy a la Carte
Whether you're joining us at one of our Stand Up, Improv, or Variety shows all over Los Angeles, or we're creating a custom experience for your event or venue, Comedy a la Carte promises top shelf entertainment that's guaranteed to make you laugh!
Check out Comedy a la Carte's lineup of shows at comedyalc.com and follow us on Instagram, Facebook, and Twitter.
Music by DJ ChrisOne
We're kicking off the event with live music by DJ ChrisOne, spinning past and current hits. Join us early on the dance floor for a guaranteed good time.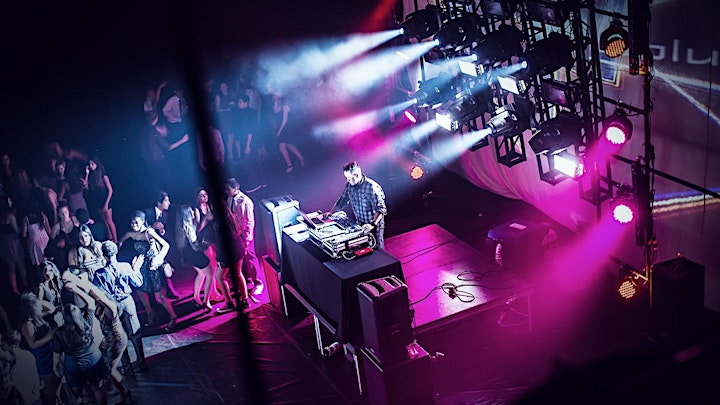 Ugly Sweater Contest
Come dressed in your best (actually, your worst!) holiday sweater for your chance to win prizes in our Ugly Sweater Contest.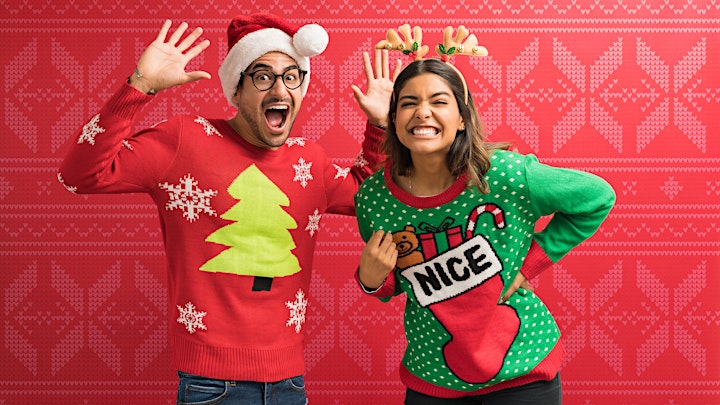 Food by Cupid's Hot Dogs
Cupid's Hot Dogs will be serving up the Valley's signature chili dog. Cupid's has been a Valley institution since 1946 and we are thrilled to share this exciting event with them. (Purchased separately.)
Visit Cupid's Hot Dogs at cupidshotdogs.net.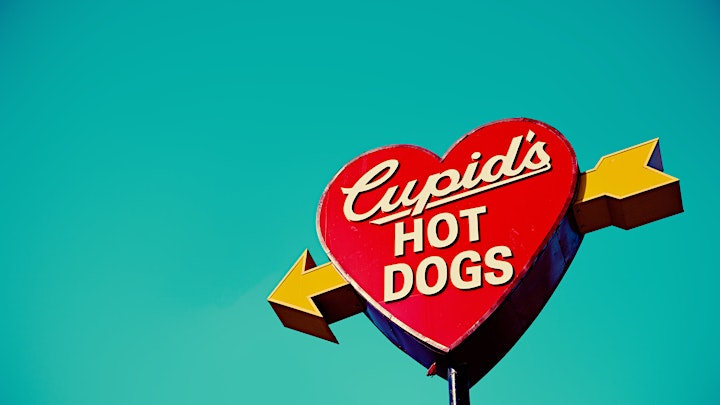 Benefitting Valley Relics Museum
The Valley Relics Museum boasts its vast collection of historical artifacts pertaining to The San Fernando Valley and surrounding areas. The collection includes rare documents, photographs, vintage neon signs, post cards, yearbooks, negatives, clothing, books, art, automobiles and BMX bikes from The Valley's past. The Valley Relics Museum is a nonprofit organization 501(c)3 with an endeavor to preserve and protect our local history and it's artifacts while educating the public on the rich history of The San Fernando Valley and surrounding areas.
Learn more about Valley Relics Museum at valleyrelicsmuseum.org.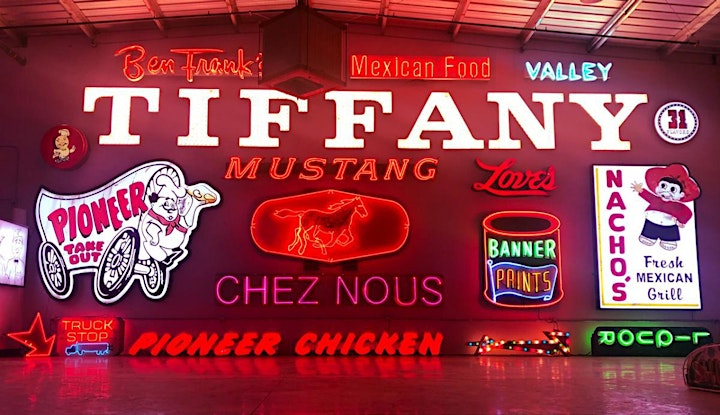 Hearing Assistance Available
This facility is equipped with a hearing assistance system. Please email hello@comedyalc.com to request a receiver.