Description
- Happy Hikers Club -
A FREE social and recreational program of Metro Parks & YMCA of Central Ohio (ECRN+)
At Happy Hikers Club, we believe that ALL children should have access to the outdoors in order to play and build lasting friendships, participate in positive physical activity, and experience the sensory wonders of nature. On the first Saturday of each month, Jen Rosa, Metro Parks Naturalist, will lead us on a walk or roll to explore a new Metro Park trail. Families can build their circles of support and connect with one another through nature, in a friendly, safe, and welcoming environment.

Happy Hikers Club activities are tailored to children and youth ages 18 years and younger (but all are welcome!) alongside their family. We are an all-inclusive social club, with children and families of all abilities/disabilities, fitness levels, ages, backgrounds, cultures, etc. Metro Parks and ECRN+ staff and volunteers will ensure the pack stays together and is having fun along the way. Rewards (park buttons, club patch, water bottles, etc.) can be earned for hikers who attend multiple hikes.

OCT HIKE DETAILS:
- Terrain: Paved. Wheelchairs and strollers can be pushed successfully.
-- Trail Distance: 1.5 mile roundtrip
--- Restroom available: Yes
---- Activities: Naturalist-led hike through the woods along with a Nature Scavenger Hunt. After the hike join us to visit the playground which is designed around three large climbing boulders utilizing an earthen mound and elevated boardwalk to provide ADA access to the top of a boulder. The play area incorporates logs harvested from Metro Parks as part of the experience. On the top of the mound, there are picnic platforms where families can relax and overlook the play area and surrounding parkland!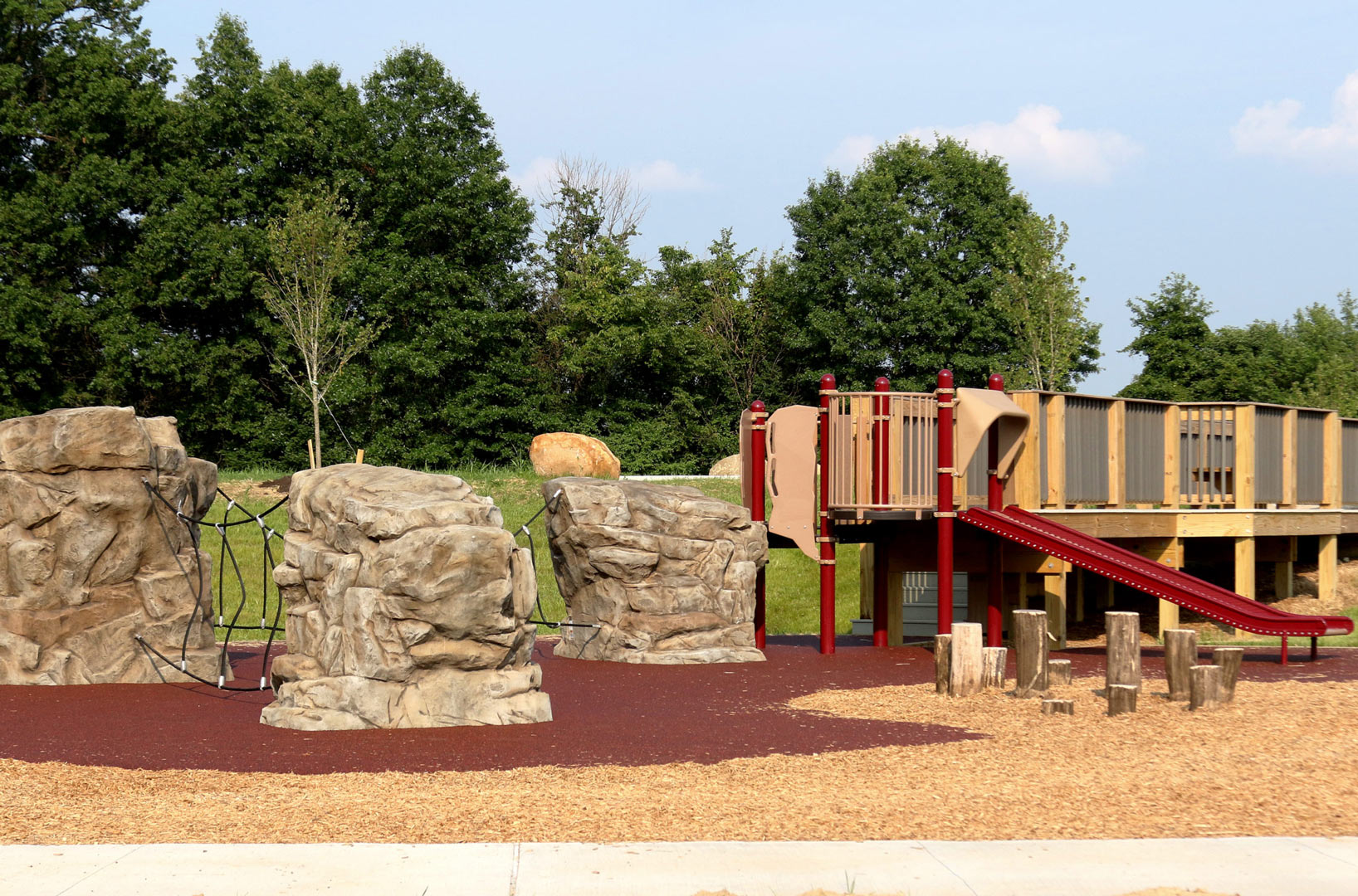 Photo by: Dan Bissonette

REMINDERS AND NOTES:
- Wear comfortable shoes (close-toed and close-heeled) and clothes for the weather and trail environment.
- Bring water, sunscreen, a hat, bug spray, etc. WE STRONGLY RECOMMEND bug spray as tick season is in full bloom in Ohio. Always do a tick check immediately following any outdoor activity.
- Club will be cancelled in case of rain or inclement weather. Registered participants will be emailed the morning of the event in the case of cancellation. In addition, check facebook.com/ECRNplus for cancellation updates.
- This program is open to both children and their families with special needs as well as the general community-at-large. We encourage an inclusive approach to friendship and fun... the way it should be! :)
- This is a family friendly event. At least one adult caregiver must be present and attentive on the trail at all times.


LOCATION & DIRECTIONS:
*Rocky Fork Metro Park.*
7180 E. Walnut Street, Westerville, OH 43081

Detailed directions can be found here
- From I-270 take exit 30 to SR 161/New Albany, go 3 miles and take New Albany Rd exit, turn left and follow as it veers right on New Albany Rd East. Go 0.5 miles and turn left on SR 605 (New Albany Condit Rd). Go 1.4 miles, turn right on E. Walnut St. Entrance 0.7 miles on left.
-- Park map is here
---Meet up point: Park at the Millstone Picnic Area parking lot. Meet in the picnic shelter.
QUESTIONS?
ECRN+ Family Support Team
» Name: Amanda Biel or Cassie Kranz
» Email: abiel@ymcacolumbus.org ckranz@ymcacolumbus.org
» Phone: 614.835.6073 614.300.7867
Metro Parks Staff
» Jen Rosa - Metro Parks Naturalist
» Email: rosa@metroparks.net
Hosted by: Metro Parks and ECRN+