Description
- Happy Hikers Club -
A FREE social and recreational program of Metro Parks & YMCA of Central Ohio (ECRN+)
At Happy Hikers Club, we believe that ALL children should have access to the outdoors in order to play and build lasting friendships, participate in positive physical activity, and experience the sensory wonders of nature. On the first Saturday of each month, Jen Rosa, Metro Parks Naturalist, will lead us on a walk or roll to explore a new Metro Park trail. Families can build their circles of support and connect with one another through nature, in a friendly, safe, and welcoming environment.

Happy Hikers Club is tailored to children and youth ages 18 years and younger (but all are welcome!) alongside their family. We are an all-inclusive social club, with children and families of all abilities/disabilities, fitness levels, ages, backgrounds, cultures, etc. Metro Parks and ECRN+ staff and volunteers will ensure the pack stays together and is having fun along the way. Rewards (park buttons, club patch, water bottles, etc.) can be earned for hikers who attend multiple hikes.

AUG HIKE DETAILS:

- Terrain: Gravel
-- Trail Distance: 1 mile roundtrip
--- Restroom available: Yes
---- Activities: Naturalist-led hike through the woods to the creek along with a Nature Scavenger Hunt. Afterwards, we'll have a snack while connecting and having fun as a group exploring the Nature Center!

+++ Please Note: This months trail is slightly more 'challenging' in nature than prior hikes in our series. The terrain is gravel but does have a gradual hill that the park does not recommend for strollers or other wheeled transport. In addition, the hike is our longest thus far, at 1 mile round trip. Keep this in mind before registering.
If you're looking for more adventure after our program, we encourage you to visit the park's 10-acre Natural Play Area with a wooded hillside and ravine where kids can safely roam and enjoy unstructured play in nature by climbing trees, playing in the dirt and other fun adventures including a zip line, teeter-totter and basket swing. You're also welcome to bring your lunch and enjoy a picnic in the park with your family.

REMINDERS AND NOTES:
- Wear comfortable shoes (close-toed and close-heeled) and clothes for the weather and trail environment.
- Bring water, sunscreen, a hat, bug spray, etc. WE STRONGLY RECOMMEND bug spray as tick season is in full bloom in Ohio. Always do a tick check immediately following any outdoor activity.
- Club will be cancelled in case of rain or inclement weather. Registered participants will be emailed the morning of the event in the case of cancellation. In addition, check facebook.com/ECRNplus for cancellation updates.
- This program is open to both children and their families with special needs as well as the general community-at-large. We encourage an inclusive approach to friendship and fun... the way it should be! :)
- This is a family friendly event. At least one adult caregiver must be present and attentive on the trail at all times.


LOCATION:
*Blendon Woods Metro Park*
Directions can be found here
Park map is here
Meet up point: MEET AT THE PICNIC TABLES NEXT TO THE NATURE CENTER as shown here: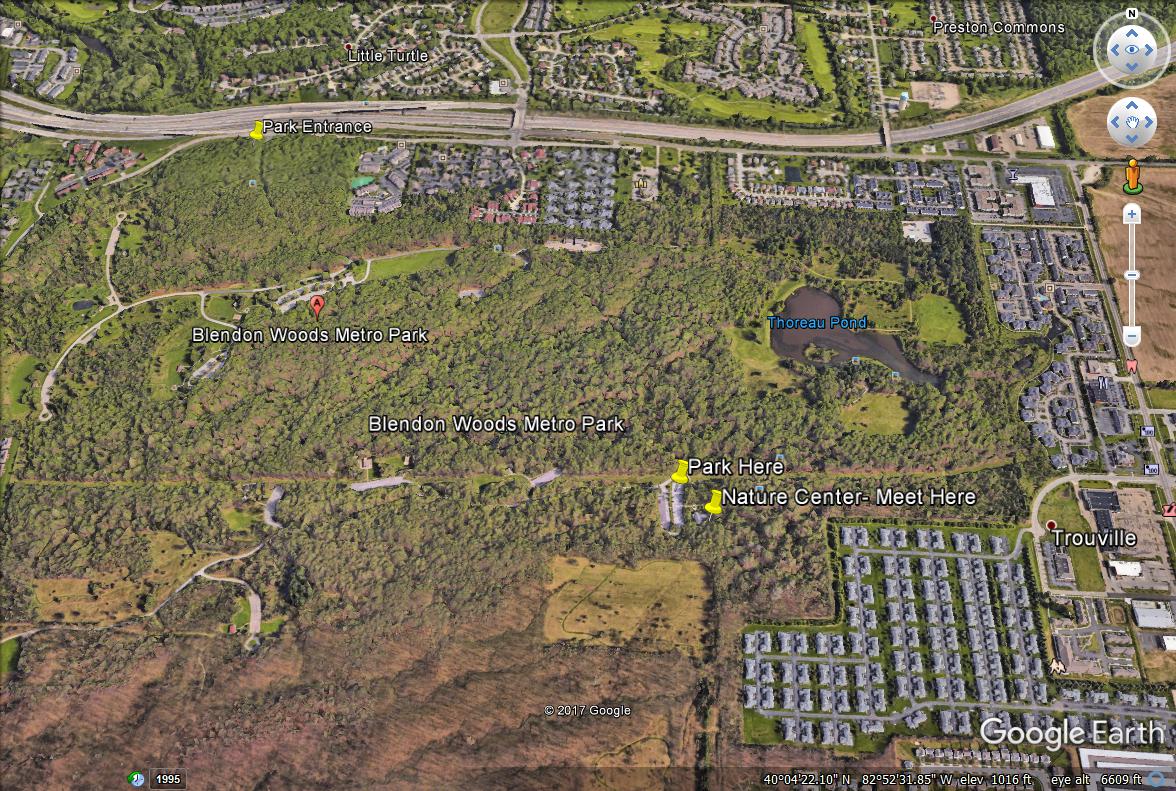 QUESTIONS?
ECRN+ Family Support Team
» Name: Amanda Biel or Cassie Kranz
» Email: abiel@ymcacolumbus.org ckranz@ymcacolumbus.org
» Phone: 614.835.6073 614.300.7867
Metro Parks Staff
» Jen Rosa - Metro Parks Naturalist
» Email: rosa@metroparks.net
Hosted by: Metro Parks and ECRN+