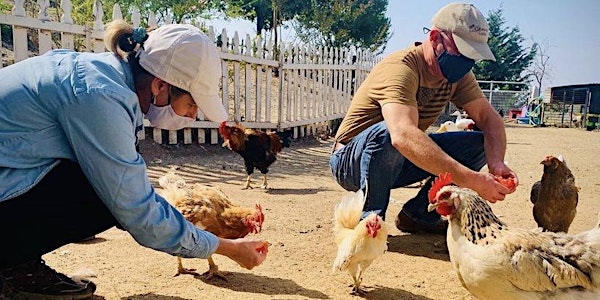 Happy Hen Animal Sanctuary Tour, 04/17
Visitors will be led throughout the sanctuary and have plenty of time to safely interact with residents, ask questions, and hear stories!
When and where
Location
Happy Hen Animal Sanctuary Corbett Canyon Road San Luis Obispo, CA 93401
Refund Policy
Contact the organizer to request a refund.
Eventbrite's fee is nonrefundable.
About this event
Overview: Thank you for your interest in scheduling a visit to Happy Hen Animal Sanctuary, a 40 acre refuge for rescued farm animals in San Luis Obispo, CA. Tours are offered once/month to groups of 2-8 individuals. The tour lasts approximately 1.5 hours and spans roughly ½ mile of varied terrain (e.g. hillsides, rugged pasture, and loose gravel). If you are interested in scheduling a tour for a private group, please email us at: happyhenteam@gmail.com to inquire about specialized visits. Otherwise, please see more details below including: what to expect, how to sign up, and rates. Tours are best suited for ages 10+ and those under 18 will need to be with a guardian at all times. We'd be happy to host a kids' or homeschooling class to accommodate your group. Please see below for info. on COVID-19 policies.
What to Expect: When visiting Happy Hen, folks will learn about how we got started, where we're at now, and what our leadership's vision is for a world where all animals are free. We'll meet rescued farm animal ambassadors of varied species and personalities - from friendly hens, to affection-seeking turkeys, to treat-loving pigs, and even curious cows! Visitors will be led throughout the sanctuary and have plenty of time to safely interact with residents, ask questions, and hear incredible stories of perseverance, recovery, and freedom. All visitors will need to sign a Release of Liability prior to starting the tour. These will be sent ahead of time to read over. You may print and hand-sign a copy from home but we'll also have copies available on site.
Frequently Asked Questions (FAQs) for Happy Hen Animal Sanctuary Tours
Where exactly are you located?
We are approximately 15 minutes from downtown San Luis Obispo, in the heart of Edna Valley just off Corbett Canyon Road. Our exact location will be shared with visitors via the email used for registration 2-3 days prior to your tour date.
Where should I park and meet for the tour?
After passing through the gate at the bottom of the hill, drive slowly up the paved driveway (watch for animals crossing!) and vear right at the fork once you reach the top. A "Park Here" sign will be visible and we ask that you park parallel to other cars so as to maximize space. Meet a few minutes before your tour time at the gazebo, across from the parking area. Please do not be late; tours start promptly on time.
What should I wear?
Close-toed and heeled shoes are mandatory (no sandals). Long pants (jeans) are recommended. Please refrain from wearing any strong smelling scents/perfumes or dangling jewelry.
What should I bring?
A positive attitude and openness to learn! It's recommended to bring a reusable filled water bottle (we only have well-water on site) and any necessary medications. Please mute all cell phones/devices and plan to be "offline" for the duration of the tour (i.e. no phone calls or texting - attention should be on your experience). Feel free to take pictures at any time, though we ask that, if posting to social media, you tag us and ensure residents are mentioned by name when possible to respect their uniqueness. Facebook: Happy Hen Animal Sanctuary; Instagram: happy_hen_animal_sanctuary
What shouldn't I bring?
Out of respect for the rescued farm animal residents, dairy, meat, eggs, leather, fur, silk, wool or any animal by product/s are not permitted at the sanctuary. Please do not bring food (unless medically needed) as the residents may become overly intrigued which can create safety concerns. Do not bring anything of value (or keep these items in your car).
What are some of the safety guidelines?
While at the sanctuary, we ask that all visitors walk and keep with the group. We are not a petting zoo and ask that you let an animal approach you first (never chase or track down an animal). Don't disturb any sleeping residents and watch your fingers, especially when giving treats. Your tour guide will give more details once on site and specific safety guidelines for each area we visit.
Will we get to interact with the residents?
Of course! This is one of the highlights of the experience! We balance spending enough time in each area to get to know the residents and certain ambassadors who choose to visit us. Appropriate actions will be explained by your tour guide in each scenario and you can choose to be hands-on or simply observe the animals.
How can I support Happy Hen once the tour is over and where do my donations go?
At the end of the tour, we'll finish up where we started - at the gazebo where we'll have a few items on display for purchase as well as some materials to take with you to share about Happy Hen to your community. 100% of your donations go to supporting the sanctuary and we encourage you to become a monthly member if so moved.
What safety precautions are you taking around COVID-19?
While on HHAS property, mask wearing is mandated 100% of the time. We ask that visitors practice social distancing (unless in the same household), maintaining at least 6' distance from one another and not lingering too long in the same immediate space. We are fortunate to have our tours outside, but we do expect and ask these policies to be understood and maintained by all to the best of abilities until further notice. Mandatory temperature checks will be conducted prior to starting the tour. COVID-19 vaccination/s strongly encouraged for those 16+, as eligibility permits. PLEASE DO NOT COME IF YOU ARE SICK, HAVE BEEN EXPOSED, OR HAVE TESTED POSITIVE FOR COVID-19 IN THE LAST 2 WEEKS.
Will my allergies flare up?
We have hay, straw, peanut butter, and other items that may cause allergic reactions. Please plan/prepare accordingly.