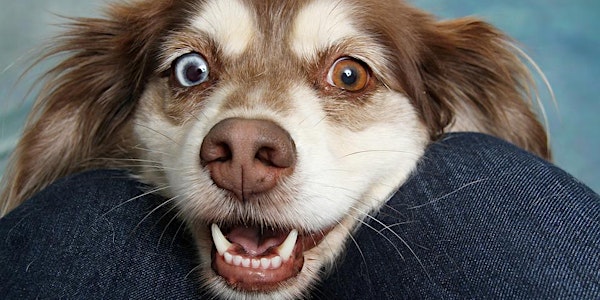 Happy Handling - When Resilience Conditioning Creates Cooperation
Whether visiting the vet, giving a bath, or inspecting a cut, a dog might feel worried or threatened, making care for them more difficult.
Refund Policy
Contact the organizer to request a refund.
Eventbrite's fee is nonrefundable.
About this event
Happy Handling - When Resilience Conditioning Creates Cooperation
Resilience is the ability to adapt successfully to or recover quickly from stressful events, situations, and conditions. Resilience relies on effective responses to environmental change, and resistance to the negative effects of stress. A thorough understanding of the factors which influence these mechanisms is fundamental to raising and living with our companion animals.
No matter your goal, we must consider resilience when creating training programs or addressing behavior issues. This is especially the case when training skills for husbandry and veterinary care. In these contexts, many pets feel worried or threatened, making handling more difficult and stressful for the guardian.
Join us for a series on Happy Handling, where we explore how resilience conditioning can create an experience of cooperation, whether you have a dog at home or you are working with a dog at a shelter.
Happy Handling for Shelter Dogs
Thursday, December 1, 20226pm to 7:30 EST (USA and Canada)
Do some dogs in your shelter stare at you with hard eyes and bared teeth when you approach them with medication? Do you struggle to administer necessary medical care to extremely stressed shelter dogs? Caring for the sick and injured in a shelter can be hard and sometimes dangerous!
Fear not! Low-stress handling and cooperative care is possible in a shelter environment. There's a better way for you and your charges, and we want to give you new tools for approaching these problems. What does a Resilience Conditioning training plan based around the Resilience Rainbow look like? What are the advantages of this approach? We will explore these concepts and exercises through case examples.
Ferdie Yau, MA, CPDT-KA, and Evia Russell, CDBC, are teaming up to bring Happy Handling to YOUR shelter! We'll teach you how to work with the pets who are already scared and require medical care, as well as those who are still "easy", so you can prevent fear before it starts. We'll give you exercises and tips you can implement right away, including "quick and dirty" strategies to use when medical care is urgent and you don't have time to train a new behavior.
We also recognize that you might be alone in your organization when it comes to an interest in Happy Handling. Sadly, much of the shelter world is under-resourced and understaffed, which makes it challenging to implement new programs like Happy Handling. Zoos and aquariums found themselves in the same position decades ago, but now, cooperative care training is widely accepted as best practice in modern AZA-accredited zoos and aquariums. We will talk about what it takes to create real change, and how to nurture a culture that promotes Happy Handling for all!
Happy Handling for Pet Dogs
Wednesday, December 7, 20226pm to 7:30 EST (USA and Canada)
Does your pet panic when walking into the vet clinic? Do they fight tooth and nail against nail trims or brushing at home? Are you filled with dread every time your pet has a medical issue because they can't be touched by a veterinarian? Maybe you always had to pay for sedated care for a previous pet and want to make sure your new furry friend LOVES to go to the vet.
Fear not! Happy Handling is here to help.
Cooperative Care refers to training animals to opt-into their care. While no two programs look the same, cooperative care typically includes desensitization, counter-conditioning, and skill building with positive reinforcement. By providing our pets with agency, we can help them feel safe being handled, no matter what we need to do to ensure their health and well-being. What does a Resilience Conditioning training plan based around the Resilience Rainbow look like? What are the advantages of this approach? We will explore these concepts and exercises through case examples.
Pet Owners- Come to this lecture to learn how to teach your pet to tolerate or even love veterinary care, how medications can help, and how to find your best-fit veterinary partner. When you have this information, you can be a great advocate for your pet and enjoy a future of more peaceful veterinary visits.
Behavior Consultants- Whether you're new to cooperative care or have been practicing it for years, this webinar is guaranteed to offer you something new. We'll discuss behavior modification techniques for cooperative care and how medication protocols can impact your plan's success.
Veterinarians- When patients are spicy, they can't get the medical care they need. This leaves everyone frustrated and worried. The good news is that multiple medications can provide the best care, even if families aren't able to do much training at home. Come to this webinar to learn more about the research and application of pre-visit medication combinations.
Join E'Lise Christensen, DVM DACVB, and Evia Russell, CDBC, to learn techniques and tips for teaching your pet to love the vet!
This is an online event. The live-streaming link will be emailed one day before the event. This two-day seminar will be recorded for those who cannot join us for the live event.
"Doors" open 30 minutes before the start time of the event. Feel free to log in and wait in our "waiting room" via the video app. We will be using Zoom to stream the event.
CEUs will be granted only to those who purchase a ticket for the two-day seminar, even if they cannot join us on the dates of the event.
CEUs pending:
Tuition:
Happy Handling for Shelter Dogs webinar: $29
Happy Handling for Pet Dogs webinar: $49
Shelter/Rescue/Vet Student/Vet Tech, 2-part package: $49
Early Bird Tickets, 2-part package – before November 25: $65
General Admission Tickets, 2-part package – after November 25: $79
Discounts are available for groups of 5 or more - please contact Info@BehaviorVets.com for more information.
Cancellation policy: No refunds
About Evia:
Evia Russell, CDBC, graduated from Carleton College in 2014 with a B.A. in Animal Behavior. While in school, she researched the communication differences between New World monkeys and humans, using a captive troop of cotton-top tamarins as subjects.
After college, Evia moved to Austin, Texas where she began her career in the largest no-kill animal shelter in the country. She transitioned into a job in veterinary medicine as a technician, becoming lead technician within three years. In September of 2017, she followed her heart to Colorado where she accepted a position with Behavior Vets. She has trained with Debbie Martin, CVT-VTS (Behavior) to offer behavior treatment to support our patients, and is a Fear FreeTM Certified Veterinary Professional. She is also certified as a dog behavior consultant through the International Association of Animal Behavior Consultants.
Evia shares her home with eight cats – only three of which she claims are hers--and her young Shepard/Husky mix. Outside of oversharing pictures of said cats and dog, she enjoys downhill mountain biking and taking her motorcycle on adventures.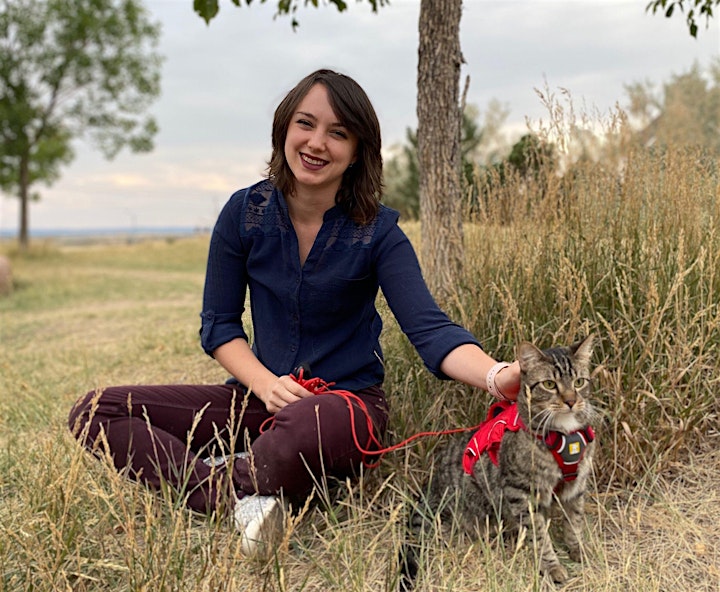 About Ferdie:
Ferdie Yau has an MA in Conservation Biology from Columbia University (2007) and a BS in Natural Resource Ecology and Management from the University of Michigan (1998). He is the Staff Trainer at the Humane Society of Westchester and an instructor at CATCH Canine Trainers Academy. Ferdie studies urban coyote behavior and population dynamics with the Gotham Coyote Project.
Ferdie was a zookeeper and trainer both the Central Park Zoo and Bronx Zoo from 2002 to 2005 where he trained dozens of exotic species including California sea lions, river otters, Arctic foxes and polar bears. His approach to behavior training and animal welfare was deeply influenced by his experience caring for Gus, the iconic polar bear of the Central Park Zoo. Gus was labeled "neurotic" by the public and media because he repetitively swam laps around the pool. Refusing to watch him suffer, Ferdie pioneered the development and implementation of a progressive training and enrichment program for the polar bears that reduced stereotypic behaviors related to stress and anxiety.
Ferdie's graduate research led him deep into the jungles of Belize in 2006 to study the behavior and population dynamics of jaguar and their prey. Following graduation from Columbia University, Ferdie went on to become an ecologist for the NYC Department of Parks and Recreation, where he implemented and managed multi-million dollar projects to protect and restore natural habitats and wildlife to the Bronx River from 2009 to 2013.
Ferdie has been training dogs and educating their humans in New York City and Westchester County in NY since 2007. He founded Sits & Wiggles Dog Training in 2009 and joined Behavior Vets in 2020. In his role as the Director of Shelter and Community Outreach Ferdie fights for better animal welfare and improved access and awareness of humane treatment and training methods for all animals.
Ferdie lives in the Bronx with his wife and retired coyote scat-detection terrier mix, Scout. In his free time, he enjoys exploring nature, hiking, cooking, and eating well!
About Dr. C:
Dr. E'Lise Christensen DVM is a board-certified veterinary behaviorist and an international lecturer and author. Dr. C received her Doctor of Veterinary Medicine from Iowa State University in 2002. She first became interested in veterinary behavior as a high school student when she worked at a veterinary practice and began training animals for pet therapy at a local substance abuse facility. While in veterinary school she researched separation anxiety in shelter dogs, was an assistant trainer at an animal shelter, and studied with numerous board-certified veterinary behaviorists.
After veterinary school Dr. C began a rotating small animal internship at SouthPaws Veterinary Referral Center in Springfield, Virginia. While working there she continued her studies in veterinary behavior. She practiced feline-only medicine in Arlington, Virginia and general medicine in Bloomingdale, New Jersey before entering the Behavior Residency Program at Cornell University in 2004. During her residency she researched the behavior of dogs, cats, and horses and treated behavioral problems in a number of different species. Her most cited research involved evaluating the efficacy of canine temperament tests in the shelter system.
Dr. Christensen has contributed to articles in Dog Watch, Cat Watch, Cat Fancy, Dog Training Solutions, Real Simple, Newsday, and various other print media. She has been a contributor and guest on Foxnews.com's "Pet Health" and "Studio B with Shepard Smith", ABC News' "Nightline," and many other radio programs, television programs, and newscasts. She enjoys lecturing nationally and internationally on an array of behavior topics including, but not limited to, small animal behavior, public health and animal sheltering topics.
Dr. C is board-certified by the American College of Veterinary Behaviorists and a member of the American Veterinary Society of Animal Behavior (AVSAB) Speaker's Bureau and the American Veterinary Medical Association.
Dr C is always working on new ideas to support animals, families, trainers, and veterinary colleagues as they learn more about behavior and manage animals with behavioral disorders. Work-life balance is her last unicorn. She is also on a crusade to rescue the Oxford comma.