A virtual "Happy HALLOW-WINE Hour" with your sisters in Christ talking about some sassy saints and how we can follow in their footsteps!
About this event
"Somethings are SO worth celebrating, that we begin the evening before!"
Join us for a very Happy HALLOW-WINE event as we gather for a virtual "happy" hour to support and encourage one another on our journey to one day being celebrated on Nov. 1—All Saints Day!
We'll have a few tricks and lots of treats in honor of our sisters the saints!
Your registration comes with a link to our Zoom meeting and chances to win fun and fabulous prizes such as:
Free subscription to the Hallow App for a year
Beautiful WINE Rosary from Italy
Registration for you and a friend to a WINE conference
$100 gift certificate for any WINE & Shrine Pilgrimage
Called By Name Bundle (with a few extras)
Framed print of artwork from "The Mother of Jesus is Wonderfully Real"
Date: Sunday, Oct. 31
Time: 8pm - 9pm CST
Location: WINE Zoom Room
*BONUS: Come dressed as your favorite saint and your name goes into a drawing for a super-secret deluxe prize!
All registration money goes to support the wonderful mission of WINE!
$10 Registration: Receive 2 virtual raffle tickets
$25 Registration: Receive 5 virtual raffle tickets
Your confirmation email will give you a link and a code to put your virtual raffle tickets into the virtual hat! Complete the fun questions on that link and get more tickets!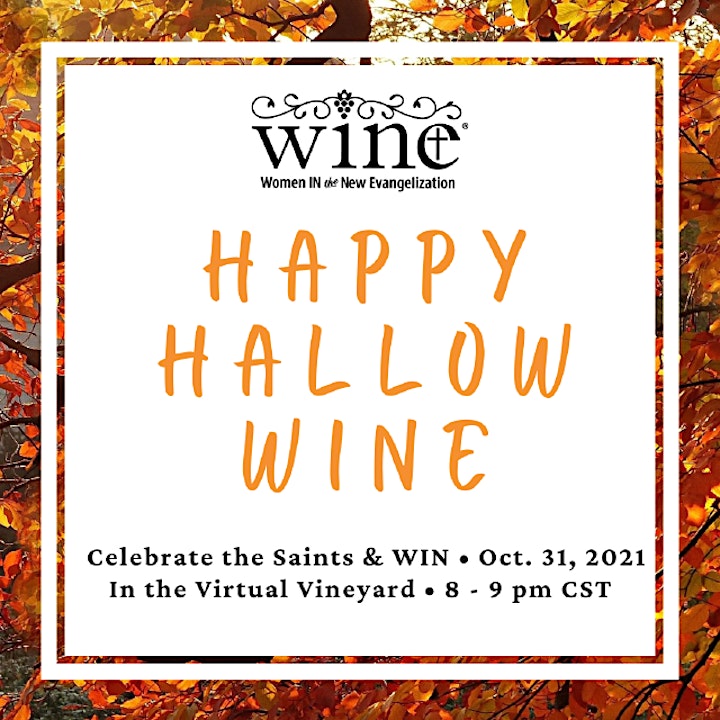 Organizer of Happy HALLOW-WINE: A Celebratory Eve