Happy Birthday Mr. Philip Simmons: A Celebration of his Life, Work & Legacy
You and a guest are invited to join us in celebrating the life, work and legacy of the late legendary Charleston blacksmith, Philip Simmons
About this event
You and a guest are invited to join us in celebrating the life, work and legacy of the late legendary Charleston blacksmith, Philip Simmons on his birthday (June 9th) at Neema Gallery from 3pm-6pm ! This event is free, open to the public and will include food, live musical performances, special speakers and a silent art auction featuring original works of art by Mr. Simmons and several SC artists. Proceeds from the silent auction will go towards the establishment of The Philip Simmons Scholars Eastside Children & Youth Enrichment Program. This program established by Neema Fine Art Gallery, Inc. in partnership with the Philip Simmons Foundation, Inc. will provide exceptional enriching experiences on a regular basis to children ages 5-17 who reside on the Eastside of Charleston, an area where Mr. Simmons lived, worked and supported throughout his time on earth.
RSVP through the link below before visiting the Neema Gallery and Philip Simmons Foundation websites to learn more about Mr. Philip Simmons and his impact of Charleston and the World at large.
This event is co-sponsored by the Philip Simmons Foundation and Neema Fine Art Gallery. Neema Fine Art Gallery is located in downtown Charleston at 3 Broad St, Charleston, SC 29401 just steps from Rainbow Row and the Waterfront Park.
www.neemagallery.com
www.philipsimmons.us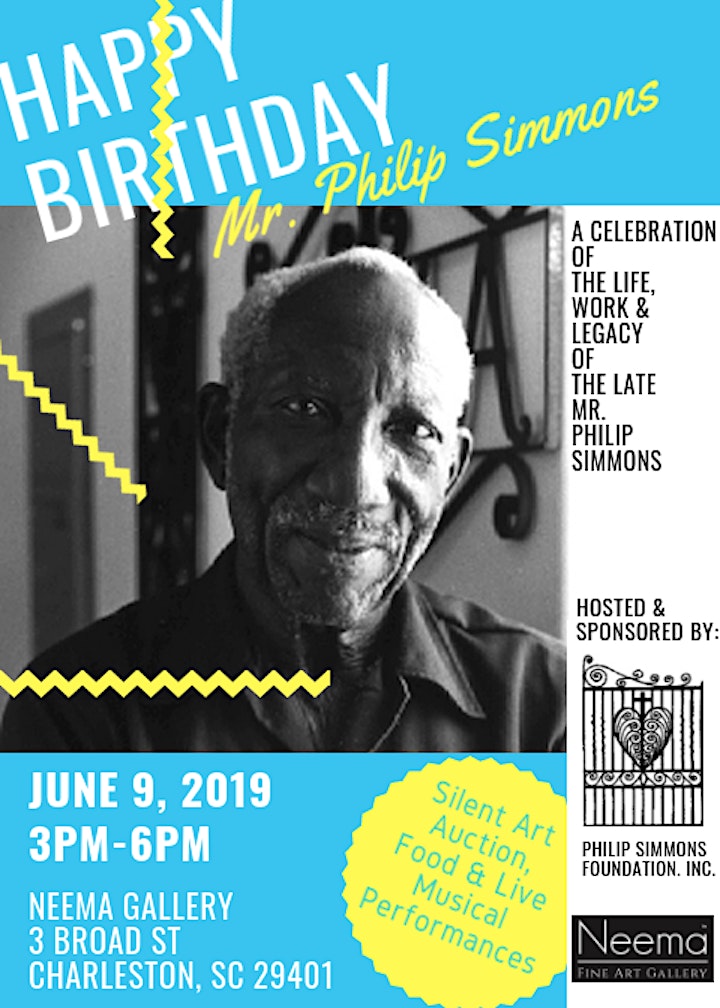 Organizer of Happy Birthday Mr. Philip Simmons: A Celebration of his Life, Work & Legacy
Neema Gallery is Charleston, South Carolina's newest art gallery featuring original art and jewelry by African-American artists who are from or who currently reside in South Carolina. Located on Charleston's Gallery Row, just steps from Waterfront Park and Pineapple Fountain, Neema Gallery features original works of art from highly collected and award winning African-American artists as well as original works from standout emerging artists. Explore our website for information on featured artists and visit the events page for info. on upcoming artshows, fine jewelry trunkshows, monthly supper club experiences, private and small group art and music classes, Book Signing Sundays, Sweetgrass Thursdays and more.

Neema: Favor, grace, and prosperity in Swahili