Event Information
Location
California State University
East Bay
25800 Carlos Bee Blvd
Hayward, CA 94542
Description
THIS EVENT HAS ENDED. OUR NEXT EVENT IS HERE:
https://www.eventbrite.com/e/happiness-success-decoded-upgrade-your-inner-software-2-tickets-42738044642
Early Bird Discount ends on Feb 21! - Register Now.

Do you want to boost your self-esteem, effortlessly?

Do you want to turn your life around?

Do you want to experience mindfulness?

Are you ready to discover the secrets to stop worrying, feeling overwhelmed and being powerless?

Are you ready to become unstuck?
If you answered YES to any of the questions above, then this workshop is FOR YOU!
In this 3-hour workshop, you will receive POWERFUL, PRACTICAL and SIMPLE SOLUTIONS to manage every part of your life, from Enlightened Consciousness.
Wherever you are in your life, this workshop is going to UPGRADE your inner software.
You will also:
- Learn techniques to be INSTANTLY HAPPY, ANYTIME.
- Discover the POWERFUL secret of today's LEADERS.
You will be UPGRADED with Enlightening Empowering Solutions, that will INSTANTLY allow you to radiate SUCCESS and HAPPINESS, in ALL AREAS of your life.
This is the only customized workshop for your life.
REGISTER EARLY, and then send your questions, so that the workshop is completely customized for you!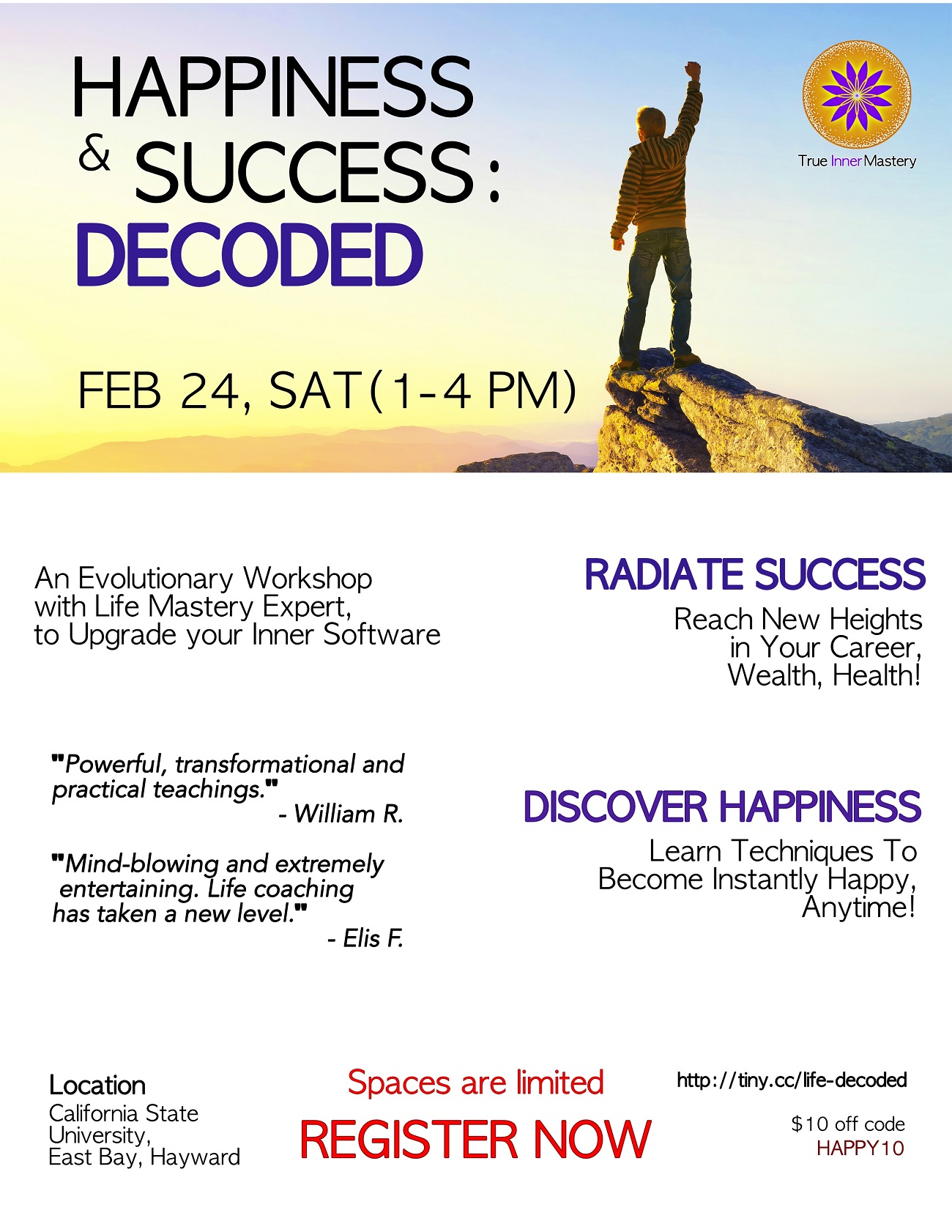 Date and Time
Location
California State University
East Bay
25800 Carlos Bee Blvd
Hayward, CA 94542
Refund Policy